/ Source: TODAY Contributor
We're turkey-ed out! With Christmas around the corner, we're switching up the bird and cooking duck.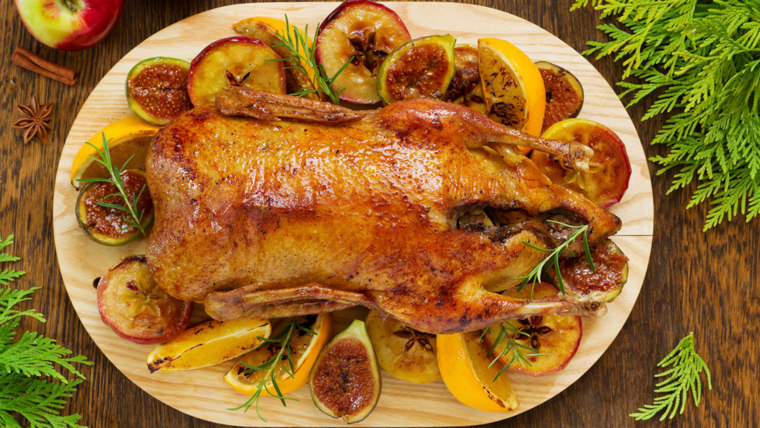 Duck is rich and delicious in a variety of ways. So why are people intimidated to cook it at home?
According to duck expert Hank Shaw, a James Beard Award winner and author of "Duck, Duck, Goose: Recipes and Techniques for Cooking Ducks and Geese," people make a big mistake with duck from the get-go. It isn't poultry like chicken or turkey, it's a water fowl. Shaw recommends that you think of duck the way that you think of beef.
"The breasts are best cooked like a steak, the legs and wings like brisket," he advised. "This radical difference in cooking—slow, low and moist for legs and hot and dry for breasts—can confound a home cook who might think of a duck as just a red-meat chicken."
Celebrity chef Marcus Samuelsson says that duck—despite its intimidating reputation—can actually be easier to cook than turkey, because it won't dry out as easily.
"It naturally tends to be fattier, which gives the flavor more character," he told TODAY.com. "Most people don't realize that cooking a duck is much more forgiving with your mistakes [than turkey]." And for home cooks, it comes already broken down and ready to sear, unlike Samuelsson's first experience with the bird.
"When I first starting cooking in France I remember one of our tasks being to pluck the ducks when they came in," he said. "You had to be really fast at doing it because otherwise it becomes difficult to remove the feathers." Think about THAT the next time you whine about how difficult it is to cook duck!
Use these expert tips to help you cook and serve duck like a pro:
1) Know your duck (Muscovy ducks are leaner and more intensely flavored than the commonly found Pekin ducks).
2) Remember that male and female ducks are different. "The female breast is smaller and should be cooked medium rare while the male breast, the drake, can be well done," said Samuelsson.
3) Duck needs to be highly flavored with acid and salt. "I always have some sort of sweet-sour thing gong on, like vinegar or citrus and fruit," Shaw said. "To my mind, red currants are the single best accompaniment to duck."
4) "Modern Pioneering" author Georgia Pellegrini recommends that for the crispiest skin, before cooking you "score it with the tip of a knife. This will allow it to release its fat and crisp up more quickly so that you don't overcook the meat before the skin is crisp. "
5) Porter House and Center Bar executive chef and managing partner Michael Lomonaco advises ambitious cooks to cook the duck at a lower temperature that they might assume. Set the oven at 375 and begin roasting breast side down, turning after 30 minutes. He also recommends that you let the duck rest 30 minutes before you slice it, just like you would let a steak rest.
6) Chef Fed, who runs Sex on the Table, cooking classes that specialize in aphrodisiac cuisine, says that the way to put the drama in your duck is to choose the right drink with it. "I believe that only full-bodied drinks can put up with the duck. May this be a wonderful Italian Wine or an IPA Amber beer, both go perfect with the duck," he said.
Now that you know the basics, go all out and try Samuelsson's recipe for Ethiopian-spiced duck breast with beet chutney, foie gras, watercress, and fig – your guests will thank you for giving their taste buds a wake-up call!