Chocolate lovers: Your world is about to get a whole lot sweeter. Australia's beloved Tim Tams — creamy, wafery, chocolaty not-quite-cookies — will finally be available in America nationwide on Jan. 26.
RELATED: Make a healthy chocolate Crunch bar with just two ingredients!
The treats will appear on the shelves of major supermarkets, grocery stores and mass merchandisers across the country, a U.S. spokesperson confirmed in an email. You can find the closest place to buy them at itsnotacookie.com.

The Aussie treat is a combination of three layers — two crunchy biscuits covered in chocolate with a smooth, chocolaty-cream filling.
RELATED: Oreo reveals first candy bars ever and they're amazing
And just like most cookies (yes, we're looking at you, Oreos) it improves dramatically when dunked in a beverage. For Tim Tams, the beverage of choice is typically hot coffee, as it melts the chocolate inside, creating a sort of lava-cake effect.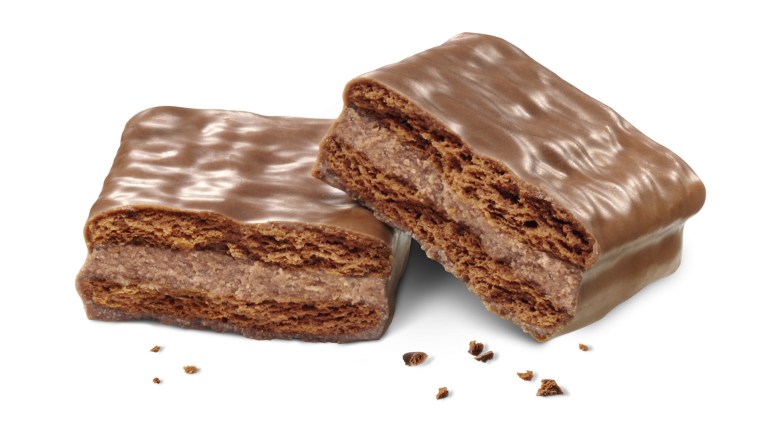 Which bring us to the Tim Tam Slam.
The Tim Tam Slam is the ultimate way to eat the treat. It puts any other technique to shame (yes, we're looking at you again, Oreos).
Here's how to do it:
Get yourself a hot cup of coffee.
Bite off diagonal corners of your Tim Tam.
Using your Tim Tam as a straw, sip your coffee.
Pop the entire biscuit in your mouth and enjoy the melty, chocolaty goodness.
Realize that, in this one small moment, you could be the happiest person alive.
RELATED: Meet the new M&M's flavor: Hoda says it's the best she's ever had!
But, to be clear: It's not a cookie. It's a biscuit. If Australians are willing to share their national treasure with us, we should at least respect their vernacular.
This might seem like a whole lot of rules for one little snack, but take it from someone who doesn't have a sweet tooth (me, in case that wasn't clear): It's so worth it.