When used incorrectly, mandolines can be extremely dangerous due to their super-sharp blades. But if you recently purchased a veggie slicer at Kohl's, Target or Macy's, double check the device before using it because it may have been affected by a major recall.
Blades used in a popular kitchen gadget used to slice and dice veggies may detach and injure the user, according to the Consumer Product Safety Commission (CPSC). The government agency has recalled about 19,000 Sharper Image and Frigidaire Mandoline slicers sold at 12 different U.S. retailers in stores and online between May 2017 and April 2018. The devices retailed from $13 to $20.
Mandoline slicers use two sharp blade attachments to uniformly slice and julienne vegetables. The CPSC says they've received four reports from different consumers claiming that the small blade used for julienne slicing detached during use. So far, no injuries have been reported.
Premier Kitchen Products, the distributor recalling the item, says the recall only affects the julienne blade attachment and that consumers may continue to safely use the larger slicer attachment, as well as the rest of the device on other settings.
Affected mandoline slicers were sold at many different stores including HomeGoods, HomeSense, Kohl's, Macy's Backstage, Marshall's, Ross, Target and TJ Maxx under the brand names The Sharper Image and Frigidaire.
The Sharper Image slicers are light green with model number 12SP1006 and UPC code 709996669580.
The Frigidaire slicers are bright blue with model number 12EP203 and UPC code 709996709118.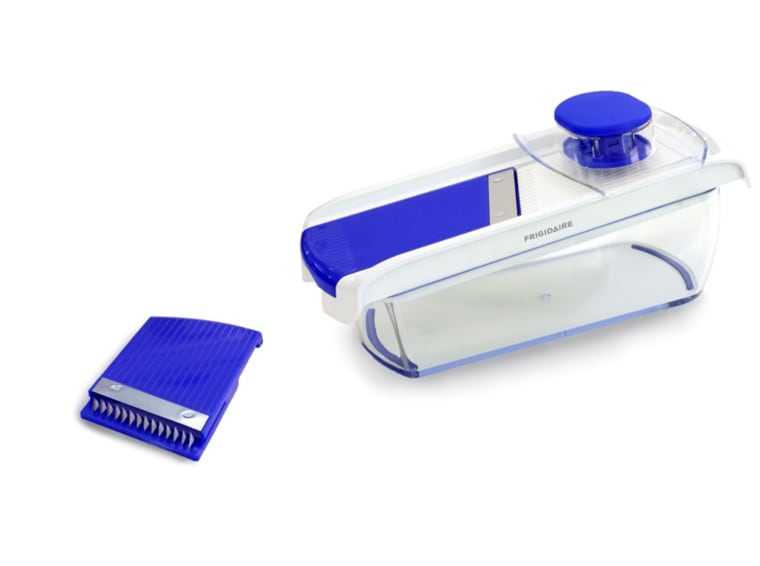 Consumers in possession of these cutting devices are eligible for a $15 Visa gift card if they provide photos of the receipt, the product and evidence of the disposal of the julienne attachment. Premier Kitchen Products has advised home cooks to stop using the affected attachment immediately and contact the company by phone (800-304-4035), email or online to receive their gift card.