Russian pastry artist Olga Noskova is just about breaking Instagram with her "mirror cakes" that we can't stop looking at: Yesterday, she had about 34,000 followers; today, she's up to more than 300,000 and climbing.
Noskova's cakes are indeed stunning: Smooth as glass, they are so shiny, one could see his or her own reflection in them.
So how does she do it? To find out the science behind her art, we turned to Thomas Vaccaro, dean of Baking and Pastry Arts for The Culinary Institute of America.
What Noskova is using is called a mirror glaze, related to an old French technique has been around forever, he says.
"This is old school stuff," Vaccaro told TODAY.com. "Chefs have been doing mirror glazes for 30 or 40 years, but it's just not mainstream."
Essentially, gelatin, sugar and water are at the heart of the recipe, but mirror glazes can have many variations to add flavor and color (Vaccaro shared a recipe for a chocolate version below).
The glaze can be applied to an array of desserts finished with a cream—you wouldn't want to apply directly to an unfrosted cake, because it would absorb the glaze like a sponge, Vaccaro explains. But on a frosted cake, the glaze will completely enrobe the whole shape of the dessert when you pour it, and set up on top.
Temperature also plays a part: Bringing the mixture down from boiling to a lower temperature, 110˚ to 120˚, is the key to getting that shine when you pour the glaze; it then sets when it cools at 87˚.
"We use a lot of mirror glazes in our restaurants, and it does show well. When people see them in the case, they want to buy them," Vaccaro says. "It's a cool concept."
Apparently there is just something mesmerizing about this ancient pastry trick: Noskova has not yet responded to requests for comment, because she has been inundated, so little is known about the story behind her or her beautiful creations. But she did post on Instagram this morning: "I am shocked! My phone can't deal with all the messages!"
Clearly stunned by the sudden hoopla, she adds that she learned that people originally found out about her through the sites BoredPanda and BuzzFeed. "I am grateful you referred to my Instagram and appreciated my works. I'm so flattered by such attention."
Here's how to make your own glaze for a "mirror cake."
Chocolate Glaze (Ultra Shine)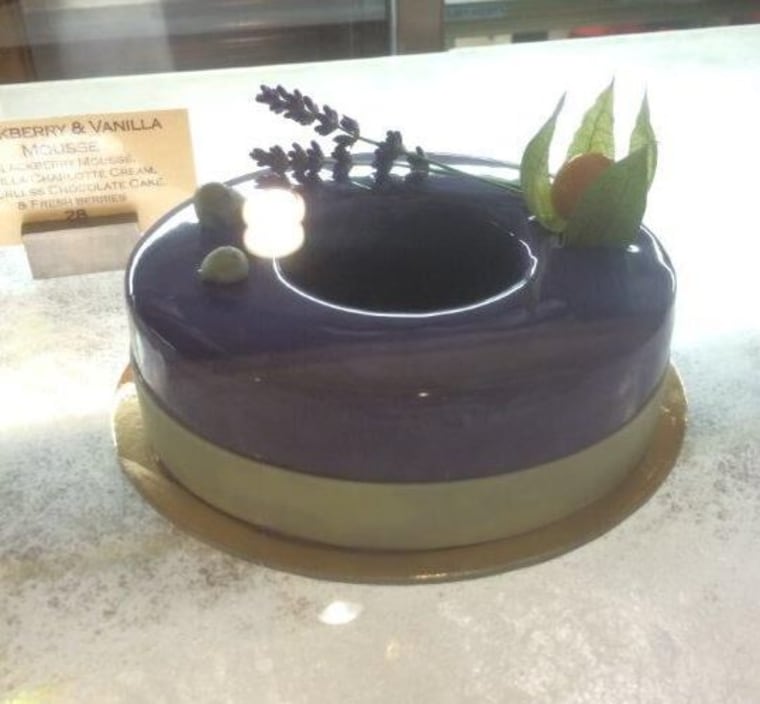 Courtesy of The Culinary Institute of America
Yield: 2 quarts
Total prep time: 10 minutes
2 pounds, 4 ounces sugar
1 pound, 3 ounces water
11 ounces Dutch cocoa
11 ounces crème fraiche
20 gelatine sheets or leaves (available at specialty stores)
8 ounces Peter's chocolate
1. Bloom the gelatine in water (follow package directions).
2. Boil the sugar, water, cocoa and crème fraiche.
3. Squeeze out the excess water from the gelatine and add. Strain through a chinois.
4. Cool the glaze to 120°F before applying.
Note: Use a double boiler to re-warm.