As any amateur has learned (the hard way), baking takes love, patience and dedication. It's a temperamental task. If one step is incorrect – the butter isn't at the right temperature, the ingredients aren't added in the right order, or the dough is left in the mixer just a tad too long – all you're left with is sweet carnage and hours of work down the drain.
Kind of like a relationship.
So is it any wonder that the care put into creating baked goods can translate to love among bakers?
It did for Dave Crofton, 41, and Dawn Casale, 41, the husband and wife duo behind One Girl Cookies in Brooklyn, N.Y.  He was a bread baker and aspiring pastry chef, and she was growing her small business baking cookies out of her Manhattan apartment. After meeting through mutual friends, Dave started working with Dawn, both clocking in 12 to 14 hours a day.  
"There was a lot of flirtation in the kitchen," said Dawn, smiling. "Like, oh, is that a crumb in your eye?" At first, it was tough for Dawn to relinquish control and incorporate Dave's changes and additions to her recipes – but acceptance came quickly, as it made for a stronger product. By day, they were trying out new recipes, tasting cookies and planning the growth of their business. By night, they found themselves still wanting to spend time with each other, so they started dating.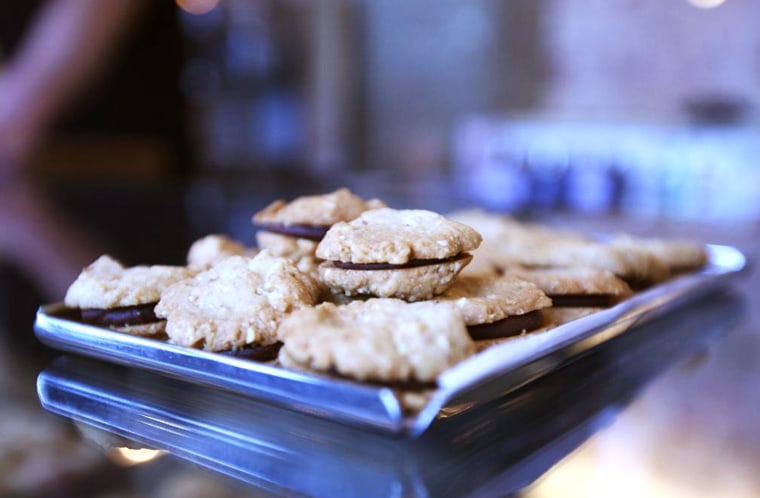 "There was something so sensual and passionate about being in the kitchen together," recalled Dawn.
In 2005, the couple wed, after Dave proposed by baking sugar cookies that spelled out "Will you marry me?" Seven years later, the couple is going strong, becoming parents, opening two locations of their bakery and recently releasing a cookbook.
"It's still so much fun to create new cookies and cakes together, and good to have someone to share ideas with," Dave said. The process of putting together the "One Girl Cookies" cookbook also helped deepen their relationship, giving them a chance to see different sides of each other.
"We have a section on family recipes, and I was calling Dawn's Aunt Tina to learn about their baking traditions," said Dave – traditions like the fig cookies Dawn's family makes large batches of each Sunday.
Story: Hot men cooking! Readers share photos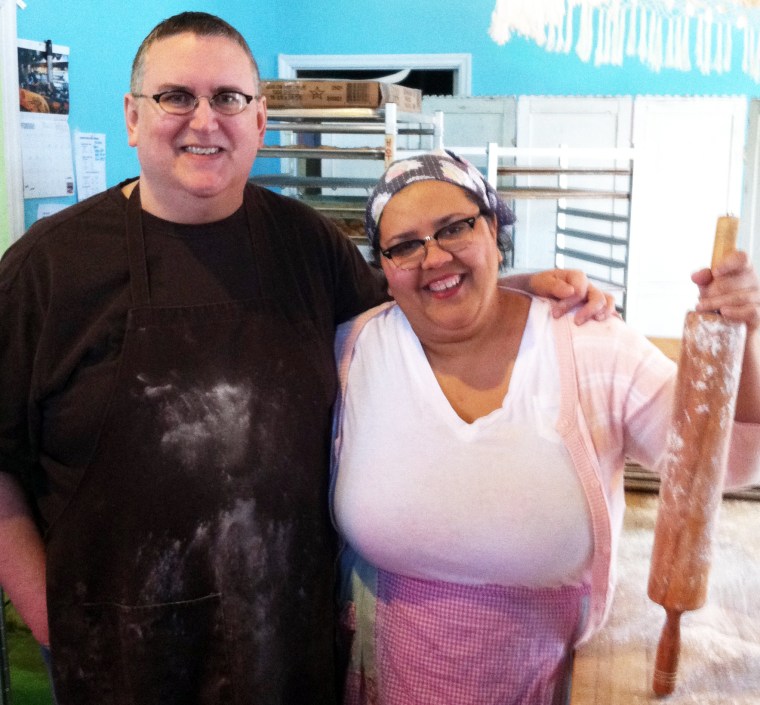 Cheryl and Griffith Day also found that cooking helped them fall in love. The couple runs Back in the Day Bakery in Savannah, Ga., which they "took a leap of faith" to open – a leap of faith that eventually led them to marry. It was the second marriage for both, now aged 50.
"I think baking teaches so many life lessons because you have to really measure everything precisely, there's a whole process," Cheryl explained.  "You can't just open up a box; it takes time to do what we do, same as it does with a relationship. It's not going to happen overnight. When you really build a relationship – it's more than looks, it's about substance over time."
Cheryl learned that lesson early on – from the moment she fell in love with baking. She was a 7-year-old in Alabama, and under her grandmother's tutelage, made what would become known as chocolate heaven cake. The cake looked homemade, and wasn't as fancy as the offerings from her favorite bakery.
But decades later, that decadent dessert would help her snag the love of her life, and even take center stage at her wedding, which was held at Back in the Day Bakery in 2005.
"It's pretty amazing; I've never had a chocolate cake like that before," said Griffith. "Trying it was one of those end-all moments – everything else just doesn't compare."
Story: For food lovers, think exotic Valentine's Day chocolates
"I knew what I was doing. I mean, how could you not fall in love with me?" Cheryl quipped.
Griffith, a self-taught bread baker, says his experience in particular helped him understand how to make a relationship blossom.
"Bread is a living organism, and it's going to change every day," he said. "You have to learn how it speaks to you, and you just can't be on autopilot. You can't be on autopilot in a relationship either."
While Valentine's Day is about romance, for these couples it's all work as they prepare the chocolate pastries, cookies and cupcakes that make the holiday memorable for their customers.
"It's a great time to be in the bakery – when you see the nervous boyfriend trying to choose the right cookie – knowing that you're part of a big moment in someone's life," said Dave.
Like many in the food industry, both couples postpone their own Valentine's Day festivities by a couple of weeks. For Dave and Dawn, the celebratory menu might include Dave's skate with braised carrots, in addition to "wine for wooing."  
Want your own slice of heaven? Cheryl shares her recipe for Chocolate Heaven Cake from the "The Back in the Day Bakery Cookbook," out on March 6.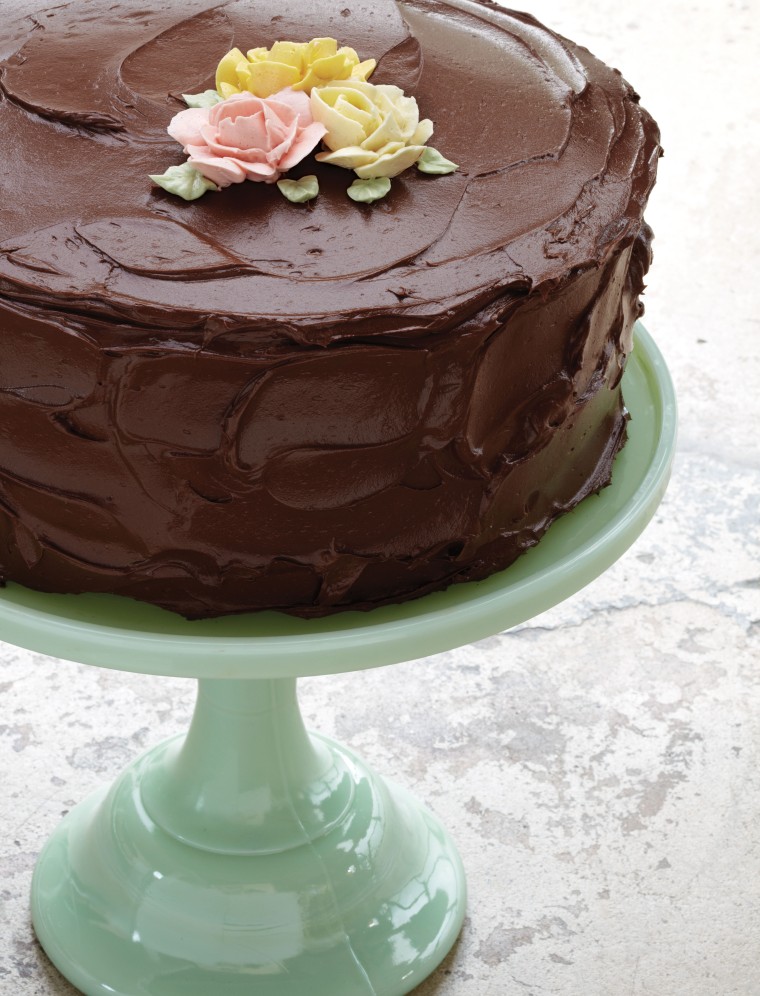 Chocolate Heaven with Chocolate Buttercream
Serves 10 to 12
3 cups cake flour (not self-rising)
4 cups sugar
1 ½ teaspoons baking soda
1 teaspoon fine sea salt
9 ounces unsweetened chocolate (see Tip), finely chopped
2 cups hot freshly brewed coffee
1 tablespoon pure vanilla extract
4 large eggs, at room temperature
1 cup canola oil
1 cup sour cream, at room temperature
1 recipe Chocolate Buttercream (recipe follows)
Position a rack in the lower third of the oven and preheat the oven to 350°F. Butter three 9-by-2-inch round cake pans, then line the bottoms with parchment and butter it as well. Lightly dust the pans with flour, tapping the pans on the counter to shake out the excess.
In the bowl of a stand mixer fitted with the paddle attachment (or in a large mixing bowl, using a handheld mixer), combine the flour, sugar, baking soda, and salt. Let the mixer run on low speed for 2 to 3 minutes to aerate the flour.
Meanwhile, put the chocolate in a medium bowl and pour in the hot coffee and vanilla. Let stand for about 2 minutes to melt the chocolate, then stir until smooth.
In another medium bowl, whisk the eggs and oil together until thick, satiny, and light in color. Whisk in the sour cream, being careful not to overmix; leave some visible streaks of white. Pour in the melted chocolate mixture and mix until just combined. Add the chocolate–sour cream mixture to the dry ingredients in thirds, mixing on medium speed until well blended.
Remove the bowl from the mixer and, using a rubber spatula, incorporate any ingredients hiding at the bottom of the bowl, making sure the batter is completely mixed.
Divide the batter evenly among the prepared pans and smooth the tops with a spatula. Tap the pans firmly on the countertop to remove any air bubbles from the batter.
Bake for 40 to 50 minutes, until the center of a cake springs back a little when touched and a cake tester inserted in the center of a cake comes out clean. The cakes will be a deep, dark chocolate brown with slight cracks on top. Let the cakes cool for 20 minutes, then remove from the pans and cool completely on a wire rack.
To assemble the cake: Level the tops of two of the cake layers with a serrated knife so they're flat. Place one layer cut side down on a flat serving plate (you can keep the edges of the plate clean by sliding strips of parchment under the cake while you frost it). Using an offset spatula, spread the top with a big dollop of frosting. Place the second cake layer cut side down and spread the top with another big dollop of frosting. Place the final layer on top, right side up, and frost the top and sides with the remaining frosting, making big luscious swirls with the spatula. The cake can be stored in an airtight container at room temperature for up to 2 days.
Chocolate Buttercream
Makes about 7 cups
9 ounces semisweet chocolate, chopped
¾ pound (3 sticks) unsalted butter, at room temperature
2 tablespoons whole milk
1 teaspoon pure vanilla extract
2 ½ to 3 cups confectioners' sugar, sifted
Put the chocolate in a heatproof bowl set over a simmering saucepan of water (do not let the bottom of the bowl touch the water) and stir occasionally until the chocolate is completely melted. Set the chocolate aside to cool to room temperature.
In the bowl of a stand mixer fitted with the paddle attachment (or in a medium mixing bowl, using a handheld mixer), beat the butter on medium speed until smooth and creamy. Add the milk, mixing until completely blended. Add the cooled chocolate and mix until completely incorporated, 2 to 3 minutes, scraping down the sides of the bowl with a rubber spatula as necessary. Add the vanilla and beat just until mixed. With the mixer on low speed, gradually add 2 ½ cups confectioners' sugar and continue beating, adding more sugar as needed, until you reach a creamy, silky frosting consistency. The frosting can be stored in an airtight container at room temperature for up to 2 days.
Tip: When a recipe calls for unsweetened chocolate, we recommend using one with 99% cocoa content, such as Scharffen Berger, for its intense flavor and dark color.
Vidya Rao is a food editor at TODAY.com. She is way too impatient to bake consistently, which might be a bad sign.