The age-old frustration of having sliced apples quickly turn brown has gotten a modern solution (and no, it doesn't involve keeping them rubber-banded together).
The naturally-bred Opal apple is a cross of Golden Delicious and Topaz apples and does not go brown after cutting, which preserves those apple slices for salads and kids' lunchboxes longer.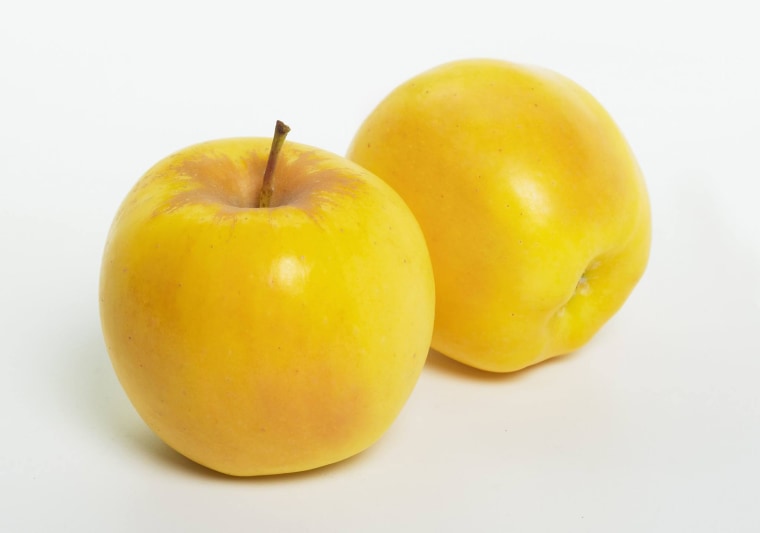 The apples, which are sold at Whole Foods and some large regional grocery chains, are not genetically modified organisms. The natural cross of the two types of apple does all the work on its own without the GMO label that some consumers look to avoid.
"The gene has been silenced, more or less, to defeat that browning, but it's the same flavor profile as a Golden Delicious,'' FirstFruits Marketing general manager Chuck Zeutenhorst told Foodbeast. "Opal isn't just non-browning, but it also has this amazing flavor profile, where it's sweet, crunchy, very crisp, a little bit of tang on the end of it. It's important to be natural, but it sets itself apart in terms of variety as well."
The Opal was developed by a professional plant breeder in the Czech Republic in 1999 and then cultivated by FirstFruits Marketing in 2010. The apples, which are in season from November to June, have a natural resistance to oxidation that slows the browning process, according to FirstFruits Marketing.
Opal apples aren't the only ones resistant to browning. There also is the Arctic apple produced by the Canadian company Specialty Fruits, Inc. — but they're genetically modified. Specialty Fruits uses gene silencing to produce an apple resistant to browning.
If all this apple talk has you in the mood to whip up some apple pie and other desserts, check out TODAY Food's recommendations for the best apples to use and how to shop for the right apples this fall!
Follow TODAY.com writer Scott Stump on Twitter.