When it comes to summer entertaining, I seek the happy intersection of "looks impressive" and "is actually easy." Bruschetta saves the party every time and leaves me an extra hand to hold my sangria.
Bruschetta is wildly easy to make (can you slice bread? Excellent! You can make bruschetta), a universally appealing appetizer (carbs + tasty toppings = guaranteed acceptance), and endlessly adaptable. Best of all, bruschetta is as appropriate for a casual neighborhood barbecue as it is a cocktail party with your boss. Sold? Good.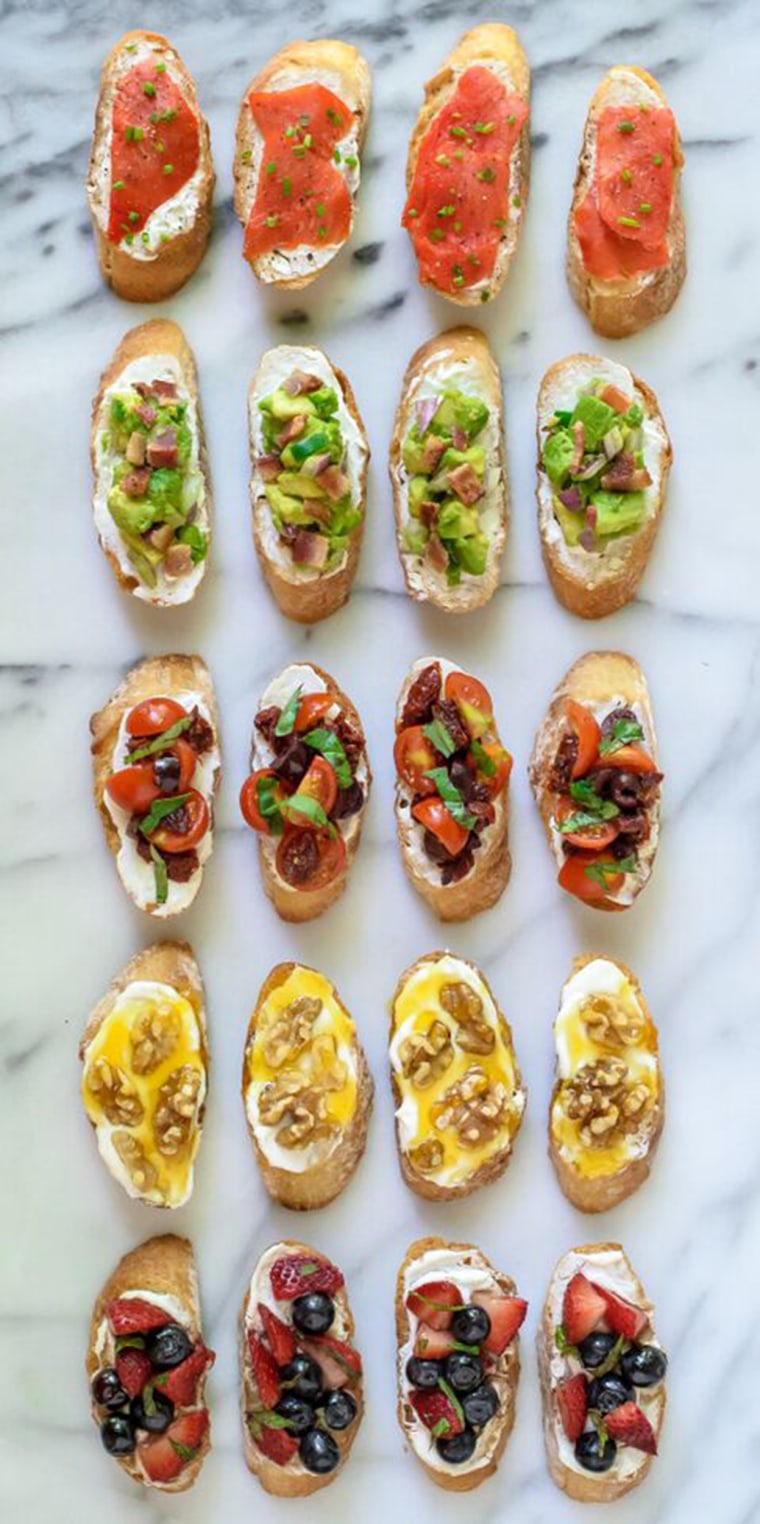 Bust out the baguette, and let's talk toppings. While it's hard to go wrong with a classic smother of summer tomatoes, olive oil and garlic, this summer, why not push beyond your bruschetta comfort zone? With a single base and a little imagination, you can create an entire spread of unique bruschetta flavors that will wow your guests, and leave you free to enjoy the party too. Each of the following unique bruschetta recipes begins with a base of grilled or toasted baguette, spread with ricotta that's been whipped in the food processor for a few minutes. Ricotta's mild flavor pairs beautifully with all manners of sweet and savory ingredients, and the process of whipping it makes it creamy and luxurious. Using ricotta for bruschetta is also a great way to repurpose any leftovers you may have lurking in your fridge.
Related: 6 ways to take your crostini to the next level with ingredients you already have
To make the bruschetta, spread each toasted baguette slice with the whipped ricotta, then pile on any of the suggested toppings below. If you are feeling daring, I've also suggested ways to amp up the flavors of each. (Each recipe is for 12 bruschetta. Feel free to increase/decrease quantities as needed to fit the size of your party.)
Basic Bruschetta with Whipped Ricotta (use for all)
1 baguette, cut into 1/2-inch thick slices (about 12 slices total)
Olive oil
1 cup ricotta cheese, whole milk or part skim
1/2 teaspoon kosher salt
To toast the baguette slices: Place a rack in the upper third of your oven and preheat the oven to 375 degrees F. Spread the baguette slices in a single layer on a baking sheet. Brush with olive oil, flip, then brush the other side. Bake until lightly golden, about 13 minutes, flipping the slices half way through. Remove from the heat and set aside to cool. (Alternatively, you can brush both sides of the baguette with olive oil, then grill them.)
Place the ricotta in the bowl of a food processor fitted with a steel blade. Puree until smooth and creamy. Spread over the cooled baguette slices, then spoon your selected bruschetta topping over the top of each. Serve at room temperature.
Balsamic Berries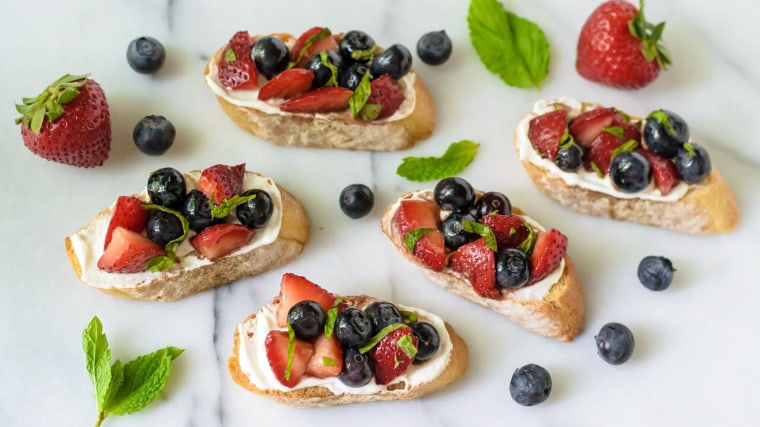 With summer berries at their peak, it would be borderline criminal not to try this recipe. The balsamic vinegar deepens and highlights the sweetness of the berries, and the mint keeps things fresh and light.
1 cups sliced fresh strawberries
1/2 cup fresh blueberries
1 tablespoon balsamic vinegar
1/8 teaspoon kosher salt
2 tablespoons chopped fresh mint
Stir all of the ingredients but the mint together in a small bowl. Let sit 5 minutes, then spoon the berries over the ricotta brushetta. Garnish with fresh mint.
Amp it up: Crack a little freshly ground black pepper over the top of each.
Avocado, Bacon and Jalapeno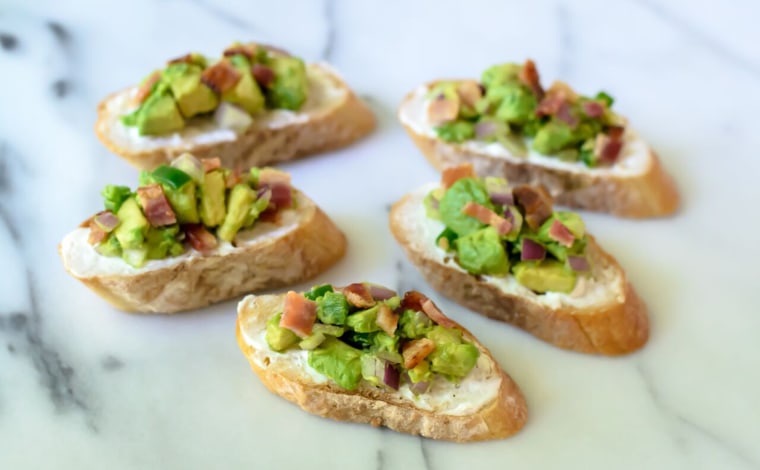 Don't be surprised when this is the first variety to vanish from the serving plate.
1 large or 2 small/medium Hass avocado, peeled, pitted and cut into cubes
1 tablespoon fresh lime juice
1/8 teaspoon kosher salt
1/4 cup diced red onion
1 tablespoon minced jalapeno, seeds and membranes removed
2 strips cooked thick-cut bacon, crumbled
Place the avocado in a small bowl, then lightly smash it with a fork, leaving it fairly chunky. Stir in the lime and salt, then the onion and jalapeno. Top the ricotta bruschetta with the avocado mixture, then sprinkle the bacon crumbles over the top.
Amp it up: For more spice, replace the jalapeno with a smaller amount of its hotter cousin, serrano.
Smoked Salmon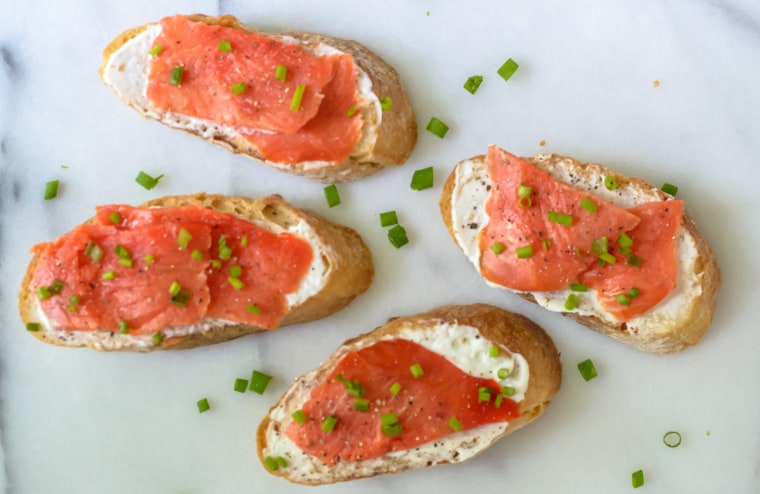 This is your morning bagel and lox, in a miniature size that you can politely shove right into your mouth.
6 ounces smoked salmon
2 tablespoons freshly chopped chives
Cut the salmon into pieces that are just smaller then each baguette slice. Lay the cut salmon on top of the ricotta baguette slices, then sprinkle with chives.
Amp it up: Top bruschetta with thinly sliced hardboiled eggs or mix diced hard boiled egg into the whipped ricotta before spreading it over the baguette slices.
Honey Walnut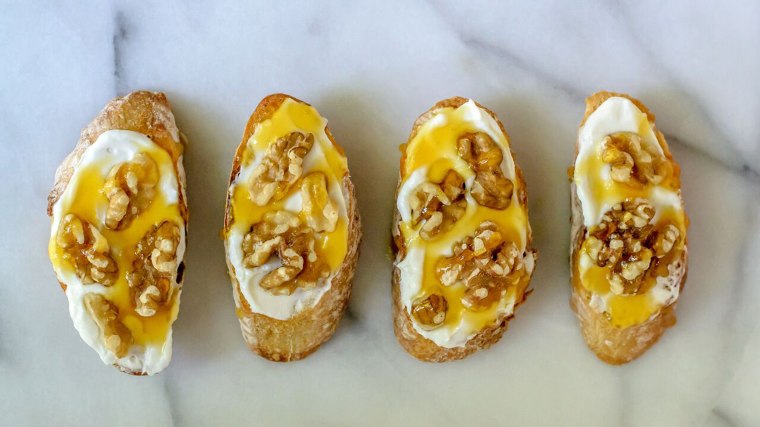 Winnie the Pooh would approve.
3 tablespoons honey
1/2 cup roughly chopped walnuts, toasted
Drizzle each ricotta-topped baguette slice with a little honey, then top with toasted walnuts.
Amp it up: For a salty, savory twist, finish the bruschetta with a few crumbles of a mild blue cheese, such as Gorgonzola.
Sun-Dried Tomato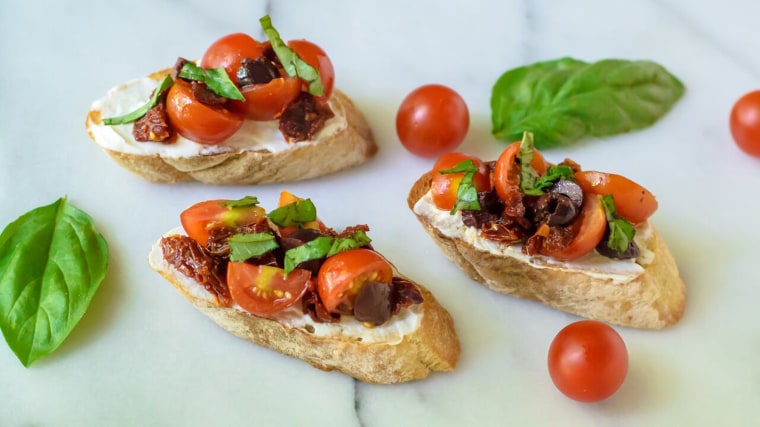 In this take on the classic tomato-and-basil combo, sundried tomatoes add a deep sweetness that's balanced by briny olives.
2/3 cup cherry tomatoes, halved
1/3 cup sundried tomatoes packed in olive oil, roughly chopped
1/4 cup Kalamata olives, pitted and coarsely chopped
1/4 teaspoon black pepper
1 clove mined garlic
1/4 teaspoon
1/4 cup chopped fresh basil
Stir all of the ingredients but the basil together in a small bowl. Spoon over the ricotta bruschetta. Garnish with fresh basil.
Amp it up: Swap half of the olives for anchovies for an umami experience.
Related: Toast for dinner? 7 ways to bring the artisanal toast trend to your next summer party