No matter how much time you've poured into prepping Thanksgiving dinner, things always get stressful leading up to the big day, so we're here to deliver a little pep talk — with plenty of tricks straight from the pros.
Here are 14 tips you need to commit to memory for Thanksgiving Day... or, at the very least, just bookmark this page.
Thaw that bird — right now!
You should allow 24 hours for every four pounds of meat to thaw turkey in the fridge (that's four days for a 14-pounder), so hop to it if you've got a big bird! If you forget, try seeping the bird in cold water, and make sure to change out the water every hour; this should take about seven hours for a 14-pound bird. And if you really, really waited until the last minute, try this amazing microwave thawing technique.
For an emergency centerpiece, round up those pumpkins.
Chances are, you probably have a few pumpkins still hanging around post-Halloween, so put them to work as table décor, by either hallowing them out for flowers or succulents, or placing them on a tray with votives.
Go big batch for cocktails.
Don't get "stuck behind your home bar mixing individual drinks for people," Jared Sadoian, assistant bar director at Boston's The Hawthorne and Eastern Standard, told TODAY Food. Check out this apple pie punch or honey crisp apple sangria for inspiration.
Ask Alexa for help.
It's like the 2017 answer to the Butterball hotline: Amazon's Alexa has a new Thanksgiving app this year, Morton Brine Time, where you can direct all your turkey queries. Richard Blais of Bravo's "Top Chef" provided recipes for Alexa and info (he's a paid spokesperson for the salt brand). Don't forget, you can also ask digital assistants to set multiple timers for you so don't burn the bread while waiting for another dish to cook.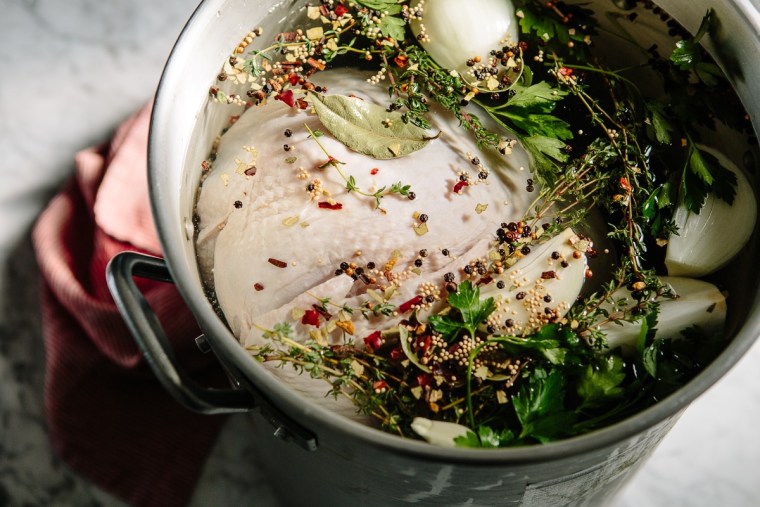 Brining is key to a juicy turkey.
Why do so many chefs swear by brining? "You are seasoning the bird precisely, all the way through," Blais told TODAY Food. "It's moist, tender, flavorful." (A couple of our faves: this dry brine and this bold, new pickle brine.)
Don't be ashamed of a pre-prepared side.
If you have to choose between your sanity or scratch sides, choose sanity. We recently spied a whole lineup of classic sides in Trader Joe's prepared foods case, including Corn Pudding and a Butternut Squash & Creamed Spinach Gratin. Just transfer to a crock to heat it up and no one will be the wiser.
Not enough drippings for gravy? Use other flavor boosters.
If there aren't enough drippings for your gravy, go ahead and mix in a little chicken stock, tomato paste or even pan drippings from roasted vegetables, Blais said. By the way, you can save and freeze pan drippings from roast chickens and other dishes in the weeks leading up to Thanksgiving for fresh flavor. Good to know for next year!
Think like a chef and prep, prep, prep.
"You don't want to be stuck in your kitchen all day on Thanksgiving, so do as much as you can ahead of time," Murphy said. "Most dishes, like stuffing, mashed potatoes and roasted Brussels sprouts, can be prepped well ahead of time."
Account for a food cushion.
It's going to happen: forgotten plus-ones or late RSVPs. "I always cushion what I'm making for surprise guests — and the hope of having leftovers," Food Network's Marc Murphy told TODAY Food. Still nervous? Pick up frozen biscuits or mini quiches to have on hand ... or raid the pantry. Make a simple platter with crackers and cheese and dress it up with nice jams, jellies or fresh fruit, like Kristen Bell.
Buy whole or frozen veggies to save on budget.
Pre-chopped veggies can carry a markup of roughly 370 percent, meaning you could pay $4.65 for a diced onion instead of just 99 cents for a whole one. Don't forget the freezer aisle, too. "Many times frozen veggies are cheaper, and just as good," Murphy added.
Make your pies a day in advance.
Bake those pies the day before Thanksgiving "so you're not taking up vital oven space," Liz O'Connell, corporate pastry chef for COJE restaurant group, told TODAY Food.
Use cold butter and cold water for pie dough.
Attempting homemade pie crust? Here are the big secrets: Use cold butter, cold water (it's "very important"), and don't over mix the dough, O'Connell adds.
For a non-soggy leftover sandwich, use sourdough.
Sourdough is the ideal leftover sandwich bread, because its "sour taste pairs well with the saltiness of turkey and gravy," chef Maira Isabel, of Schlotzsky's Bakery Cafe, told TODAY Food. Plus, "since the bread has a hard crust, this eliminates the chance of a soggy sandwich!"
Layer your sandwich this way.
To make a day-after sandwich that won't actually fall apart in your hands, Will Eudy, executive chef of McAlister's Deli, told TODAY Food to spread mayo on toasted bread as a sogginess barrier, then layer your ingredients as you like, separating liquids and spreads so it's not "slippery." Lastly, lightly broil a slice of cheese on top of the fillings. "It acts as a 'glue' to hold it all together." Yum!
This article was originally published Nov. 21, 2017.