Thanksgiving may be about giving thanks, but that thanks is usually expressed through food.
It is, after all, the one day of the year when nearly all Americans join around the table for the sort of communal meal that has grown too rare these days. The tradition of a grand feast stretches back to the first recorded colonial Thanksgiving in 1621.
The feast for 50 colonists and 100 native guests may have lasted three days or more, according to a new book, "Giving Thanks: Thanksgiving Recipes and History from Pilgrims to Pumpkin Pie" (Clarkson Potter), which notes that along with women colonists, "numerous children, servants, and unmarried men (and probably more than a few married ones) were no doubt marshaled to provide the labor needed for such a celebration."
In other words, the skills of all cooks are tested, regardless of talent — which makes it an even more special day for chefs. This is one day, finally, they can be just one more cook in the kitchen.
How does a chef celebrate Thanksgiving?  We asked five from around the country for their strategies and favorite traditions. And in a year when giving thanks takes on extra meaning after the devastation across the Gulf Coast, we also from the food mecca of New Orleans to share how they'll be spending the day.
Tom Douglas
Palace Kitchen and Dahlia Lounge, Seattle, Wash.
Tom Douglas is a Thanksgiving traditionalist.
The Seattle restaurant luminary sticks to the basics he enjoyed at his mother's table in Newark, Del.: Roast turkey, mashed potatoes, pan-dripping gravy, beets, yams and cranberry sauce.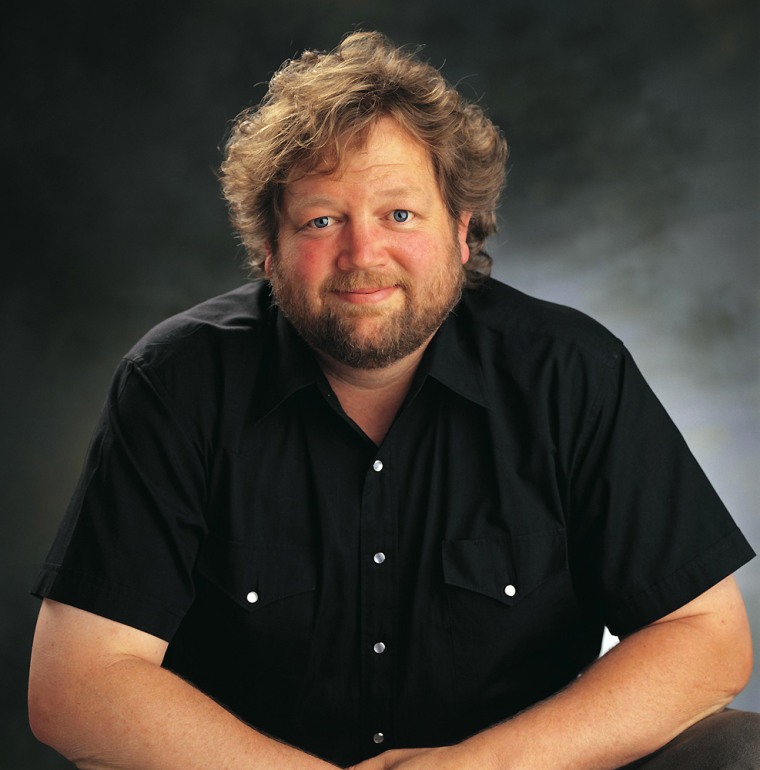 "I don't think about Thanksgiving like any other meal. It's not about being a chef," says Douglas, 47, who owns such local landmarks as Dahlia Lounge and Palace Kitchen. "It's about what my grandma made, it's about what my mom made. It's about passing on certain traditions."
With a few twists.
Douglas recoils at his mother's longtime habit of putting stuffing inside the turkey: "That's where I'll draw the line." He replaces white-bread cubes with chunks of rustic loaves; wild mushrooms sub for the bland white buttons.
The James Beard award-winning chef draws on his experience in kitchens high and low to make small tweaks to family tradition.
The original Douglas family beets have been transformed into the sweet-and-sour Harvard beets he attributes to his mother in his first cookbook, "Seattle Kitchen." In true chef fashion, Douglas cooks his free-range turkeys to 160 degrees — allowing the residual heat to raise the bird up the last few degrees to the USDA-sanctified 165.
And what a bird he chooses.  Douglas plans on one pound of meat for each guest, and another for each to take home. "I like to send those packages home with people," he says. "So even if I'm having six people, I'll make a 20-pound bird."
The biggest departure?  Douglas has for years embraced his adopted Northwest home by grilling a 10-pound salmon over charcoal, served with fennel butter alongside the turkey. That tradition grew even more apropos after his victory in early November over chef Masuharu Morimoto on the Food Network's "Iron Chef America." They battled using — what else? — Alaskan king salmon.
And he starts early, as much as a week ahead, leaving as little cooking as possible for the day itself.  Shellfish is shucked, sauces prepared.
The hardest part of Thanksgiving at a chef's house?  Not the sheer volume of food ("Mind over matter," he says), since the courses are served from a large buffet.  For Douglas, it's letting anyone else help cook.
"It got to be they would bring wine and that was it," he says. "I'm much better now" — though given his new fondness for heirloom pumpkins after discovering gorgeous 20-pound specimens in England, his guests would do to leave that pie to him.
Though Douglas saves the good wines for Christmas, he begins Thanksgiving evening with Champagne and martinis, paired with mussels on the half shell and his well-known goat cheese fondue. The family of his wife, Jackie Cross, and a few friends join around the table and the assembled crowd takes turns in reading passages from Douglas' kitchenful of old food books, perhaps an excerpt from M.F.K. Fisher or Michael J. Rosen's "The Greatest Table."
And what of the cranberry sauce?
"I've always liked the recipe on the back of the bag," Douglas replies.
Gabrielle Hamilton
Prune, New York, N.Y.
For someone who admits to having catered more than her share of Thanksgiving meals, Gabrielle Hamilton still hasn't tired of the same old holiday foods.
"We don't really eat this kind of food any other time of year, so for me it doesn't really feel routine at all," says Hamilton, 40, chef at Prune in Manhattan's East Village. "I love that stuffing-mashed potato sandwich with mayonnaise the next day."
This will be her fourth straight Thanksgiving dinner at Prune, an eclectic American bistro which opened in 1999. As much as anything it's much a labor of love for the staff at the cozy restaurant, which offers its last turkey-day seating at 8:30 p.m. By 10, the servers and cooks' significant others appear, and everyone tucks into a communal meal. Seeing as Hamilton lives two doors down from her restaurant, it's virtually a home-cooked meal.
Her one major tweak to convention is her selection of bird. Finding little charm in the standard turkey, she instead opts for capon — castrated roosters that typically live longer, and grow far plumper, than typical chickens. Otherwise, she prepares them in a standard brine before roasting. ("Can we just say for the record, it's so not a trouble to brine a bird," she interjects. "How f-ing easy is it to mix up some salt and sugar?")
Thanksgivings at Prune begin with a glass of salted tomato juice — a nod, perhaps, to the 11 types of Bloody Mary on its menu. An oyster pan roast comes next, followed by the bird.
Rather than jam patrons' plates, Hamilton has a mouthwatering array of side dishes laid directly on the table, family-style: Brussels sprouts, baby white turnips, celery root remoulade, braised kale, sautéed wild mushrooms, stewed chestnuts with fresh ricotta and sea salt, butternut squash with pear and candied bacon, and so on. 
The candied bacon? Coated in brown sugar and baked on a silicone Silpat mat.
Otherwise, since Thanksgiving breeds recipes like rabbits, Hamilton prefers to fall back on surefire winners. Not any traditions from her childhood in rural New Jersey, mind you; she turns to her cookbook shelf. The cornbread stuffing comes from "The Silver Palate Cookbook,"  the mashed potatoes and apple pie from Pamela Anderson's "The Perfect Recipe."
"I don't want to invent it and I don't want to prettify it up," she says. "I want delicious ones that really work."
A salad of watercress, endive, pears and blue cheese follows, and then it's time for dessert. In addition to apple pie, and a pear and dried cranberry crisp, Hamilton always includes the emblematic pumpkin pie. For filling, she looks no further than cans of Libby's Pure Pumpkin, handled with expert care.
"Just be careful," she says, "so it doesn't taste like soap."
Arnold Eric Wong
EOS and Bacar, San Francisco, Calif.
When you're selling turkeys to the whole neighborhood, the day before Thanksgiving runs late.
For Arnold Eric Wong's family, which opened San Francisco's pioneering Ashbury Market in 1956, Thanksgiving eve finally began as his mother Jane arrived home with fresh chickens.
By the time his father woke up Thanksgiving morning, his mother Jane had already prepared chicken congee, the Chinese rice porridge, from scratch, complete with condiments like scallions and pickled ginger.
After a brief pause to watch the Macy's Thanksgiving parade, Mrs. Wong would be back at the stove for another seven hours, preparing a full array of Thanksgiving dishes for 20 guests: roast turkey, bone-on prime rib, ham, giblet gravy, cranberry sauce from scratch, candied yams and stuffing.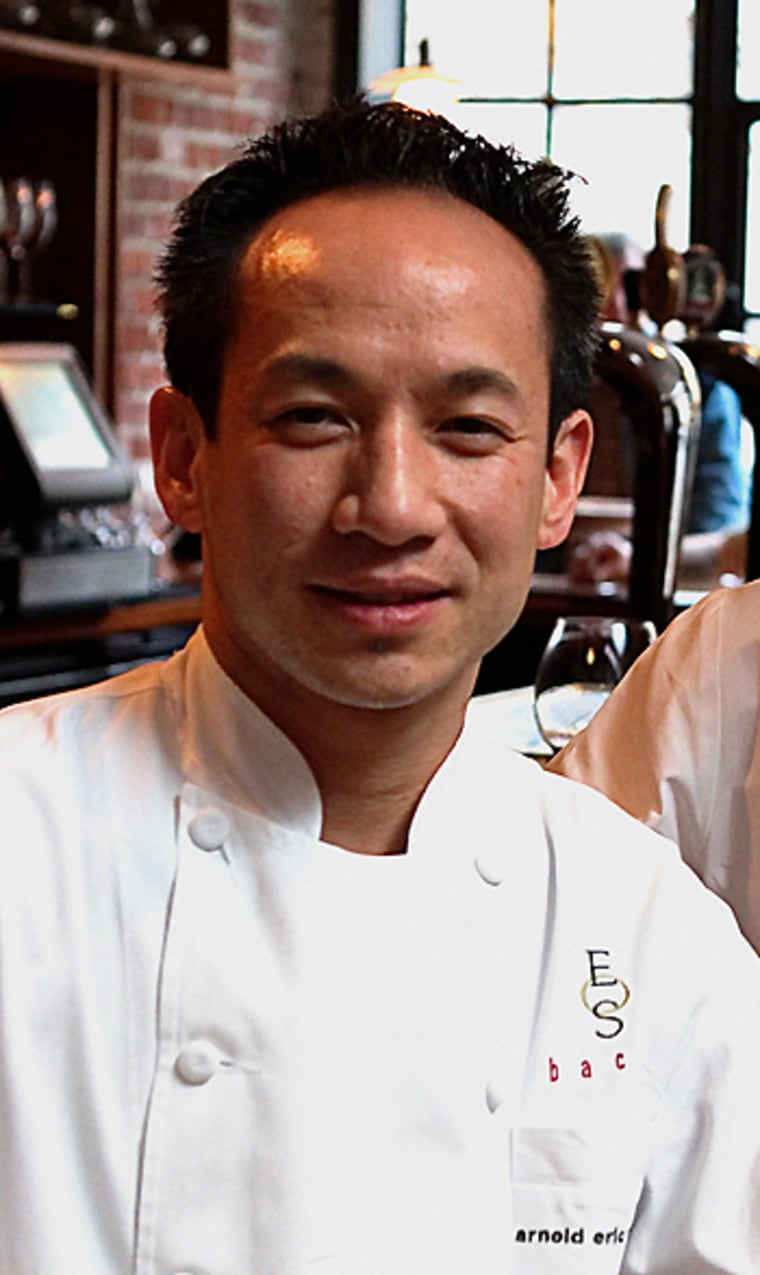 Days earlier, she would already have been preparing to make traditional Chinese banquet soups: removing the cartilage from shark fins or soaking bird's nests. She would whip up nearly 10 quarts of Chinese sticky rice on Thanksgiving day, mixing in shiitake mushrooms, sausage, green onions, fresh water chestnuts and more. 
Enough for leftovers?  Hardly.
"It would all be gone by the end of the night," recalls Wong, 39, now the executive chef at San Francisco restaurants Bacar and EOS.
As owners of a gourmet grocery before gourmet was hip, everyone in the Wong family got a mandatory culinary indoctrination. Arnold honed his kitchen chops making sauce reductions for turkey ("I didn't like the gravy") while brother Wilfred paired wines for the meal; even the kids were allowed a sip or two.
It was good training for both brothers. Wilfred is now the wine buyer for California liquor chain Beverages & More. He still pairs wine for family Thanksgivings.
Over the past seven years, the Thanksgivings for Wong and his family were increasingly in flux as his mother faced a growing array of medical problems. For a couple years, they held the meal at EOS, the small-plates restaurant in San Francisco's Cole Valley neighborhood owned by Arnold and his brother Richard, with servers' and cooks' families, friends and even neighboring restauranteurs at the table. Other years, Richard and his wife Mary hosted.
No matter what, Mrs. Wong would prepare her shark's-fin or bird's-nest soups — until finally, with her health waning, Arnold and Richard took on the job. Even then, she continued to help.
"I think she really knew she was passing on the traditions close to five years ago," Arnold says.
Jane Wong passed away in January at age 76, making this a year to forge new traditions. Arnold Wong will spend the day with his fiancée's family in Sacramento.
His fiancée, Amy Martinez, is three-quarters Scottish and one-quarter Mexican, leaving Wong — whose parents' families come from China's Canton province — a bit puzzled about what to cook: "I actually don't know what traditions they have as far as Thanksgiving goes."
But Wong does know he'll get free reign in the kitchen. His devotion to food was established at his first meeting with his future father-in-law, when he arrived with a carful of lobster and crab after hauling nearly four hours in heavy traffic up the interstate. On Christmas Day.
This year's plans include some old favorites: stuffing made with San Francisco's beloved Acme sourdough; cranberry sauce with fresh citrus and honey. And there will be a few changes. For the first time, he'll deep-fry his free-range turkeys.
"A lot of the things I grew up with are things I'll keep doing," Wong says. "But I think things evolve."
Frank Lee
Slightly North of Broad, Charleston, S.C.
Five or six years ago, Frank Lee decided to give people what they wanted.  And what they wanted was to have someone else cook Thanksgiving dinner.
"Very few people were going over the river and through the woods to grandmother's house," says Lee, 51, executive chef at Charleston's Slightly North of Broad. "And if they did, grandmother was not interested in cooking for a whole bunch of people."
Hence the fourth Thursday of each November has become a scramble at Slightly North of Broad (or SNOB, as some Charlestonians call it). Up to 350 guests now arrive each year to enjoy a meal that draws on Lee's virtuoso blend of French and Lowcountry traditions.
"The civility of the table is being passed on from the home to the restaurants, which is interesting, because not a lot of restauranteurs take that mantle of responsibility," he says.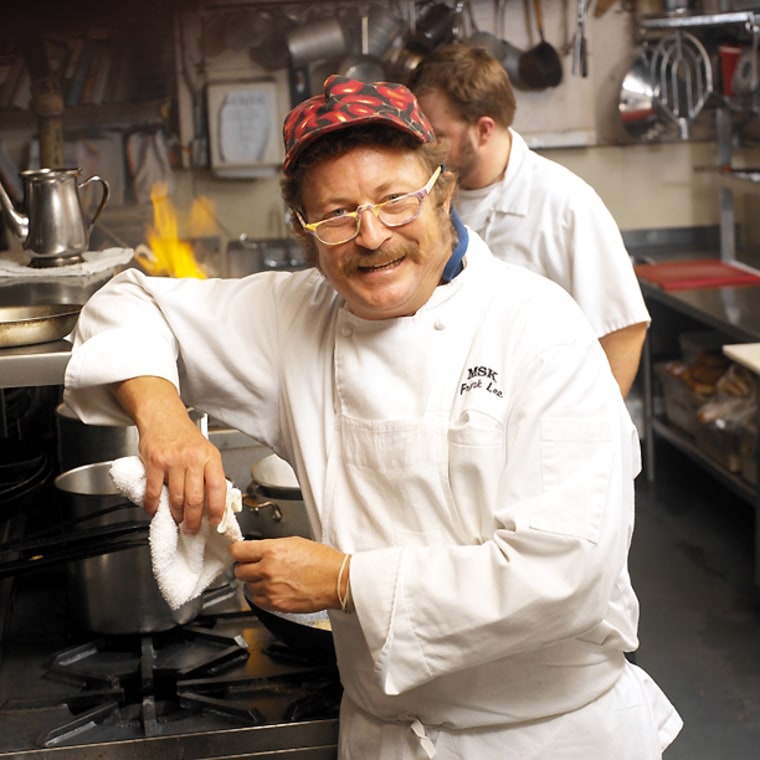 In just six hours, starting at noon, his staff presents diners with roast turkey, prime rib with traditional sides or grouper with a succotash of peas, butter beans, corn and okra, plus such regional delights as oyster stew and crab soup. Pecan pie with cinnamon ice cream and pumpkin pie with pear caramel and walnut ice cream round out a Thanksgiving meal that splits the difference between homey and haute.
Typically, patrons linger for barely an hour before rushing off to enjoy an afternoon free from dishwashing.
The restaurant's holiday meal bears a striking resemblance to Lee's own Thanksgivings growing up in Columbia, S.C., and outside Chicago. Turkey, ham and greens would occupy the table, along with mashed spiced rutabagas and up to 15 desserts. ("The gals would always try to outdo each other," he recalls.) 
His father's oyster pie, complete with crumbled saltines, has been transformed into Lee's slightly more upscale stew, which incorporates scallop cream in place of scalded milk, and smoked bacon.
And while his kitchen roasts five or six whole turkeys, given the typical preference for white meat, he buys extra turkey breasts — along with additional necks, livers and gizzards to make adequate quantities of giblet gravy.
Come the weekend, Lee forgets the turkey. His family of five, occasionally joined by an orphan from the restaurant staff, turns to other seasonal delicacies for a classic Southern meal: duck, pigeon, quail or lobster, plus a tableful of casseroles, yellow squash, butter beans, collard greens and cayenne-flecked cornbread stuffing.
"You come home after that long day and you're covered in turkey fat the last thing you want to do is think of turkey," Lee says. "You want to go home and drink brown liquor and have a steak or something."
Timothy Dean
Timothy Dean Bistro, Baltimore, Md.
Timothy Dean's Thanksgiving blends family tradition with the French cuisine he adores. There's one major departure from his childhood in Clinton, Md.: two fried turkeys.
"I fry my turkey, because I never liked roasted turkey," Dean says. "It was dry."
Dean, 35, shutters his French-inspired bistro in Baltimore's Upper Fells Point neighborhood for the day.  But he doesn't get to relax.  He and wife Michelle will host 15 to 20 people at their house in Baltimore, including Dean's parents and his brother's family.
"It's supposed to be my day off, right?" he says.
The unabashedly French part of the meal is Palladin chestnut soup, a tribute to Dean's mentor, renowned Washington, D.C., chef Jean Louis Palladin, for whom Dean worked as chef de cuisine at Palladin's eponymous restaurant at the Watergate Hotel. Dean's stuffing has a bit of similarly French flair: dashes of cognac and garlic confit, along with leftover bread from the bistro, four or five types of sausage, eggs, celery, onions, chicken stock, fresh rosemary and thyme.
Michelle Dean contributes specialties from her native Trinidad, such as stewed chicken and pork, and braised oxtail.
Not all Timothy Dean's childhood recipes have been carried forward. Asparagus has replaced collard greens, and serving his mother's fried chicken in addition to the turkey might be overkill.
But Mom still has the major responsibility of dessert: pecan pie, pineapple upside-down cake and a yellow cake with chocolate frosting of which the chef is especially fond. "Makes you want to smack your momma when you eat it," he gushes.
As for the turkeys, free-range birds from D'Artagnan in Newark, N.J., Dean injects them the night before with a variety of Asian-themed marinades: teriyaki, plum and peanut sauces. Once on the table, they don't last long.
"Last year I had people eating off the carcass," he says. "It was ridiculous."
Of course, no Thanksgiving near Chesapeake Bay could omit seafood. Each year, Dean charters a boat the Sunday before Thanksgiving for about 15 of his restaurant staff. Last year, the group caught its limit of rockfish as large as 35 pounds.
For his own table? Crabcakes are the likely pick, despite Michelle's fondness for whole Maryland blue crabs.
"Thanksgiving?" says Timothy. "You don't want to be picking crabs."
MSNBC.com lifestyle editor Jon Bonné still thinks duck is easier to roast than turkey.