Whether they're spiked with pumpkin spice or some other seasonal speciality, holiday-flavored foods are everywhere this time of year.
Not to be outdone by the coffees and ice creams of the season, Pringles is embracing Thanksgiving with not just one, but eight limited-edition chips that are flavored like Thanksgiving dinner dishes.
The "Thanksgiving Dinner" collection comes in a tray that resembles a heat-and-eat meal with individual slots for the chips. When we saw sweet flavors like pumpkin pie and cranberry sauce, we were immediately skeptical. But after trying the chips, TODAY Food tasters were pleasantly surprised by almost all of the flavors.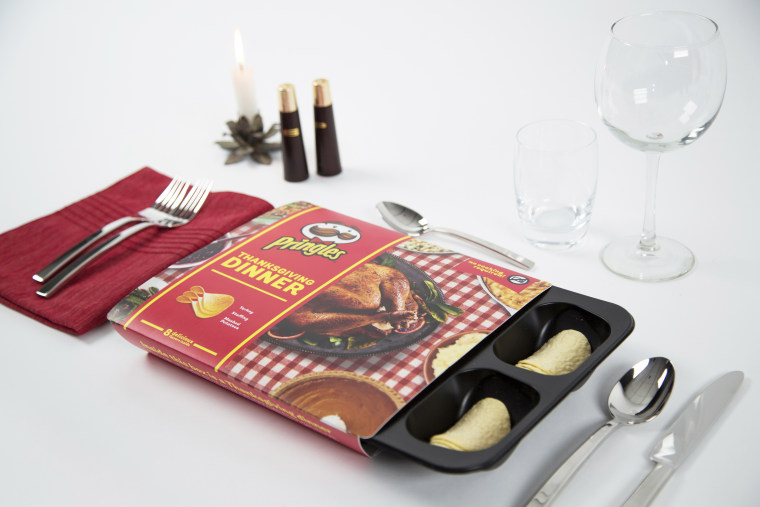 Here's what they actually taste like.
Turkey: With a flavor that closely resembles a chicken bouillon cube, this savory chip got a big thumbs up from every taster. "It really tastes like turkey!"
Mashed Potatoes: A potato-flavored potato chip?! It's a mind-blowing concept but it actually works. Slightly buttery with a faint aftertaste of, well, potato, this chip could almost pass for the real deal.
Stuffing: "It's good! It tastes kind of like Stove Top," remarked one self-proclaimed stuffing-loving taster. This was another crowd-pleaser that tasted like a crunchy version of the real deal with notes of onion, celery and savory spices like sage.
Cranberry Sauce: Perhaps the wackiest flavor of the bunch, the cranberry chip was also the most divisive. "It's tangy, but I don't hate it," said one taster. "Nope, this isn't right," quipped another. Like its savory counterparts, this chip also tastes very similar to the real deal but it wasn't super sweet like the dish itself.
Creamed Corn: The slightly sweet flavor in this chip made it another divisive pick but it definitely tastes like milk, butter, cream and corn.
Green Bean Casserole: "This is definitely my favorite!" said one excited taster who added that it was a "dead ringer" for the traditional dish. The green bean flavor here is surprisingly pronounced, making it taste almost like a real vegetable.
Mac & Cheese: This cheesy chip was the only one of the bunch that closely resembles another Pringles chip already on the market: Cheddar Cheese. It's good but this chip wasn't blowing our minds.
Pumpkin Pie: This sweet-flavored chip (which definitely has notes of cinnamon and nutmeg) was the only flavor that most tasters weren't really into at all. "It does taste like pumpkin pie ... a salty pumpkin pie which I don't really want." Another quipped that, yet again, pumpkin spice "madness" had gone too far.
One taster summed up her overall thoughts with, "This is a suitable, no fuss substitution for those looking for a quick, convenient Thanksgiving. I'm only partially kidding." Indeed, the overall consensus was that Pringles had somehow mastered the art of transforming genuine food flavors into a snack-like form.
Pringles says they designed the tray of Thanksgiving flavors with stacking in mind, so they created different flavor combo stacks that go together: "The Leftover Sandwich" (turkey, stuffing and mashed potatoes); "The Touchdown" with green bean casserole, mac & cheese and creamed corn and the sweeter "Holiday Sweater" with cranberry sauce, pumpkin pie and mashed potatoes.
The Leftover Sandwich combination really tasted like the real deal!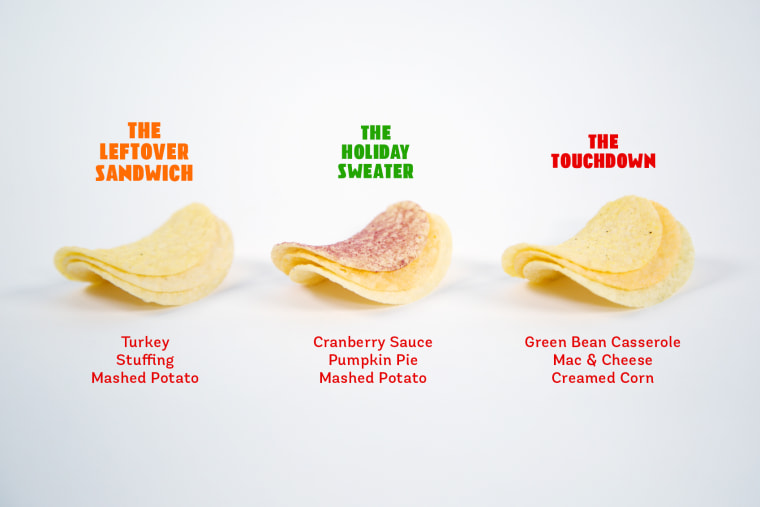 While we were super excited to get our hands on the limited-edition box of chips, Pringles won't be releasing them in stores this year.
"While the dinner is not available for retail sale this season, who knows what the future may bring!" a representative told TODAY Food. "Pringles is not able to launch these to the public just now, but might be able to in future years — so fans can stay tuned!"
Pringles certainly has a history of having some fun with their chip flavors, from this summer's Ramen flavor to the recent "mystery chip" released in Canada.