An English teacher's touching gesture to make his students something special before a lengthy Advanced Placement (AP) exam has captured the hearts of thousands on Twitter.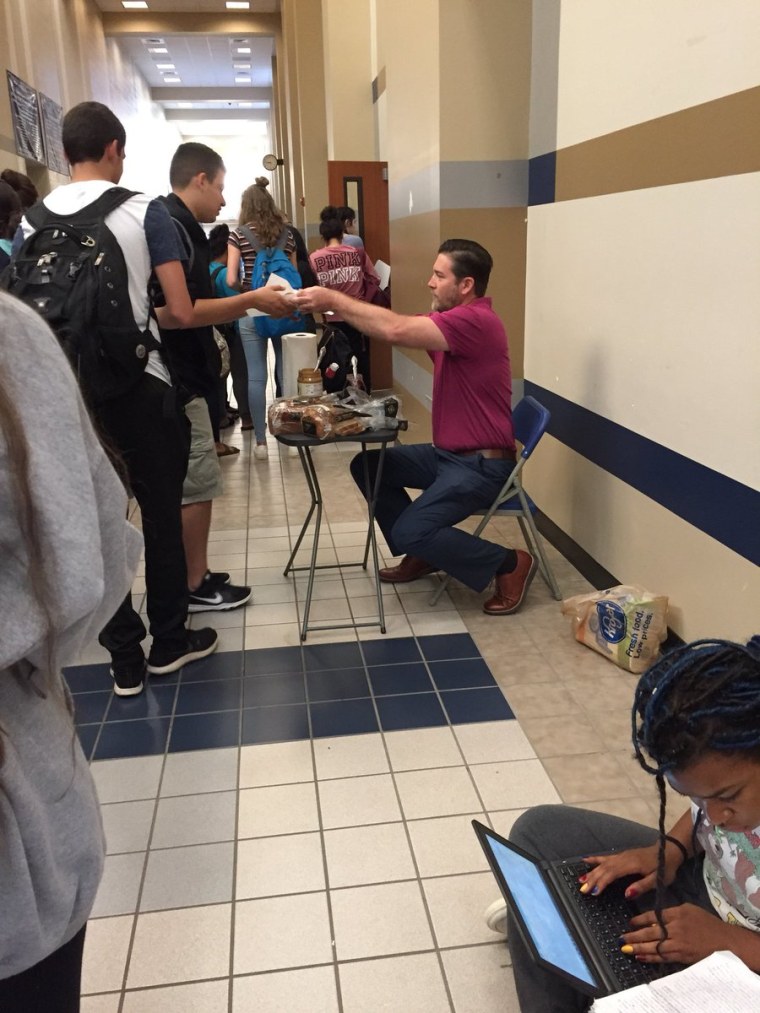 Brian Johnston, a teacher at Clear Springs High School in League City, Texas, told TODAY Food that he decided to bring his 11th grade students something to eat before a recent AP English exam, which lasts more than three hours.
Inspired by fellow AP biology teacher Vanessa Seghers, who has made snacks for her students in the past, Johnston bought the ingredients for peanut butter and jelly sandwiches and handmade them for any student who wanted one before the taxing test. "Students are usually absolutely exhausted for the rest of the day after these exams," Johnston said. "They have to go in with something in their oven."
He went with the classic PB&J, because it was affordable and fast — and he knew could make them on the spot. Plus, who doesn't like peanut butter and jelly? A self-proclaimed health nut, Johnston brought in several types of whole grain bread with natural JIF peanut butter and grape jelly, which he thought would help them last through the test. In total, Johnston estimates he made about 50 sandwiches for the kids who took the test.
Hannah Hayes, a student in the class, posted pictures of Johnston making the sandwiches on Twitter, and her original post has since been retweeted more than 20,000 times with 105,000 likes.
Hayes told TODAY Food she thought that only her mom would tweet it out (and that would be the end of it) but she's now shocked at how much attention it's gotten. However, she thinks the gesture itself is what spurred the tweet to go viral.
"A lot of times teachers go unnoticed, and even though it's kind of a small gesture, it meant a lot and it made an impact on students," she said. "It really shows that he cares about his students and wants them to do the best they can."
People on Twitter are eating up the sweet gesture, too.
Clear Springs principal Gail Love told TODAY Food that while most students at the school have the means to afford breakfast, they often don't eat, because school starts very early, with some students waiting at bus stops as early as 6:20 a.m. "They just don't eat before they arrive," she said, explaining that many may opt for a vending machine snack to tide them over.
This isn't the only kind deed performed at the school recently. Because Clear Springs is just 12 miles from Santa Fe High School, the site of a tragic school shooting earlier this month, teacher Vanessa Seghers organized for T-shirts to be made to show support for the neighboring school after the incident.
More than 1,200 shirts were sold to students and others in the community, with the proceeds supporting the Santa Fe educational foundation.