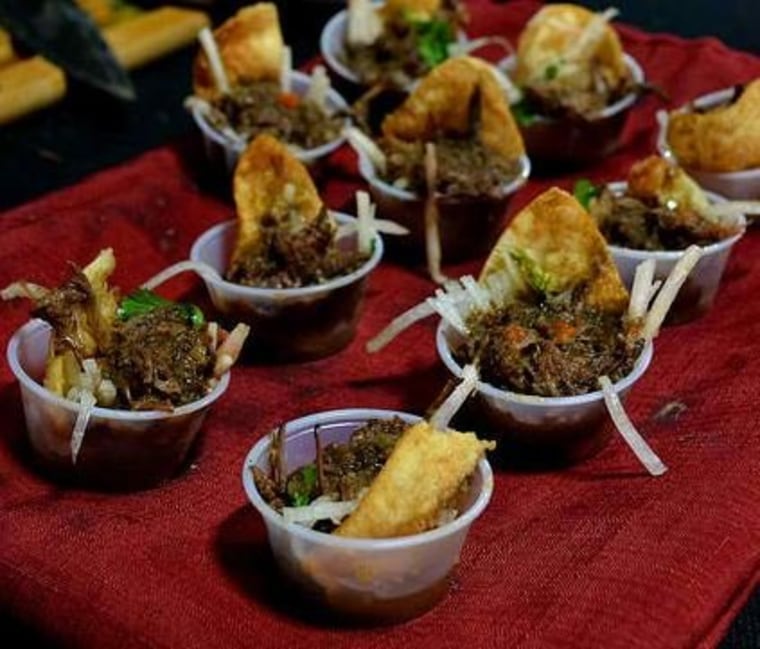 Texas, known for its bold flavors and opinions, unrelenting heat (both culinary and otherwise) and, of course, its immense state-size pride, attracts some adventurous dishes.
Texas-style cooking competitions heat up during Austin's South by Southwest, the annual tech, film and music event that ends March 19 and becomes more and more food-centric each year.
This year brought two back-to-back culinary face-offs. The Brooklyn Brewery-sponsored Food Experiments international tour hosted The Austin Taco Experiment, where over a dozen contestants competed to be crowned taco king or queen for a day (and win a slew of other prizes from sponsors like Wustof and Le Creuset) at live music venue ND. Meanhilw, the Bacon Takedown, hosted for the third year by creator Matt Timms, celebrated all things pork.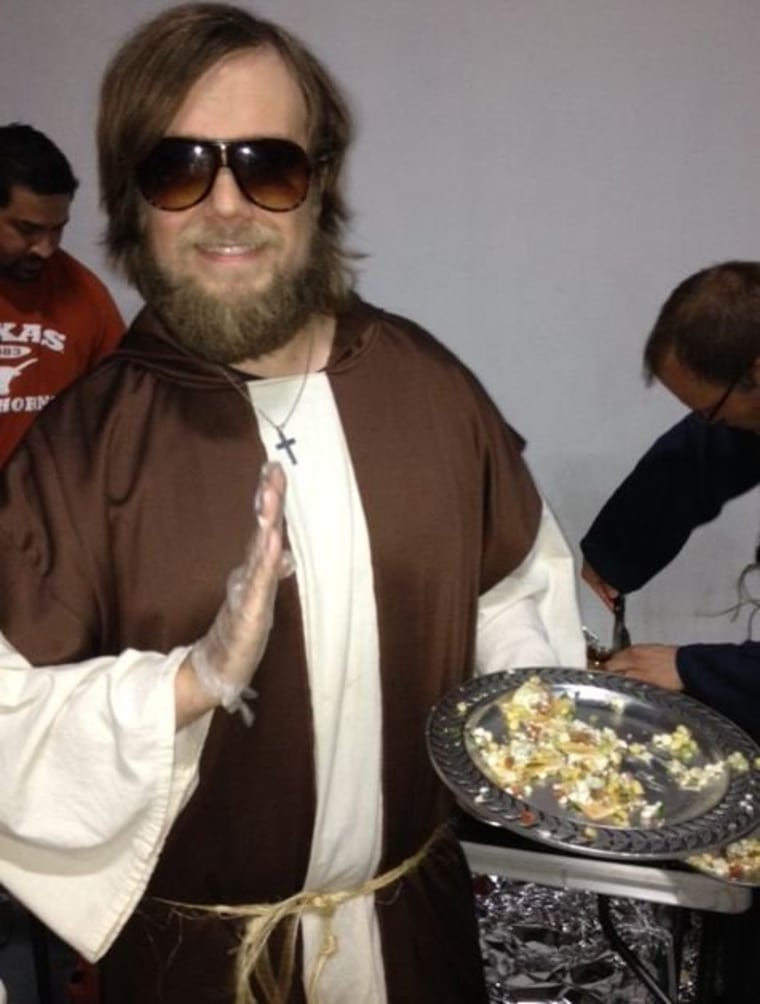 At the Taco Experiment on Sunday, which encouraged chef-testants (many of them local bloggers) to push the boundaries of what exactly defines a taco, entries ran the gamut. There were tiny cups crowned with a decorative tostada, filled with pulled pork, white bean puree and apple slaw from The Jelly Queens. The Talking Tacos team braised lengua in local microbrew 512 Pecan Porter and ancho peppers, then served the tongue in a tortilla made of duck fat and Southern Star Bombshell Blonde beer. Team Temple pressed and flash-fried King's Hawaiian rolls, then filled them with pork belly, apple puree, kim chi and cilantro. A winning taco also needs the perfect combination of textures and acidity, and No BS nailed it with her braised apple butter pork, pickled shallots and candied jalapeno slaw.
Mary Makes Dinner took home the prize for experimentation with her "frio tillo taco sandwich": tomatillo buttermilk ice cream, topped with a thin layer of avocado icing, between two scalloped tortilla shells and topped with a candied jalapeno. The Holy Smokers charmed their way to second place for both the audience and judges' choice awards, with a Grec-Mex taco: a "pita-tilla," spread with habenero hummus, filled with lamb/pork/beef gyro meat, then topped with jalapeno tzatziki, "greco-de-gallo," and "feta fresco."
First place for judges' choice went to Zesty Bean Dog for their all-local pecan-smoked duck taco topped with duck egg aioli and a pickled Serrano yuzu slaw. The audience's choice (also the winner of the grand prize, a ticket to the Brooklyn finals) went to Sous Me Alchemy for her Tacos Amores: a spinach jalapeno tortilla wrapped around dry-rubbed rotisserie pork butt with an impressive slew of homemade toppings, including Mexican crema, queso fresco and pico de gallo.
As the taco champions were being named, the Bacon Takedown had already gotten underway just down East 6th Street. Contestants included Texas Rollergirls, who dished out frosted bacon filo cups, and the Austin Facial Hair Club, who scooped caramel bacon ice cream brownie sandwiches. Entries spanned from home-style goodness (the Terrells bacon gumbo with bacon cornbread took home second place) to the refined (bacon, mascarpone, and fig jam in puff pastry from the Austin Bacon Eater, whose "figgy piggy" came in second for people's choice).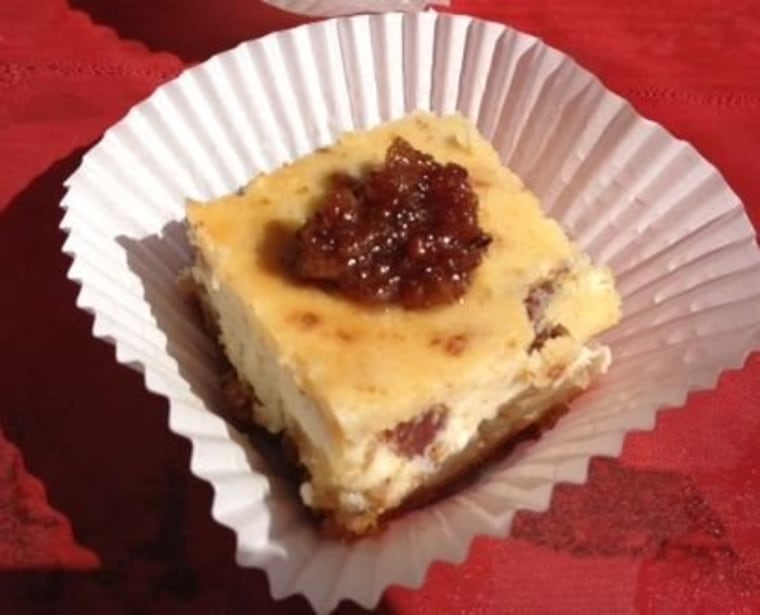 Sarah Barr's bacon apple cheesecake with candied bacon won my heart as far as sweets go, but there was no denying that Lauren Gaetano and Missy Farahani deserved double winnings for their "pig pudding." The two took home first place from both the audience and the judges with the steaming, savory bacon bread pudding with sage and gruyere. Their prizes included a year's supply of bacon.
More from Bites: