According to legions of devoted fans, Chick-fil-A employees have made random acts of kindness a regular thing. But one worker's gesture was so well received by a customer that it resulted in a new friendship.
Almost a month ago, Danny Cadra picked up some food at a Chick-fil-A in Lubbock, Texas, and accidentally forgot to take his change after collecting his order at the drive-thru window. Instead of throwing the $3 back into the register, cashier Marcus Henderson kept Cadra's money in an envelope in his back pocket, and waited for Cadra to come back and claim it.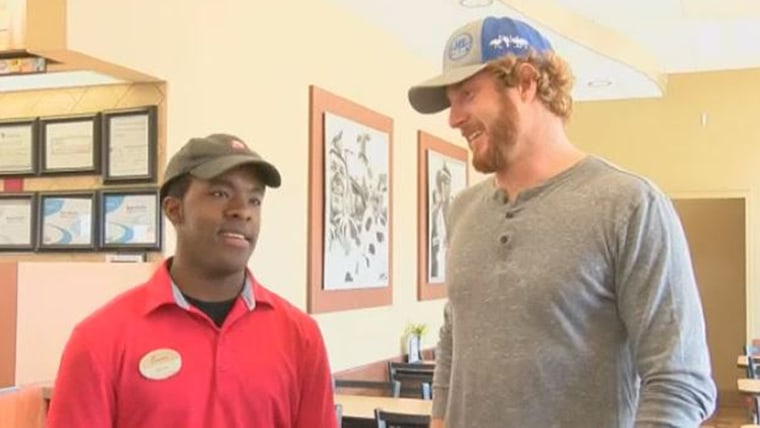 Henderson told NBC 5 Dallas Fort-Worth that he recognized Cadra as a restaurant regular, so placing the small amount of money into an envelope for safe-keeping seemed like the only option.
"It was basically a part of my uniform. It was my name tag, my hat, my apron and I just put it in my back pocket, just in case today might be the day where I see him," Henderson said.
When Cadra returned three weeks later, not knowing he'd even left his money behind, Henderson had the envelope ready.
"Man, this is the coolest thing," Cadra told NBC Dallas Fort-Worth. "Man, what a great American."
Cadra continued that it wasn't really the money itself that made him so happy, but rather that Henderson so clearly went above and beyond for him as a regular patron. "It meant that much to him. So it meant even that much more to me," Cadra said.
The customer and employee shared a hug and say they plan to meet outside Chick-fil-A as friends.
"Thinking of others is just part of the job description," said Henderson.
But of course, he's not the first cashier to inspire others with a simple act of compassion.
In November, a Facebook post about a Walmart employee went viral after another shopper noticed that she helped a distressed customer count mounds of change at the checkout.
And many have taken to Twitter to express how Chick-fil-A employees around the country have shown them small acts of kindness. One used sign language to make a deaf customer feel welcome:
Another customer tweeted about how a cashier's kind manners made her day:
Some Chick-fil-A cashiers even foot the bill:
And one restaurant manager went the extra mile to help a soldier surprise his pregnant wife after returning home from deployment:
Whatever the deed, Chick-fil-A's customer service gives chicken-lovers something to look forward to ... every day of the week but Sunday.