Blame it on Momofuku, but the ramen trend that has swept through the nation just continues to evolve and expand. While many equate ramen with cheap college student sustenance, the noodle soup has been perfected in its most traditional forms (tonkotsu, miso, shoyu, shio) at shops around the country. But now, more chefs are starting to reimagine ramen by using the savory noodles as a canvas for their own interesting interpretations.
Chicago's Oiistar makes a bonito miso ramen filled with mussels and a posole-style bowl starring pork loin and pico de gallo. The recently opened Zen 6 in New York's East Village offers ramen topped with the makings of California and spider maki rolls. Uncle in Denver offers a spicy lamb-based soup, while the Chez Panisse-trained chefs of Oakland's Ramen Shop have crafted up a Meyer lemon shoyu broth.
However, some of the most innovative bowls are coming from the ever-creative Paul Qui at his third (and first brick-and-mortar) version of East Side King in Austin, Texas. The winner of "Top Chef: Texas" has created a menu of ramen bowls in flavors like Sapporo beer bacon miso, Tex-Mex-inspired chicken tortilla, squid ink curry with parsley and potato and a Korean-influenced jjigae with kimchi and pork belly.
Qui even has a borscht ramen in the works, which he is still perfecting, with more experiments always on the horizon.
"We were going to try something along the lines of menudo or mole, but we're exploring different stews," he told TODAY.com.
Before he became the kitchen magician he is now, Qui remembers buying the packaged ramen Cup of Noodle by the case at Costco with his mom.
"It was good at the time," he recalled. "And actually, there's something about instant ramen I kinda crave every once in a while."
While there's still much to be done with ramen, Qui says his own palate has already moved on.
"I'm actually kind of over ramen," he said. "But I like eating tsukemen [thick, room temperature dipping noodles]. Tsukemen's been kinda my new jam when it comes to the noodle realm."
He hopes to add the dipping noodles to his menu in time for the intense Texas heat, which is surely not a good accompaniment to a steaming bowl of ramen.
Try making Paul Qui's Tex-Mex-inspired chicken tortilla ramen below (yes, it's extremely laborious, but also, really tasty!).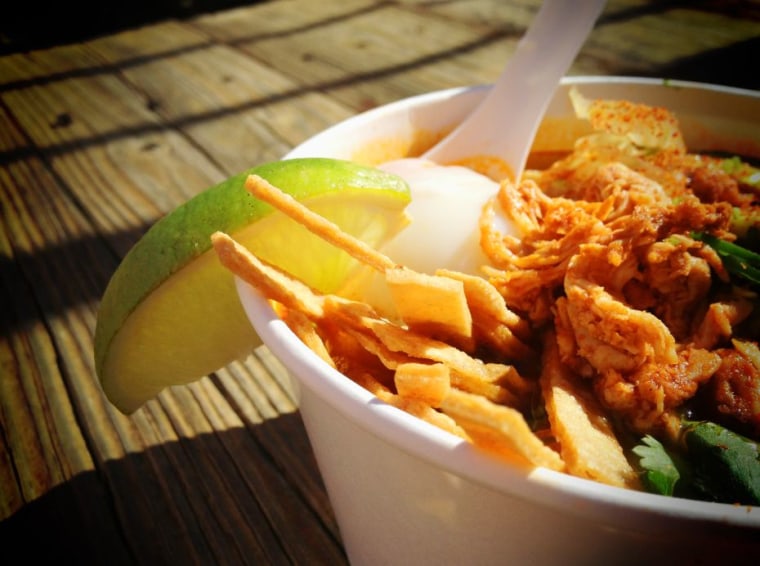 Bacon dashi, recipe follows
Tom yum base, recipe follows
Chile paste, recipe follows
Confit chicken, recipe follows
Tom yum oil, recipe follows
Fresh corn
Tortilla chips
Sliced avocado
Picked cilantro and chopped cilantro steams
Togarashi
Ramen noodles
Total time: 3 hrs 10 minutes
Plating Method: Serve in large ramen bowl piping hot. Finish with cilantro,tortilla chips, and a sprinkle of togarashi. Add a quarter of a slice of lime to place on the bowl for garnish. Serves 1 to 2.
Bacon dashi
10 pounds bacon ends
1 gallon water
1 sheet kombu
4 cups bonito flakes
Place water into large stock pot on burners. Add bacon to water and allow to cook on high heat for 1 hr and 50 min. Make sure to use a ladle to remove unwanted particles from the top of the broth. Add in kombu making sure the broth is not boiling. After 12 min remove the kombu from the broth. Strain bacon and kombu from broth. Place back on to heat. Add in the bonito and allow to cook for 10 minutes.Turn off heat and allow the bonito to steep for an additional 20 minutes. Strain broth and place in large container using a coffee filter so as to assure that the dashi is clear. Cool in ice bath until ready to be stored in fridge.
Tom yum base
2 cups shallots
4 cups tomato
3 tbsp garlic
3 tbsp ginger
2 cups chipotle
2 tbsp toasted coriander
½ cup tom yum
½ cup fish sauce
1 ½ tsp salt
Gather all ingredients before you begin cooking. Make sure to chop all the shallots, garlic, and ginger into small dices. Toast off coriander until aromatic and light golden brown. Grind in coffee grinder until a light powder.Once ready to begin cooking place rondeau over medium heat and allow pan to become hot. Pour in 3 tbsp of olive oil and allow to heat up, then add tom yum and chipotle and cook till aromatic. Add coriander and cook for 3 minutes. Pour in chopped shallots, garlic, and ginger cook until tender. Add in tomato and cook until all liquid is evaporated and a paste like consistency is achieved. Add in salt and fish sauce, the fish sauce is to deglaze the pan. Cook for 5 minutes. Remove from heat and blend with hand mixer until smooth.
Chili paste
1 cup chili powder
8 Thai chilies
2 tsp salt
3 cloves fried garlic
1 cup EVOO
Fry off garlic in fryer until golden brown, oil should be at 350 F. Puree all ingredients using hand blender. Store in fridge in a labeled container until ready to use.
Confit chicken
½ pound chicken thighs whole
Bacon fat
¼ cup chopped garlic
¼ cup chopped ginger
1 cup chili paste
Preheat oven to 320 F. Place chicken in half metal hotel pan. Cover thighs with bacon fat. Add in garlic and ginger. Wrap pan in aluminum foil and place pan in heated oven. Cook for 3 hours.
Once chicken is cooked drain oil from chicken. Place chicken in large mixing bowl. Pull apart chicken into bite size pieces. Add chili paste to shredded chicken and toss until chicken is well coated. Season with salt to taste. Place in labeled container and keep in fridge until ready to serve.
Tom yum oil
¼ cup tom yum paste
¼ cup EVOO
Combine and hold in labeled container.
Cooking and plating
Drop ½ cup fresh ramen noodles into boiling water and cook for 1 minute. Making sure to stir noodles so that the noodle cook evenly.
While the noodles are cooking place 2 tbsp of tom yum base into paper ramen container. Pour in ¼ cup of hot bacon dashi and whisk until combined.
Once noodles are finished cooking strain noodles and place in ramen bowl. Ladle 1 ¼ cup of hot bacon dashi into the bowl. Stir noodles using chopsticks, this prevents the noodles from clumping and allows the tom yum base to be further incorporated into the dashi.
Place 2 tbsp of chicken confit in the bowl. Add in 2 tbsp of fresh corn, 3 slices of avocado. Garnish with 2 tsp chopped cilantro stems, pinch of picked cilantro, 1 tbsp tortilla chips, 1 tsp togarashi, and 2 tsp tom yum oil. Make sure when plating that you can see all the components so as to make it appealing to the eye.
Veronica Meewes is an Austin-based freelance writer who will travel for food but always comes back for breakfast tacos. Follow her on Twitter @wellfedlife and visit her blog.
More from TODAY Food:
Weekend wines: Riesling and scallops are a perfect match
Startup makes hiring a private chef easy, affordable
Could this odd IPA glass make your beer taste better?