This couple is officially getting McMarried.
Knowing his girlfriend's love for McDonald's chicken nuggets, Kristian Helton, 19, of Lincoln, Illinois, decided to put a spin on the traditional box holding an engagement ring when he got down on one knee on Valentine's Day.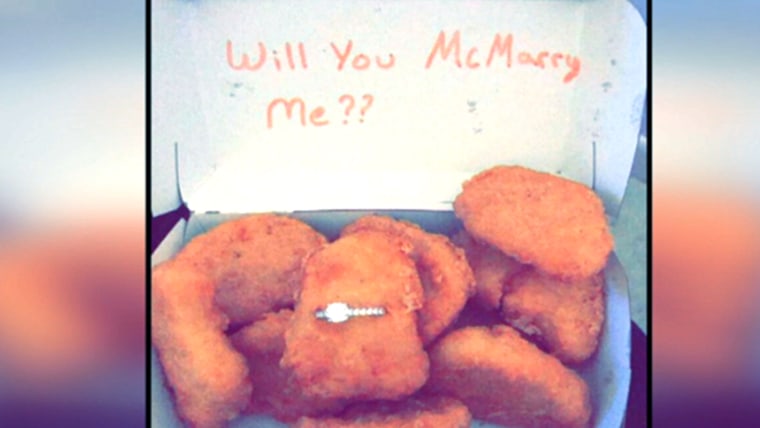 His fiancée, Karsyn Long, 16, was lovin' it, as she gladly accepted the ring inside a box of 20 chicken nuggets. Helton wrote, "Will you McMarry me?" inside the box.
RELATED: Man's McDonald's wedding proposal wasn't what his girlfriend ordered
"Her love for chicken nuggets, I'm sure, is more than she loves me," Helton told NBC affiliate WAND.
He added, "She has devoted her life to chicken nuggets, so that had to be part of the engagement. I mean, it was just given."
"I know this sounds bad," Long told WAND. "I go to McDonald's a lot and I always get chicken nuggets. I won't get anything else."
The couple, who have been together nearly two years, got engaged a month after Long gave birth to their son, Keegan.
RELATED: Airline pilot surprises girlfriend with a midflight proposal
McDonald's has offered to cater their wedding, which is planned for Valentine's Day in 2018.
"I didn't hesitate to say yes because he's obviously the one I want to spend the rest of my life with,'' Long said.
Follow TODAY.com writer Scott Stump on Twitter.