Burger King is serving up barbecue... at least for the summer.

The fast food chain has created a collection of 13 items that celebrate the flavors of regional American barbecue that will only be available for the summer months.
"There are some parts new and some parts traditional," said Flavia Faugeres, Burger King's global chief marketing officer. "We went for all the American classics that you know. The idea was to find the best pulled pork, rib sandwich, et cetera and do it our way."
The company recently hosted a "tasting" in New York to give food writers a sample of the menu, which debuted earlier this week.
The "Summer BBQ" menu consists of items such as the rib sandwich, BBQ chicken salad, Memphis BBQ pulled pork sandwich, Carolina BBQ Whopper sandwich, sweet potato fries, french fries (of course), frozen lemonade and frozen strawberry lemonade, sweet iced tea and a chunky cookie made with Oreo pieces. Celebrity caterer Peter Callahan worked with the chain's chefs to recreate the favorites in miniature sizes that were more friendly for sampling.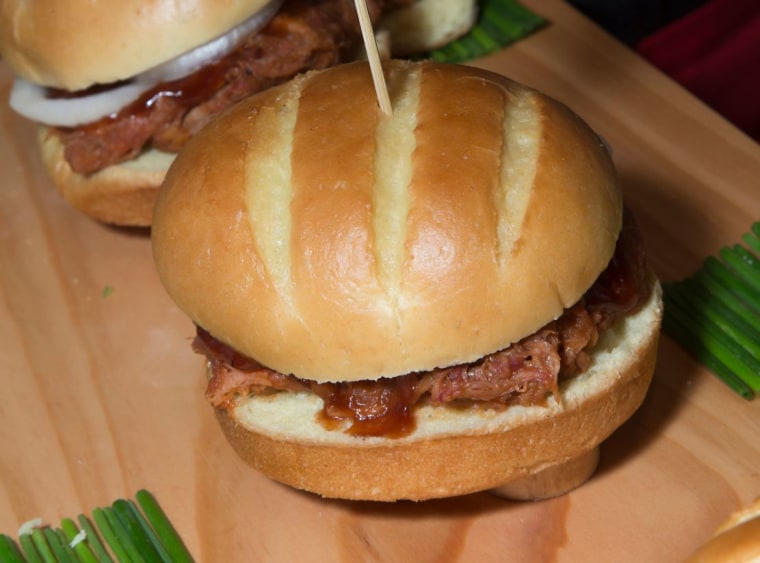 The grilled items were all about combining as many flavors as possible. The rib sandwich combined a "rib patty" with "sweet and tangy" barbecue sauce and sweet pickles. The Memphis BBQ pulled pork sandwich was flavored with a hickory-smoked and sweet barbecue sauce then topped with onion and Burger King's "sweet Southern" dressing, which is a "mayonnaise-based sauce with spices," a server shared.

The Carolina BBQ Whopper was the whopper of flavor-mixing with bacon, pepper jack cheese, lettuce, onions, tomatoes, "sweet Southern" dressing and a dousing of Carolina BBQ sauce. And to think, Burger King stopped itself from adding Cole slaw because it was "too messy," explained a member of Burger King's marketing team.
Of the three, the rib was a little dry and the Whopper was a predictable mish-mash in your mouth, but the pulled pork was a flavorful delight with multiple layers providing notes of smoke, sweet, mustard and a umami-like tang without getting muddled. That one is worth a trip to the food court.
Burger King's heavy hand with the sauces also hit the BBQ chicken salad, which was overly doused with three cheeses, barbecue sauce and dressing.
Also on the summer menu, but not sampled, is the Carolina BBQ Tendercrisp chicken sandwich -- a chicken alternative to the Carolina Whopper's beef burger -- and buffalo chicken strips, along with a trio of sweet treats featuring Oreos -- a shake, a sundae and a cookie that uses Oreo pieces instead of chocolate chips. It takes a certain kind of genius to sell a cookie made of, well, cookies.