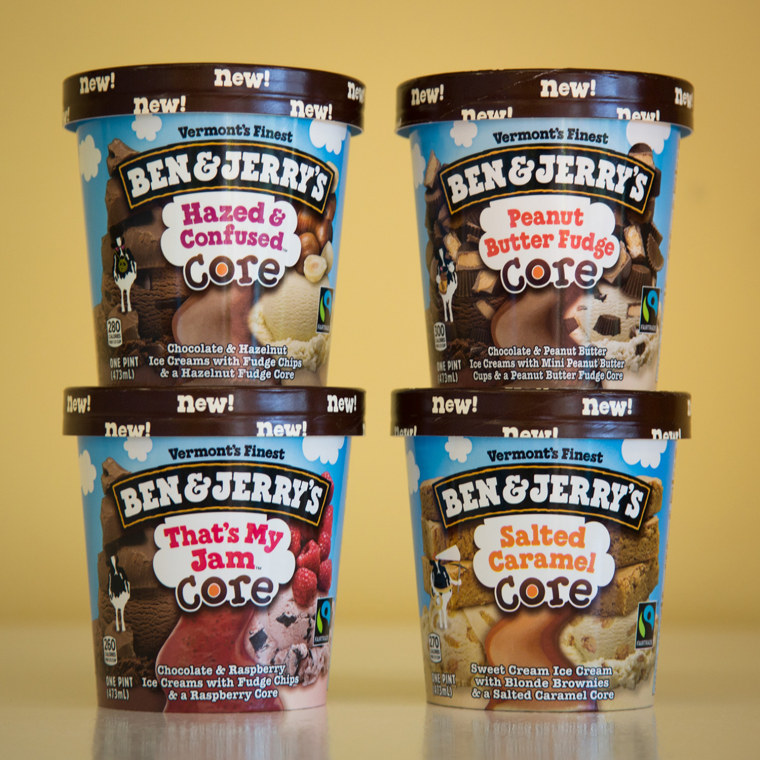 If eating ice cream for breakfast is wrong, we don't want to be right.

Ice cream kings Ben & Jerry's unveiled their new "Core" line on Monday and TODAY.com had to get to the bottom of the revolutionary ice cream containers (literally).
Modeled after Ben & Jerry's flavor Karamel Sutra, the new additions feature a column of fudge, caramel or raspberry jam running down the middle of the ice cream pint, so with each scoop of ice cream comes a dose of one of the tasty center elements. The "Core" collection boasts four flavors, including:
Hazed & Confused: Hazelnut and chocolate ice creams with fudge chips and a hazelnut fudge core

That's My Jam: Chocolate and raspberry ice creams with fudge chips and a raspberry core

Peanut Butter Fudge: Chocolate and peanut butter ice creams with mini peanut butter cups and a peanut butter fudge core

Salted Caramel: Sweet cream ice cream with blonde brownies mixed in and a salty caramel core

TODAY.com editors decided to take one for the team and try all four flavors on Wednesday… at 10 a.m EST. The early hour didn't hold anyone back as the containers were surrounded as soon as they hit the table. 
The Salted Caramel container was the first to be emptied by the ravenous bunch."The Salted Caramel was similar to Ben & Jerry's Karamel Sutra, but I liked the added crunch," said producer Lauren Sullivan. 
Hazed & Confused and Peanut Butter Fudge were the next two to be devoured. "The Peanut Butter Fudge was my favorite," said supervising multimedia producer Carissa Ray. "It was chocolate but still had the consistency of peanut butter. That took it for me."
That's My Jam was one of the least favorites among the team, as most were thrown off by having raspberry jam in their ice cream.
"The jam one wasn't my jam," said producer Courtney Thompson. "The texture and consistency grossed me out." 
Sugar headaches set in within 10 minutes of the ice cream showdown, but the general consensus is that any headaches, nausea or sugar crashes that followed were well worth it.