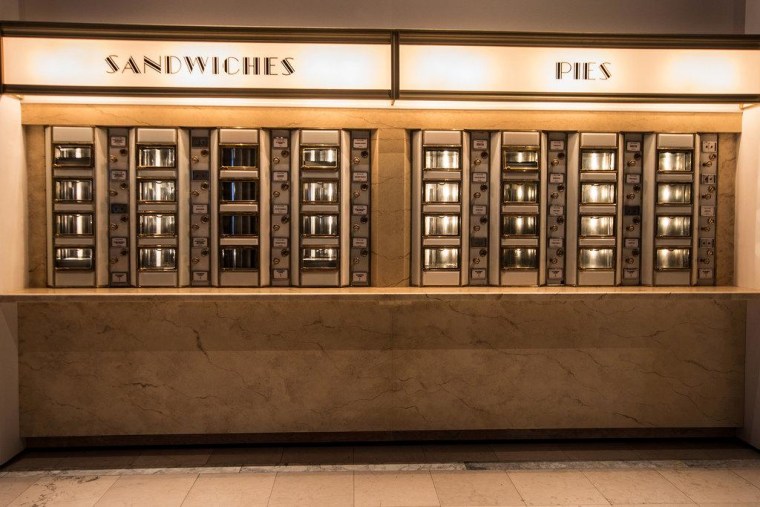 Before fast food there were automats — elegant cafeterias with self-serve machines where patrons could drop in a nickel, turn the knob and help themselves to an instant meal. In 1912, Joe Horn and Frank Hardart set New York City abuzz with the opening of a two-story flagship in the middle of Times Square. City-dwellers and tourists alike flocked to its 5 cent coffee (rumored to be the best in the city) and inexpensive food made from fresh ingredients.
Through next February, the New York Public Library is paying tribute to this revolutionary vending machine in an exhibit aptly named Lunch Hour NYC. The exhibition traces the evolution of lunchtime in New York over the last 150 years, from the invention of soda fountains to the rise of gourmet food trucks. An Art Deco recreation of an automat allows visitors a turn of the metal knob themselves, but this time they won't find a warm meal waiting. Instead, the library stocked its machine with recipe cards providing detailed instructions for how to recreate the restaurant's staple dishes.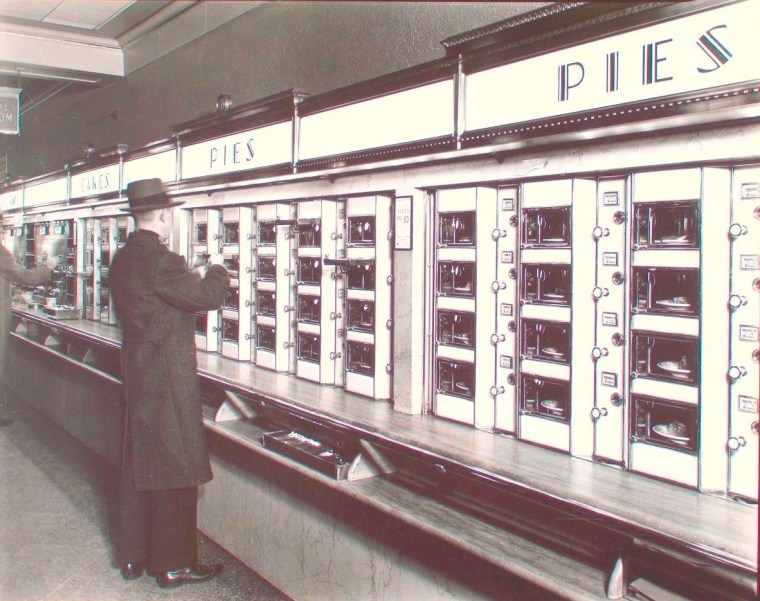 The heyday of Horn & Hardart finally came to a close in the fifties, after many working families opted to leave the city for the suburbs. Once grand cafeterias with stained glass and marble floors, many of them fell into a slump as food and labor costs sky-rocketed. The last cafeteria closed in 1991, but now you can make lunch from another era at home with a few of the exhibit's recipes below. Macaroni and cheese and baked beans were always on the menu in the Depression era when many relied on these cheap but filling meals.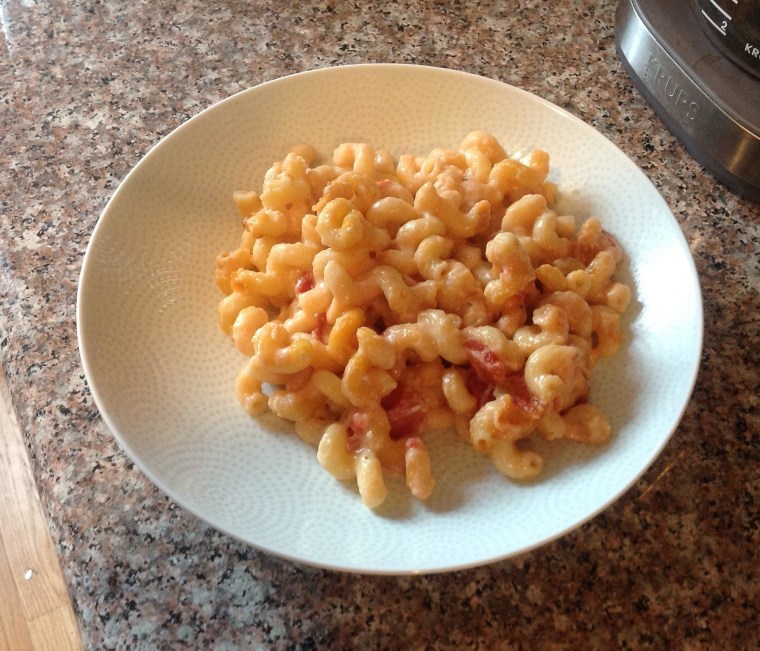 Baked macaroni and cheese from Horn & Hardart
1/4 lb elbow macaroni
1 1/2 tbsp butter
1 1/2 tbsp flour
1/2 tsp salt
dash white pepper
dash red pepper
1 1/2 cups milk
2 tbsp light cream
1 cup cheddar cheese, shredded
1/2 cup canned tomatoes, diced
1/2 tsp sugar
Cook macaroni according to directions on the package. Preheat oven to 400 deg.
Melt butter in the top of a double boiler. Blend flour, salt, and white and red pepper in gradually. When smooth, add milk and cream, stirring constantly. Cook for a few minutes until it thickens.
Add cheese and continue to heat until it melts and the sauce looks smooth. Remove from heat. Add cooked macaroni to the sauce. Add sugar to tomatoes and add to the sauce.
Pour mixture into a buttered baking dish and bake until the surface browns. Serves 2-4
Baked beans from Horn & Hardart
1/2 lb pea beans
1/2 cup chopped onion
2 strips raw bacon, diced
1 tbsp sugar
1 1/2 tsp salt
1 1/2 tbsp dry mustard
1/8 tsp red pepper
1/3 cup molasses
1 tbsp cider vinegar
1/4 cup tomato juice
1 cup water
Soak the beans overnight. Using the same water, boil, reduce heat, and simmer until tender, about 30 minutes or longer.
Preheat the oven to 250 degrees. Add all other ingredients to beans. Pour into a baking pot or pan.
Bake uncovered about 4 hours or longer. If necessary, add boiling water to prevent drying. Serves 4
Pumpkin pie from Horn & Hardart
2 cups cooked pumpkin (mashed)
3/4 tbsp salt
1 can (14 ½ fluid ounces) evaporated milk
2 eggs
3/4 cup sugar
1 tbsp butter, melted
1 tsp cinnamon
1/4 tsp ginger
1/4 tsp nutmeg
Heat oven to 425 F.
Beat all ingredients together with a rotary beater or wire whisk. Pour into a pastry-lined 9-inch pan.
Bake 40 to 45 minutes. Insert a silver knife into the filling about one inch from the side of the pan. If the knife comes out clean, the filling is done. Serves 4
More from TODAY Food:
Red, white and brew: The American spirit is alive and well with craft brewers
Diners love Biaggi's, aren't so friendly to Friendly's