Close your eyes. Now, imagine a world where a health cleanse means a steady stream of tacos for breakfast, lunch and dinner. Now open your eyes. That day is here.
The new cookbook The Taco Cleanse uplifts the lowly taco to cold-pressed juice status with its promise that it's "the tortilla-based diet proven to change your life." According to an article in People magazine today, Jennifer Aniston was so "riveted" when she heard about the book that she ordered it right away!
Written by four self-proclaimed "taco-scientists" who tested out the so-called cleanse for 30 days, the tongue-in-cheek book includes 75 recipes for taco fillings. It also has tips on how to prepare for it (carry your own corn or flour tortillas to concerts) and has a Q&A that answers pressing taco questions like "My grandma was confused and made me a burrito. I don't want to hurt her feelings; what do I do?"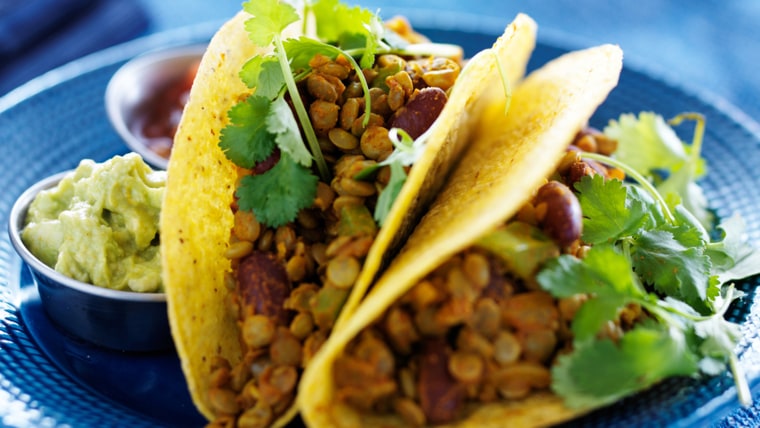 So tacos all day, every day sounds too good to be true, right? Sadly it is, unless you're a vegan. That's right, the Taco Cleanse is a vegan cleanse. That means carnitas, barbacoa, seafood and cheese are out. Bummer. But you can have as many tacos as you like. The book says to "repeat as needed" and since it's not a real diet it's up to how much you want to eat.
Here's to a meal plan might actually stick to, and 5 vegan taco fillers to get you started.