We're pretty sure Taco Bell's R&D department is either run by stoners or 13-year-olds. Either way, the fast food chain, which also created the popular taco with a Doritos shell, a taco with a fried chicken shell and even tested a burrito filled with Pop Rocks-like candy, is clearly onto something.
Now, they're testing Kit Kat and Twix quesadillas at select Wisconsin Taco Bells. Dubbed the Chocoladilla, this $1 dessert is exactly what it sounds like: a flour tortilla stuffed with melted Kit Kats. Some locations are testing a version with melted Twix.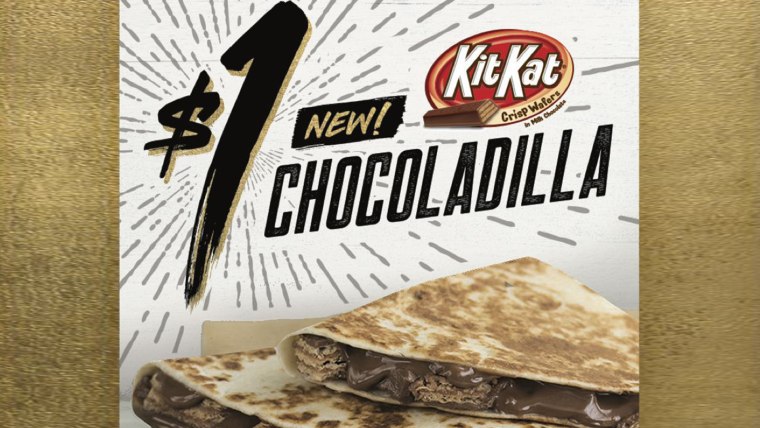 Mashable reported that the testing has been happening since Oct. 5 and will continue through mid-November. Depending on customer feedback, a version of the Chocoladilla could roll out nationwide eventually. Taco Bell has served up this tortilla treat with melted chocolate chips in the UK, and one filled with Nutella in the Philippines. Of course, they had to up the ante for 'Merica.
It's hard to argue that this menu item wasn't created by someone with hardcore munchies and a sadly stocked fridge. So if you really want to try it and don't live in Wisconsin, we're pretty sure you can get creative with the Halloween candy that'll soon be burning a hole in your pillowcase.