Craving fast food but can't decide if you want to load up on a spicy burrito or crispy French fries? Taco Bell says you should have both — in the same bite.
Behold the "California Loaded Fries Burrito." The Mexican-inspired fast food chain began testing the burrito in Charleston, West Virginia earlier month, according to FoodBeast.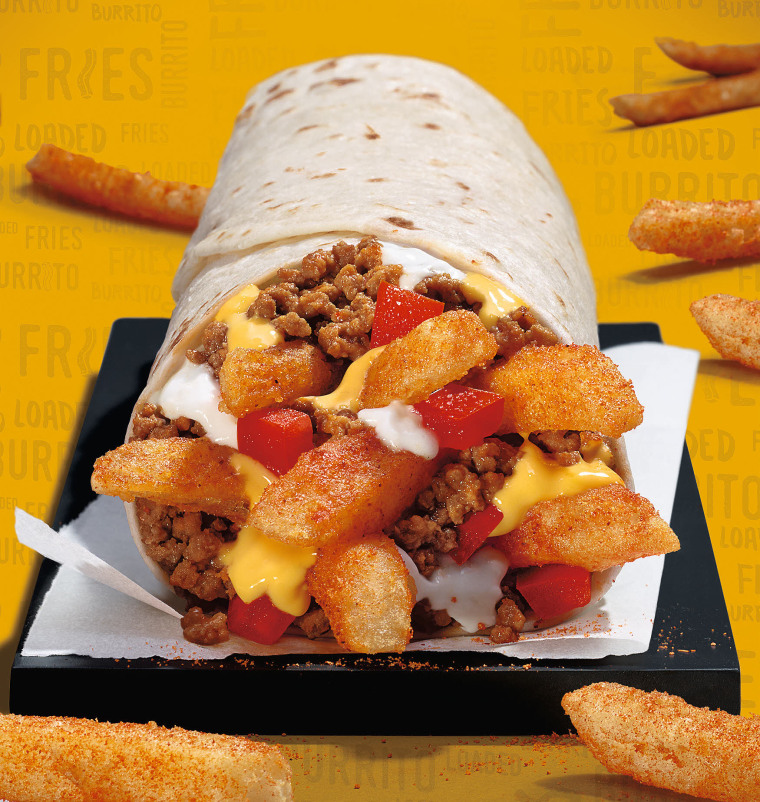 The burrito, which the chain claims is inspired by a mix of southern California cuisines, includes meat, cheese, salsa, guacamole and fries. Unlike a traditional California-style burrito, the Taco Bell burrito uses nacho cheese instead of shredded cheddar.
Customers also have the option of choosing the "Chipotle" version, which uses a spicier chipotle pepper sauce instead of guacamole. The burrito also comes in the "Supreme" style, which contains nacho cheese, sour cream, meat and French fries, but no guacamole or chipotle sauce. A representative for TODAY Food said the burritos will be tested in Charleston until late December.
The burritos go for $1.99 a piece, but customers can also purchase a $5 box that comes with a crunchy taco, a Nacho Cheese Doritos Locos Taco and a medium-sized drink.
The response on Twitter has been all over the map, especially among Californians:
In addition to unveiling this fry-loaded burrito, Taco Bell also announced that it's revamping its own dollar menu with 20 new items that will be rolled out throughout 2018.
The announcement came on the heels of fast food competitor McDonald's unveiling its revamped Dollar Menu that features $1, $2 and $3 items. Starting Dec. 21, Taco Bell's menu will include a $1 Stacker, the restaurant's multi-layer quesadilla that's folded to make it more portable. We can only imagine some of the other new Mexican mashups the taco chain has planned for the new year.