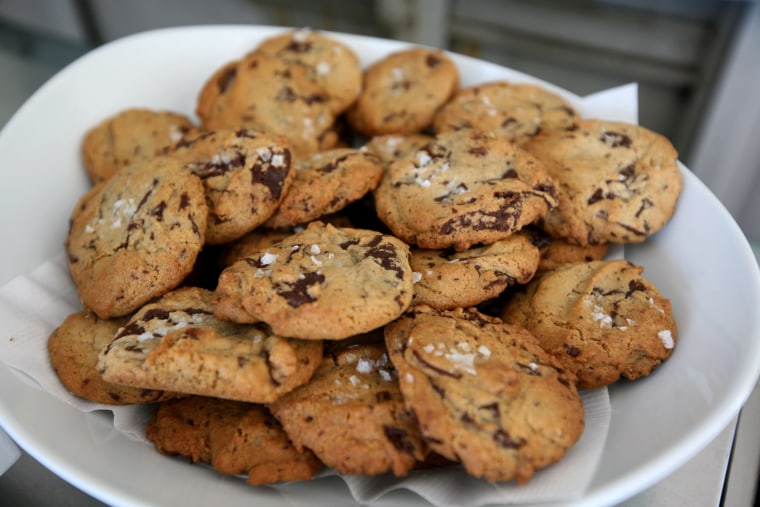 We know, dear readers, how much you love melding your soda and snacks into oh-so-decadent creations (remember these Coke and Ruffles cupcakes?). So when we came across chef Hedy Goldsmith's recipe for Diet Pepsi chocolate chunk cookies, we had to feature it. Goldsmith, the celebrated pastry chef from Michael's Genuine in Miami (which Al Roker counts among his favorite restaurants), was actually working for Pepsi as a correspondent at the South Beach Wine and Food Festival this past weekend, and decided to try out the soda in her desserts.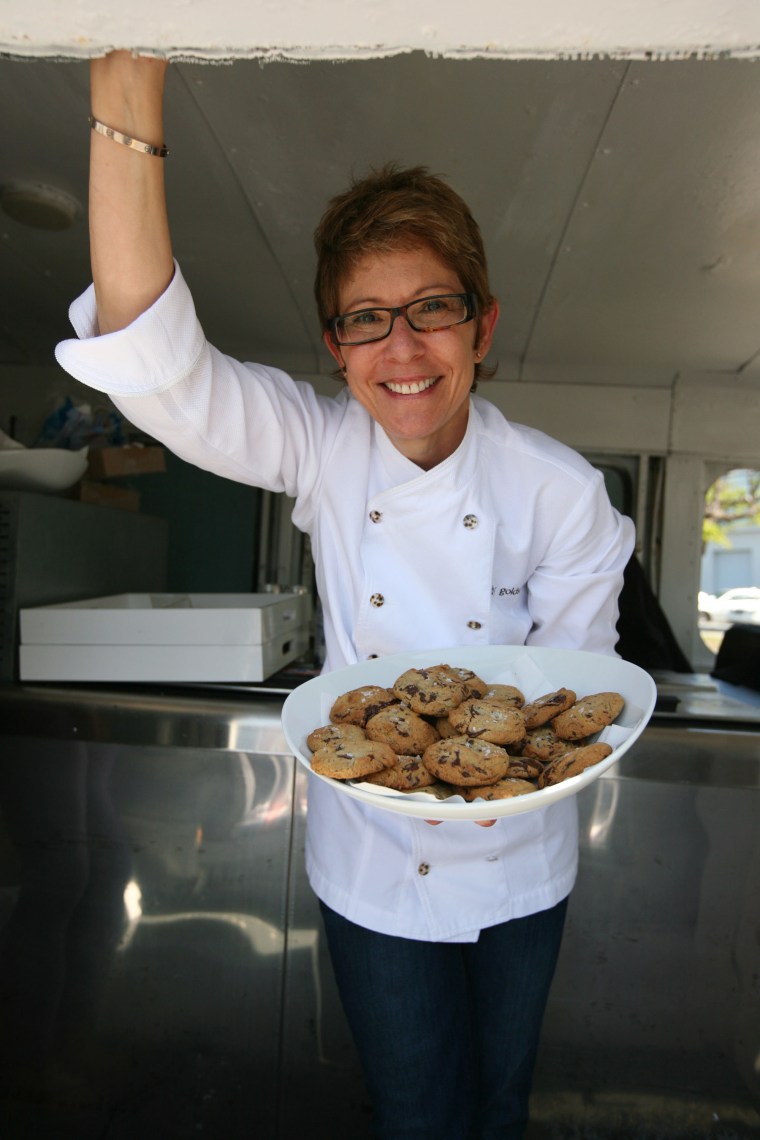 "I wanted to experiment with bringing some of their unique flavor into my desserts," she told TODAY.com. "I came up with the Diet Pepsi chocolate chunk cookie, keeping my classic recipe and adding a pinch of Diet Pepsi for pizazz."
The soda adds a nice caramel flavor and color to the cookies, which Goldsmith served at the festival. "I was actually able to cut down on a lot of the sugar by incorporating the Diet Pepsi flavor," she said, adding that another of her secrets for this recipe was to "sprinkle of Maldon Salt on top to balance out the sweet."
You should be able to swap in your soda-of-choice into the recipe, though Goldsmith, of course, stands by Diet Pepsi and says she's already working on more treats, including a Diet Pepsi marshmallow. Enjoy!
Diet Pepsi chocolate chunk cookie
1 3/4 cups all-purpose flour 
3/4 teaspoon baking soda
1 stick unsalted butter, at room temperature
1/2 cup packed dark brown sugar
1/2 cup granulated sugar
1 extra-large egg, at room temperature
1 tablespoon Diet Pepsi, at room temperature 
1 teaspoon vanilla bean paste or pure vanilla extract
6 ounces bittersweet chocolate, cut into ½ inch chunks
1 teaspoon Maldon salt or coarse sea salt
Preparation:
Sift the flour and baking powder. Set aside.
Using an electric mixer fitted with the paddle attachment and beat the butter on medium speed for about 3 minutes until soft and smooth. Add the brown sugar, granulated sugar and beat on medium-high speed for 5 minutes until light and fluffy. Scrape down the sides of the bowl. Add the egg, Diet Pepsi and vanilla and beat for 1 to 2 minutes until just blended. Add the flour mixture and beat on low speed until just combined. Using a rubber spatula, scrape down the sides of the bowl. Stir until just blended.
Using a 3-tablespoon ice cream scoop, shape the dough into balls and arrange them close together on a large plate or small baking sheet. Cover and refrigerate for at least 1 hour until well chilled.
Preheat the oven to 350°F. Line 2 baking sheets with non-stick liners. Arrange the chilled dough on the prepared baking sheets about 2 inches apart. Using the palm of your hand, flatten each dough mound slightly.
Bake for 12 minutes, switching the baking sheets positions halfway through baking, until light golden brown. Let cool completely.
Vidya Rao is a food editor at TODAY.com. She is now inspired to bake with cream soda.