Necco, the maker of the iconic Valentine's Day candy Sweethearts, celebrated its 170th anniversary last year.
But unless someone comes to their rescue soon, the historic company might not be around for another big milestone.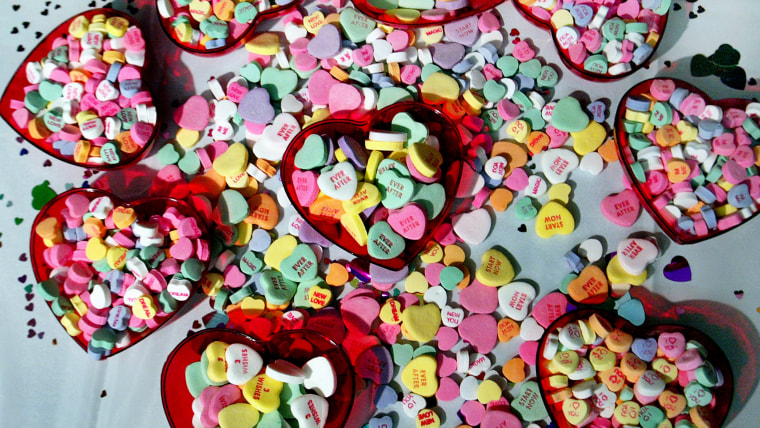 Necco, which stands for New England Confectionary Co., is looking for a buyer but if they don't get one in about two months, the company may have to lay off 395 employees and shut down its operations in Revere, Massachusetts, The Boston Globe reported. In a letter to Revere's mayor Brian M. Arrigo and the state, Necco chief executive Michael McGee wrote that negotiations with "potential buyers" are ongoing. If no sale is made, however, the majority of the company will have to be laid off in as soon as 60 days following the March 6 notice.
According to The Globe, Necco is the Boston suburb's largest employer. In addition to conversation Sweethearts, the company also produces Mary Janes, Clark Bars and Candy Buttons.
"We deeply regret and understand the uncertainty this action may cause our valued employees," McGee wrote to Revere's mayor.
If the company closes up shop, the citizens of Revere won't be the only ones affected. Many have tweeted their love for the classic candies and sweet childhood memories in order to help "save Necco."
Necco's Sweethearts might be the company's most iconic candies. According to Necco, approximately 2 billion individual boxes are sold in the six weeks surrounding Valentine's Day.
The candy company was founded by three brothers (Oliver, Silas and Daniel Chase) in 1847. They began selling Sweethearts in the 1860s when Daniel developed a machine that could print dye on candy. The chalky, neon hearts with mini proclamations of love became popular at parties and weddings. But back then, the passages were long-winded, such as "Married in white, you have chosen right," as opposed to today's brief proclamations of love (or at least a mild infatuation), like "MY BABY."
Should Necco close, other candy companies, such as Brach's and Wonka, will be ready to move in with their own version of the classic conversation hearts for Valentine's Day. Wonka SweeTarts Hearts are tangier and the phrases are embossed. But Brach's Conversation Hearts are pretty similar to Necco's with stamped-on lettering.
Necco has yet to call it quits, however. In the letter, McGee told Revere's mayor he'd put out an SOS message to potential buyers that said: "CALL ME."