Over the weekend, filmmaker Morgan Spurlock — famous for eating a month-long diet of Big Macs and Egg McMuffins (and chronicling his related health problems) for his film Super Size Me — opened, yes, a fast-food restaurant.
Most assumed the four-day pop-up, Holy Chicken!, which runs through tomorrow in Columbus, Ohio, was merely a stunt or fodder for an upcoming documentary, but the filmmaker told TODAY.com that the restaurant will indeed open permanently in the first quarter of 2017.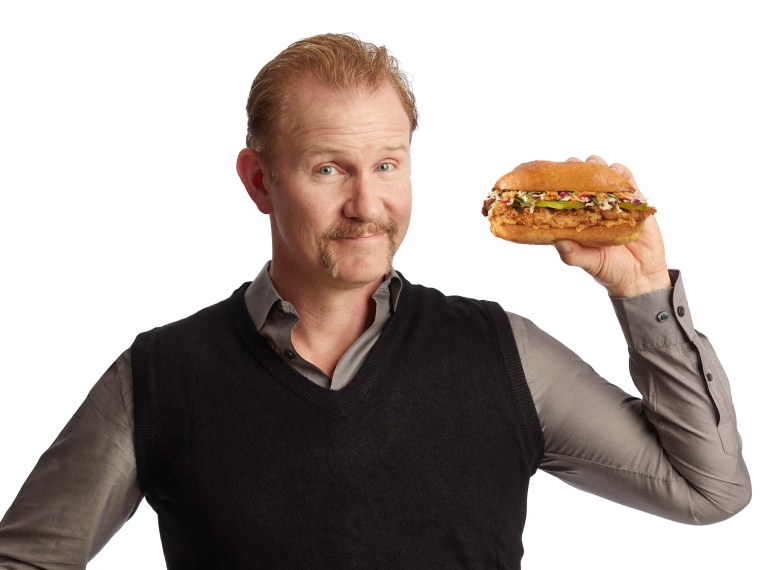 "I love the fact that people think it's an unreal thing and not happening," Spurlock says. "We opened in a brick-and-mortar location on purpose, knowing that we can come back and literally turn the lights on."
Housed in a former Wendy's, Holy Chicken! looks a lot like a typical "upscale" fast-food joint: modern hues of green, orange and white on the walls, rustic wood details, iPads at the registers.
But it's all contrived — that is, Spurlock is intentionally employing the tactics that he says restaurants use to "green wash," or market in a way that makes their practices seem healthier and more eco-friendly than they really are.
"Why so much green? Green makes you think everything's already fresh and natural," he says, "and we tell you that right on the wall."
Literally: Customers will certainly notice some eyebrow-raising admissions, posted all over the place. ("The color green makes you feel healthy and relaxed, as if you're surrounded by nature. By painting these walls this lively shade of green, we're helping you believe our food is fresh and natural," one reads.)
He's doing it, he says, all in the name of transparency. "We are ultimately going to be the first honest fast-food restaurant," Spurlock says. "We are going to set the record straight."
Other eye-opening things you may notice:
The Grilled Crispy Chicken Sandwich is cooked in a "deep crisper." Spurlock says, "We don't use the 'f-word,' because people would find it to be less healthy." And the takeout containers tell you just that: "We never, ever call it fried, even though it is."
Char flavor is added at an "application station" in the open kitchen, clearly pointed out to customers with a big arrow. "The grilled, smoked flavor that we put into the batter is a miracle of science," Spurlock says. Grill marks are painted on top—all industry practices, he says, that they just point out here.
Water dispensers are labeled "100% locally sourced artisanal water" with a large-font disclaimer: "By 'locally sourced,' we mean our water is piped here fresh from the City of Columbus Department of Public Utilities. We can say it's artisanal because our lawyer doesn't think anyone will sue us for it. And because this is probably the one thing in this restaurant that is actually good for you."
Employees' shirts read "Part-Time All the Time." (The fast-food industry has been criticized for keeping employees' hours under the threshold where they would be eligible for healthcare benefits.)
The chicken sandwiches, which come topped with "homemade slaw," pickles, and mustard or spicy sauce, clock in at 860 calories and sell for $7.50 apiece (a McDonald's Buttermilk Crispy Chicken Sandwich is 570 calories and sells for roughly $4.39). Spurlock told a local business journal that they won't "play in the dollar menu game" as that "creates the lowest common denominator food."Holy Chicken! sold out by 3 p.m. each of the first two days.
So wait, the food is not healthier for you than a traditional fast food restaurant, but the restaurant is just more transparent about it?
RELATED: Does fast food look as good in real life as in advertisements?
Well, sort of — there are upsides he is quick to point out, too: "It tastes infinitely better," Spurlock claims. (So far, the pop-up, still in its testing phase, has earned 3.8 stars on Facebook reviews. The most detailed online customer review so far praises the sweet-and-smoky mustard sauce, as well as the green bean fries, but says "there are other fast-food chicken restaurants with far better offerings." Another says she "liked the chicken" despite the hour-long wait.)
Spurlock is also heavily involved with how the chickens are raised on a farm in Alabama. "Our farmer, who has been fighting the Big Chicken companies for years, will tell you these chickens are happier than others. They have more access to the outdoors in a week than most will have in a lifetime."
Holy Chicken! also pays employees a living wage of $15 an hour, and moving forward, it will be providing benefits to everyone who qualifies, Spurlock says. "The whole idea behind the team's shirts is to encourage customers to ask about this so they can learn from our employees' previous experiences in the workplace," he says.
OK, great. So did Morgan Spurlock just give us permission to eat deep-fried — err, deep-crisped — food?
"When it comes to how often should you eat this food," he says, "I'm a real believer in 'everything in moderation.' "
While a sign is posted at the entrance of the pop-up, informing customers they are being filmed, Spurlock is mum on whether any of it is for an upcoming documentary, but says the footage could be used for attracting investors, as they research other potential markets.
"We film everything — that's part of my life now. Whenever we do exciting things like this."