Some years ago, when I was first getting excited about wine (but didn't know very much) a guy in a wine store said, "Here, try this." The salesman handed me a bottle of Côtes du Rhône. It was $7 or $8, as I recall, and I think it was the 1979 Côtes du Rhône from E. Guigal, one of the best-known Rhône producers. I thoroughly enjoyed the wine but, at the time, had no idea what I was drinking.
So I consulted one of those thick wine books — Google and the Internet weren't around yet — and discovered that Côtes du Rhône is the biggest wine area and the biggest appellation in the southern Rhône region of France.
It was the beginning of a lifelong love of wines from the area, including the widely available Côtes du Rhône, which, to this day, represents some of the best values from that region anywhere else.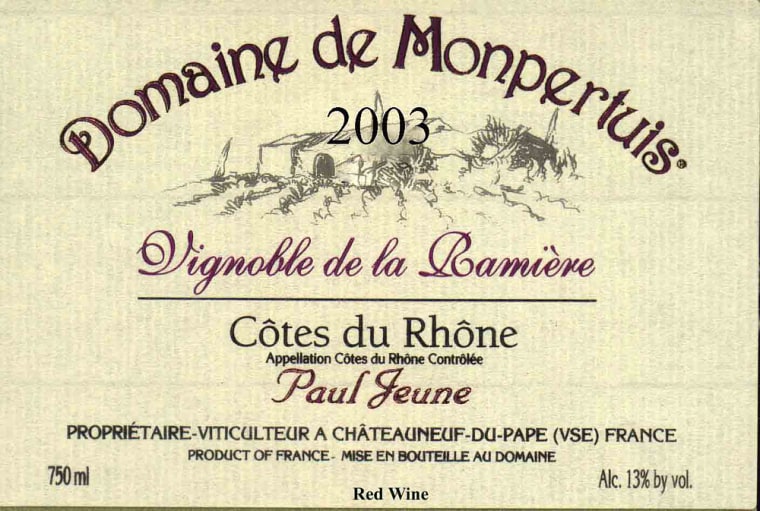 I was reminded of all this recently as I tasted the outstanding 2003 Côtes du Rhône from Domaine de Monpertuis, a small producer of exceptional wines from in and around the celebrated town of Châteauneuf-du-Pape.
The wine is made from grenache, the main grape in the southern Rhône. It's an intensely beautiful example of Côtes du Rhône, having benefited from the extremely hot summer of 2003, which produced unusual concentration in the grapes. There's always a danger in such vintages of winding up with hot, alcoholic wines.
But Paul Jeaune, the proprietor of Domaine de Monpertuis, was able to produce a wine with good balancing acidity and finesse. The result is a powerful but elegant Côtes du Rhône that's a real treat for the price (I paid $13 at one store and $15 at another).
The aromas reminded me of strawberry preserves and spices and transported me, in the mind, to a fruit orchard abuzz with yellow jackets and fruit flies on an Indian summer day. In the mouth I detected deep raspberry, plum and hints of cinnamon and brown sugar. This is about as pretty as it gets in the grenache grape and Côtes du Rhône.
You'll want to match it carefully with foods. Lighter meats, such as pork, veal and roast chicken will work well, while lamb and beef might be overpowering. Another good candidate is turkey with all the varied trimmings (yes, it really is almost that time).
Domaine de Monpertuis stands apart in a sea of not-much-more-than-decent Côtes du Rhône. Another wine worth trying is the domaine's unusual and inexpensive Vin de Pays made entirely from the lesser-known counoise grape, which I have reviewed here before. The wines are imported by Rosenthal Wine Merchant.
This Week's Wine
Name: 2003 Domaine de Monpertuis Côtes du RhôneType: Dry RedCountry: FranceRegion: Southern RhôneGrape: GrenachePrice: About $15
Edward Deitch's wine column appears Wednesdays. He welcomes comments from readers. Write to him at EdwardDeitch