The 2023 Super Bowl is fast-approaching and football fans around the country are readying their game-day menus with plenty of food and drinks. By the way, plenty means literal tons: An estimated 105 million pounds of guacamole are consumed on Super Bowl Sunday.
On Feb. 12, host of the big game, State Farm Stadium in Glendale, Arizona, will be serving truckloads of grub to tens of thousands of fans in attendance — and even more will be chowed down on outside at an annual, star-studded tailgating event. But what happens to all that leftover food?
On-site to save the leftovers of the estimated 140,000 pounds of food generated by the Super Bowl is the Food Recovery Network (FRN), a nonprofit organization committed to reducing food waste by sourcing and receiving donations of excess food from sources from college campuses to the National Association of Realtors — and this weekend, the Super Bowl.
"Last year, we recovered about 2,000 pounds of food," Regina Anderson, executive director of FRN, tells TODAY.com about the 2022 Players Tailgate, which was hosted by Guy Fieri and served cheeseburgers, chicken wings and plenty of fresh seasfood.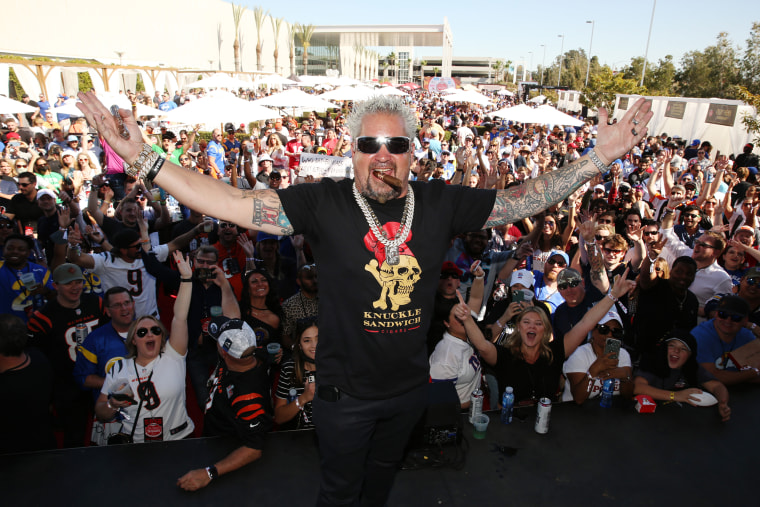 "This was like crab legs, scallops, ahi tuna and high-end seafood, but it was also whole milk, butter, lots of eggs that were just the raw ingredients that we were able to recover," Anderson says.
When the Super Bowl kicks off at 6:30 p.m., Anderson and a spritely team of 11 will already be undertaking an endurance test of their own — loading thousands of pounds of leftover food onto trucks.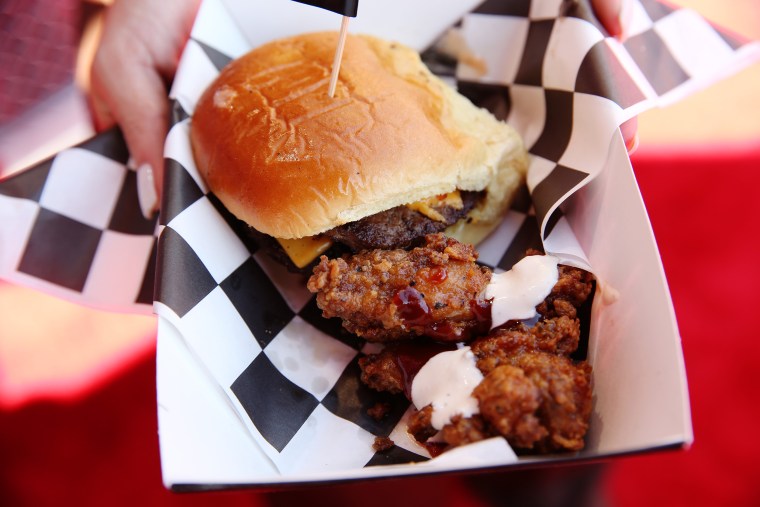 The team, made mostly of college student volunteers, needs to act fast, completing their objective before the two-hour FDA-guided window for perishables closes, rendering the food non-donatable.
"We have refrigerated trucks that we rented," Anderson says, noting that she has been working with the event organizer on logistics. Anderson says last year's surplus was brought over to the Mission in Inglewood, California, and for this year's event, a similar collection plan has been planned in advance. "As they get filled up, we'll bring them to the Phoenix Rescue Mission," she says.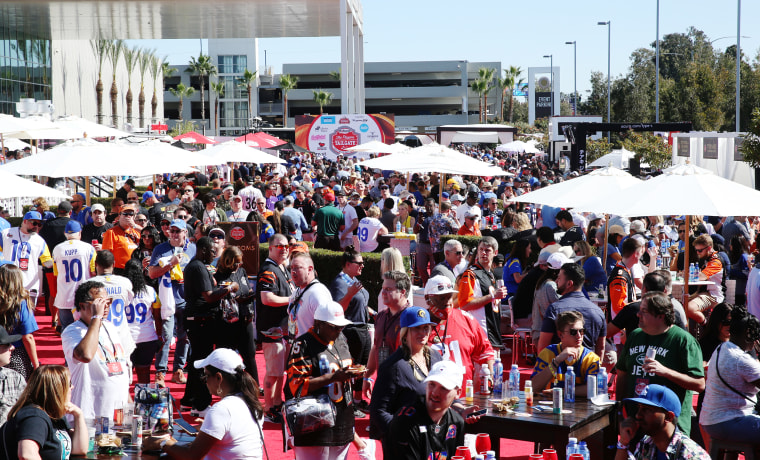 This Sunday, the Players Tailgate will take place right outside State Farm Stadium. The pregame fete is hosted by chef Bobby Flay and will offer luxury bites from him and several other celebrity chefs. The event also boasts the opportunity to mingle with more than 70 NFL players like the Broncos' Jerry Jeudy and the Dolphins' Tyreek Hill.
Tickets for this year's event are going for $875 per person and $499 for youths under 15. According to the event's main organizer, tickets always sell out, and this year is no exception.
"First year, we had maybe 400 people. This year, we'll have 2,500 people," Kyle Kinnett, CEO of Bullseye Event Group tells TODAY.com, adding that the event rolls out 65,000 square feet of red carpet forguests to enjoy the culinary stylings of chefs like Flay, Michael Voltaggio, Brooke Williamson and Rocco DiSpirito, among others.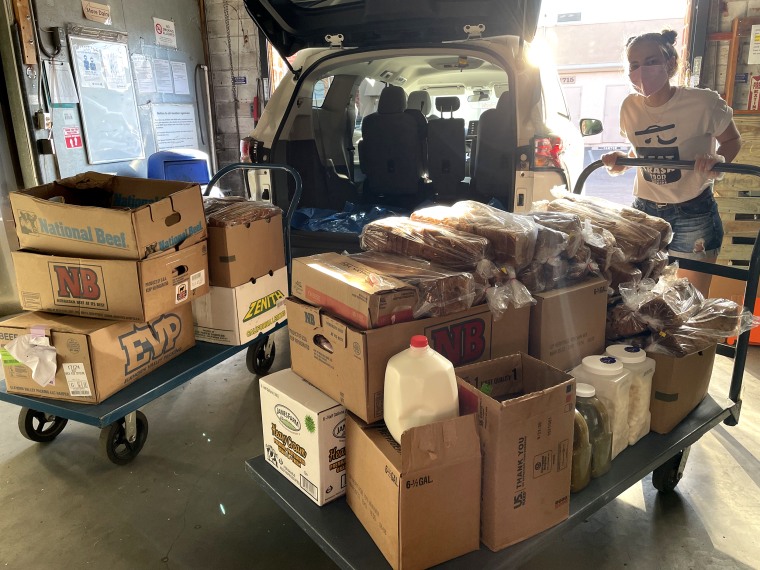 Kinnett says that before FRN came around, thinking about how much to order to avoid wasting money and perfectly good food was at the top of his mind while planning tailgates around the country with his NFL partners.
"I lose sleep at night, trying to nail that number so I don't have waste," Kinnett says. "But here, it's super cool. It's a good way for me to give back and not worry about it."
This year's event menu includes spit-roasted red chile pork tostada nachos with green chile queso, lobster and black truffle grilled cheeses, pickle-brined chicken thighs with ranch and caviar, and deep-fried lobster. That five-star menu is sure to whet a lot of appetites during the Players Tailgate, and thanks to Anderson and Kinnett, appetites will be satiated afterwards, too.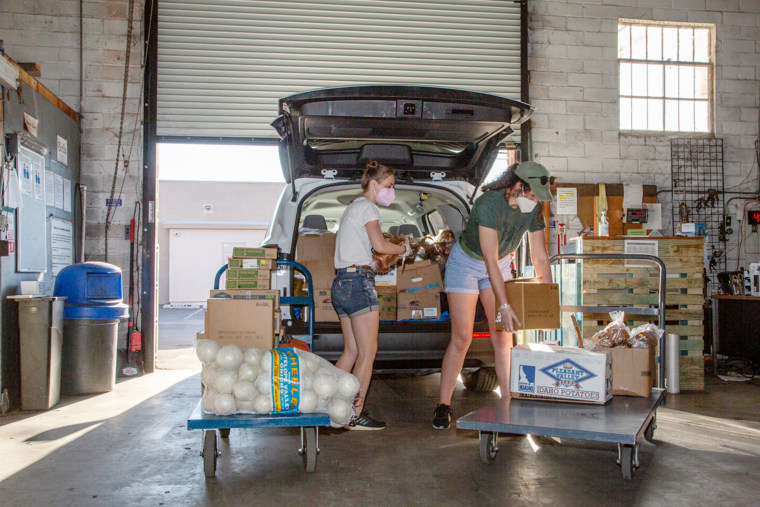 "It's changed my perspective on all this. I didn't want any excess. Now I want to donate 10,000 pounds of food," Kinnett says. "Who they're providing the food to gets pushed aside when a Super Bowl rolls into town. Everybody should have a Super Bowl experience."
Anderson and Kinnett both say that they are committed to continuing to facilitate food donations via the biggest football event of the year every year. Anderson and Kinnett both even have plans already in motion for next year's Super Bowl, which for the first time will be held in Las Vegas.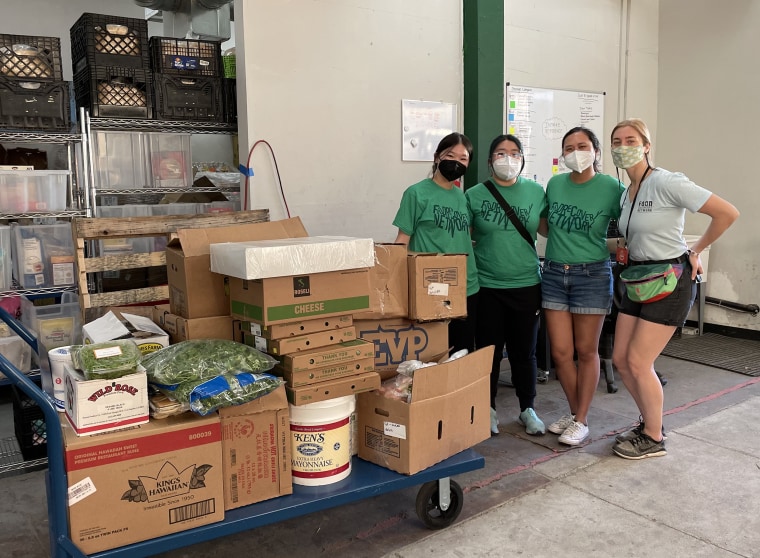 "What is so wonderful about Bullseye is they go wherever the Super Bowl is as it changes location," Anderson says.
"They knew that wherever they were hosting their tailgate party, they wanted to make sure that all the high-end food that the celebrity chefs at this event were not using was actually recovered," she adds. "Even an event that changes location from year to year can still have a recovery plan in place."
As the FRN points out on its website, about 40% of food produced in the United States goes to waste, yet one in eight Americans experience food insecurity. Anderson says the organization's mission is to combat those statistics.
She says the organization utilizes university cafeterias, corporate dining and for the second year in a row, fresh food steps from the Super Bowl.
"We make sure that that food gets to where it needs to go," Anderson says.  "Anywhere where there is food, we can help."