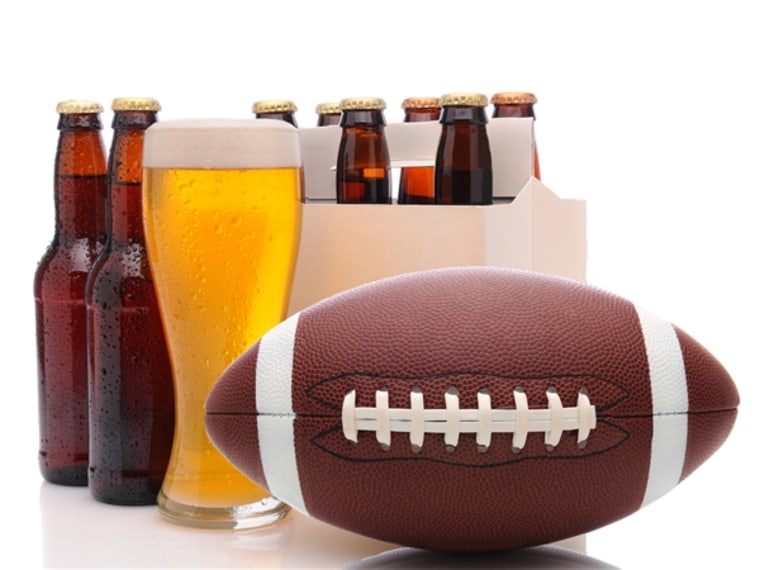 Super Bowl Sunday is just around the corner, and besides checking out the fancy commercials and watching Beyonce sing at halftime, I'm mostly looking forward to the food and – you guessed it – the beer.

This year's match-up between the San Francisco 49ers and The Baltimore Ravens offers some interesting storylines to inspire which brews you choose to enjoy while watching the big game.
Let's begin with some hometown beers for each team. The San Francisco 49ers call Northern California home, a region that has one of America's oldest and best-established craft beer scenes, which means there are many great beers to choose from.
If you're local, it's hard to go wrong with something from Russian River, like Blind Pig, a 6.1 percent alcohol-by-volume (ABV) India Pale Ale that has an amazingly floral nose, a well balanced spruce-meets-crackers body, and a beautiful bloom of piney hops on the back end. Not only is this a world-class beer, it also allows you to joke about how the refs are as blind as the pig on your label – that never gets old!
If you're rooting for the Niners outside of Northern California, then look to some of the regions most popular exports. Want your team to "sink" the Ravens? Then grab some Sierra Nevada Torpedo IPA, a deliciously dry-hopped IPA that clocks in at 7.2 percent ABV but tastes "bigger" than that.
Enjoyed how Kaepernick gouged the packers for 181 yards on the ground in the divisional round? Then consider 21st Amendment's funky Sneak Attack Saison – a spicy 6.2 percent ABV farmhouse ale with hints of banana, cardamom and lots of lemon zest.
If you find yourself waxing poetic about the days of Montana, Craig and Rice, then go old-school with an Anchor Steam Beer, a balanced and earthy 4.9 percent ABV California Common that's been kicking around the Bay Area long before Joe and Jerry were playing pass and catch.
For the Ravens fan who wants something simple and refreshing, there's The Raven, an appropriately named offering from the Baltimore Washington Beer Works. This 5.5 percent ABV euro-style Lager treats you to a sweet bit of grainy malt and a little pop of hops, and nothing much else to wow or offend.
If you're seeking more flavor, then consider a Heavy Sea's Loose Cannon, a 7.25 percent ABV American IPA that isn't afraid to bombard your senses with citrusy hop goodness, with notes of mango and pineapple balanced out by a biscuit backbone. It's a great choice for Ravens fans who are hoping that Joe Flacco uses his cannon of an arm to fire some bombs of his own to Torrey Smith.
If you're hoping to see Ray Lewis and company go crazy on the San Fran offense, then reach for a Flying Dog Gonzo Imperial Porter. This 9.2 percent ABV Baltic beauty has wonderful roasty notes of espresso and toffee, and a finish of dark chocolate and herbal hops that lingers longer than an aging linebacker who finds it hard to walk away from the game.
Of course it's more than two teams that are facing each other at Super Bowl XLVII, there are two brothers, John and Jim Harbaugh, head coaches of the Ravens and Niners respectively. If you're in the mood to celebrate this pinnacle of sibling rivalry – some have dubbed it the "HarBowl" – then consider drinking a beer brewed up by brothers.
Chris and John Trogner's marvelous Troegs Nugget Nectar is a 7.5 percent ABV American Amber that will pummel your palate with an explosion of fruity hops that's barely contained by a bready base of malts (sort of like Jim Harbaugh's temper is barely contained by his better judgment).
Another brotherly brew is the Widmer Brothers Brewing Company's Hefeweizen, a 4.9 percent wheat ale that starts our bready, and then slowly reveals hints of orange and lemon, followed by a dry finish (much like brother John slowly revealing his dry sense of humor).
Of course you might not be rooting for either team, and you don't care about the Harbaugh brothers – you just want to have a little fun. Well, this year's game is being held in New Orleans, one of America's favorite party cities, so laissez les bons temps rouler with some Louisiana brews.
Nothing tastes like N'awlins quite like Abita Amber, a 4.5 percent ABV Munich-style Lager that tastes a bit like a toasted biscuit brushed with a hint of dark fruit confit. If you're looking for something with a bit more weight to it, Abita's 5.6 percent ABV Turbodog is a Brown Ale that'll delight your senses with smooth tastes of toffee and an earthy nuttiness.
Finally, if you're looking forward to Beyonce's halftime show (and want to pay homage to the lip-syncing controversy) and you live anywhere near Alpine, Calif., then why not stop by the Alpine Beer Company for a Willy Vanilly American Wheat beer, brewed with vanilla beans? A nice beer always makes karaoke more fun!
These are just a few suggestions to have a little fun with whatever beers you choose to serve and enjoy for this year's Super Bowl.
So tell us – what beers will YOU be enjoying on Super Bowl Sunday?
Jim Galligan is co-founder of the Beer and Whiskey Brothers blog, where he and his brother Don cover the ever-evolving world of craft beer and distilled spirits. Follow him on Twitter.
More from TODAY Food:
'The Black Friday of pizza': How pie-makers prep for Super Bowl
Super Bowl chef shares game-day Cajun menu, recipe
A taste of history: Old-school beer New Albion gets a new life