With baseball games, barbecues and going to the beach, it's easy to get swept up in the fun of summer and overdo it on unhealthy food — especially with all the tasty snacks that go along with summer celebrations. So if you're trying to eat healthily, how do you fill your plate at the barbecue without doing in your diet?
Here to help is Jackie London, registered dietician and nutrition director of the Good Housekeeping Institute. London names the healthier choices among the season's most popular foods, including top picks for cookouts, concession stands and more.
Cookout Eats: Burger vs. Ribs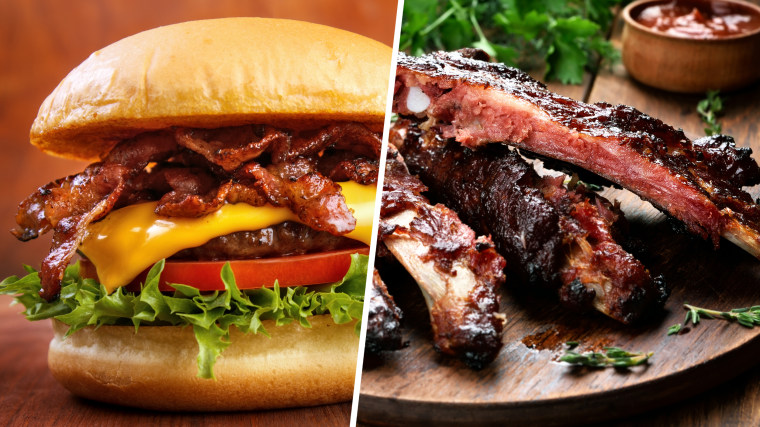 WINNER: BURGER
One traditional burger made from 4 ounces of meat contains about 300 calories cooked and 8 grams of saturated fat, while a half rack of pork ribs will set you back around 550 calories and contains 13 grams of saturated fat for the same portion.
Also keep in mind that condiments and sauces can make cookout food tricky to navigate from a health standpoint. A 2 tablespoon serving of sugary barbecue sauce is 70 calories and contains 16 grams of sugar (that's 4 teaspoons!), so the calories and sugar count can add up quickly if you choose the ribs. You're better off opting for the burger and loading it up with extra veggies — use the burger as a veggie vehicle and add extra lettuce, tomato, sprouts and even fresh salsa if you have it on hand. (You can eat the bun too: a typical burger bun has 120 to 200 calories, depending on size.) Fill up the rest of your plate with fresh summer sides, like tomatoes, corn, cucumber and grilled summer squash.
Savory Side Dishes: Potato Salad Vs. Macaroni Salad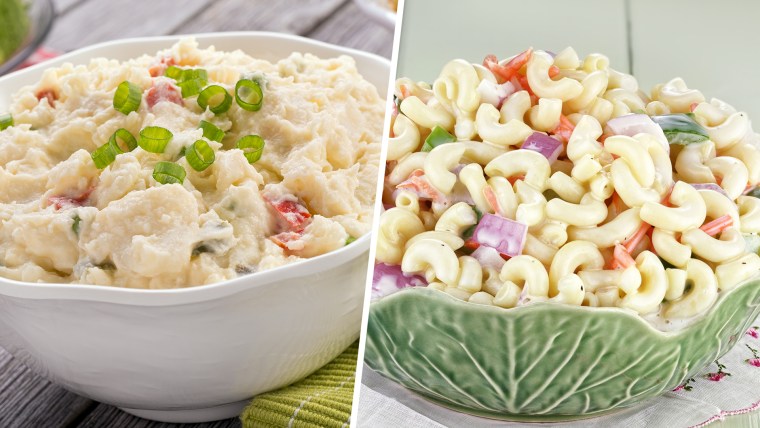 WINNER: POTATO SALAD
Potato salad contains about 350 calories and 4 grams of saturated fat per cup, while pasta salad has around 450 calories and 5 grams of saturated fat per cup. With both hovering around 1,000 milligrams of sodium (that's about half what you get for the day!) and packing lots of extra calories and fat from mayo (1 tablespoon = 100 calories and 1.5 grams saturated fat), neither is the most nutritious choice.
But potato salad is slightly better for you thanks to potatoes — which are a surprising superfood in their own right (they're one of the highest sources of potassium in the American diet!). Since one spud delivers about 20% of the daily value for potassium and nearly 50% of the daily value for vitamin C, there are many benefits to eating potatoes, especially when they're eaten with other veggies and sans calorie-laden add-ons.
Your best bet is to skip the mayo dressing and drizzle cooked potatoes with a tablespoon of extra virgin olive oil, combine with sautéed leafy greens like kale or spinach, and season with scallions, chives, salt and pepper, for an lighter, more nutritious side dish. Or for a surprisingly filling main course, serve roasted or baked potatoes with 1/2 cup low-sodium black beans, 1/4 cup salsa and a dollop of low or non-fat Greek yogurt.
Grab-and-go Sandwiches: PB&J vs. Turkey and Cheese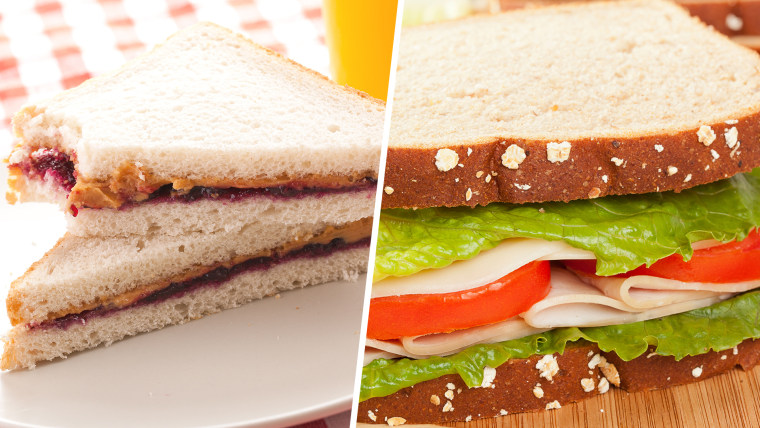 WINNER: PEANUT BUTTER & JELLY
Bring on the PB&J! First, it's the easiest thing to transport because you can BYO peanut butter and tote the bread separately. For extra portability, try squeeze packets, which typically contain 1.15 ounces, or about a 2 tablespoon serving. Add fruit (like seasonal berries) instead of jam for extra fiber.
The turkey and cheese is fine, but peanut butter is higher in heart-healthy monounsaturated fats, while the ingredients in a typical turkey and cheese sandwich are more processed and higher in sodium and saturated fat.
Concession Stand Snacks: Nachos vs. French Fries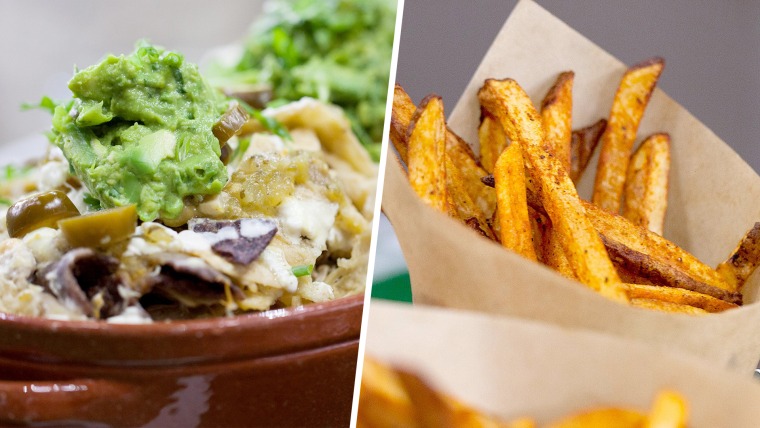 WINNER: FRIES
The ingredients in fries are potatoes (remember: potatoes = vegetables!!!), oil and salt, while the nachos are susceptible to a saturated-fat "smothering" from queso sauce, ground beef, beans and sour cream. And while a small order of fries starts around 250 calories and 1-3 grams of saturated fat, nachos start around 500 calories and 10 grams saturated fat (1 ounce of cheese is about 100 calories).
Stadium Bites: Peanuts vs. Popcorn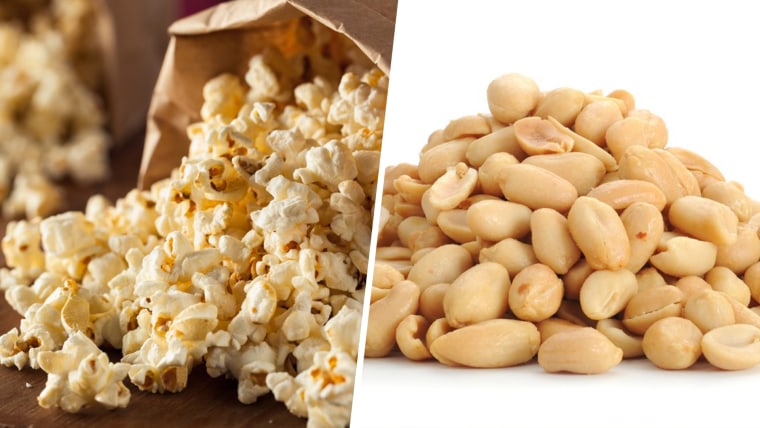 WINNER: PEANUTS
A 1-ounce serving of peanuts is about 39 nuts, which means that you can have a whole lot of 'em for around 160 calories. You also get fiber and 8 grams of plant-based protein, making them a nutritional home-run and super-satisfying snack. And 1 ounce of peanuts usually has 140 milligrams (or less) of sodium, making them a low-sodium food.
Ballpark popcorn is often doused in butter and salt, making it higher calories and sodium, without much of a nutritional upside.
RELATED