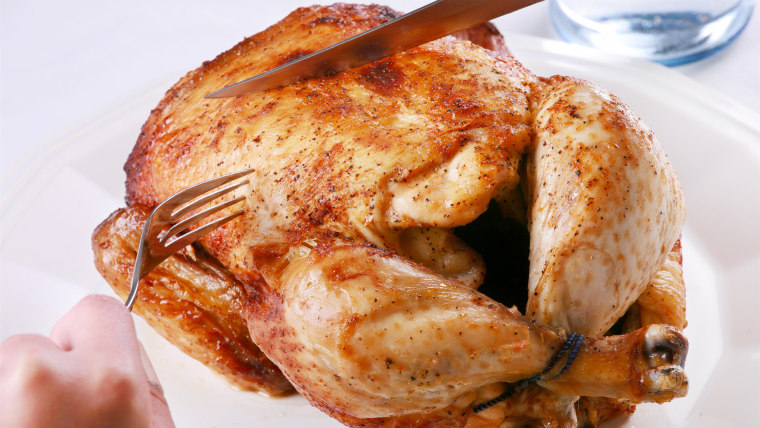 What's one of the most versatile items you can buy at the supermarket? In the summer, hardly anything beats a succulent rotisserie chicken. But the ever-reliable staple isn't just for meat-and-potatoes dinners or for making a simple homemade chicken stock. It can be transformed into a huge variety of easy, tasty no-cook meals, including this crunchy Chinese chicken salad and these irresistible BBQ chicken rolls. You can also use the meat from one rotisserie chicken and mix it with the ingredients below to make these globally inspired meals. Each feeds four people and can be pulled together in less than 30 minutes.
Greek-style chicken wrap: Layer chicken, lettuce and thin slices of red onion and/or spicy peppers in a spinach or whole-wheat wrap. Top with spoonfuls of homemade tzatziki: Peel and shred one kirby cucumber, then stir together with one cup nonfat Greek yogurt, one tablespoon finely chopped fresh mint, and salt and pepper to taste.
Crunchy and cool Asian chicken: Whisk two tablespoons of fresh orange juice with one tablespoon sesame oil, one teaspoon soy sauce, and one teaspoon rice vinegar. Peel two mangoes and slice them into thin strips. Roughly chop one cup of sugar snap peas or snow peas, and toss with the chicken and dressing.
Chicken panzanella salad: Whisk three tablespoons balsamic vinegar with 1/4 cup extra virgin olive oil and a pinch of salt and pepper. Slice a half loaf of Italian bread into 1/2-inch cubes. Toss with one cup halved cherry tomatoes or two roughly chopped plum tomatoes, one cup peeled and diced cucumber, and the chicken. Drizzle with the dressing and serve.
Pesto-chicken-stuffed tomatoes: Core four large tomatoes and use a serrated grapefruit spoon or paring knife to scoop out the tomato innards. Toss the chicken with 1/4 cup jarred or homemade pesto and fill the tomatoes with the pesto chicken salad.
Chicken satay with peanut sauce: Make quick peanut sauce by blending 1/2 cup peanut butter with 1/4 cup soy sauce, two tablespoons honey, one half-inch knob peeled ginger, one small peeled garlic clove, and a squeeze of lime juice in a small food processor or high-speed blender. Toss with the chicken or serve on the side for dipping.