Quinoa with almond milk (serves 4)
We eat quinoa as a dinner side dish quite often, but I've seen several recipes for it as a breakfast food. I wondered how quinoa would hold up as a substitute to traditional oatmeal and decided to give it a try. I was going to cook it in water, but then I remembered that a nutritionist once told me that adding almond milk to quinoa gives you an antioxidant boost since it's loaded with vitamin E. To sweeten up the quinoa I also added cinnamon and brown sugar and gave the cooked grain a swirl of almond milk before serving. You can also add blueberries, bananas or walnuts for extra texture. Yum! 
1 cup quinoa
2 cups almond milk, plus extra for drizzling
1 teaspoon brown sugar
1 or 2 teaspoons cinnamon, depending on your taste
In a sauce pan, bring the almond milk to a boil. Add quinoa, cover and simmer for 15 minutes. Remove from heat, add the brown sugar and cinnamon and spoon into a bowl. Drizzle the quinoa with almond milk and add fruit or nuts if desired.
Nutritional Info: 200 calories, 4 g fat, 34 g carbohydrates, 5 g protein, 80mg sodium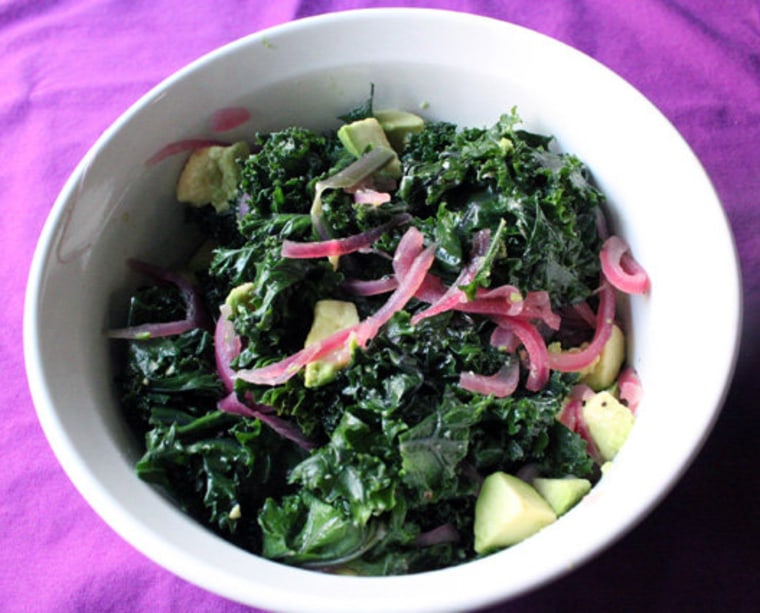 Kale avocado salad
I really started getting into kale when I was pregnant. I couldn't even look at salad during my first trimester and I wanted to be sure I was getting enough servings of greens in my diet. Kale looks slightly intimidating in the produce aisle, but I urge you to pick up a bunch anyway. It's loaded with calcium and Vitamin K and it's delicious—especially in this salad, which comes from Dinner: A Love Story. The pickled red onions give it a tangy flavor and the avocado adds a creamy texture. (Don't balk at the amount of fat in this recipe. Most of it is the heart healthy monounsaturated kind.) The recipe calls for tossing the salad with olive oil, salt and pepper, but I made it the other night and forgot to do this and it still tasted good!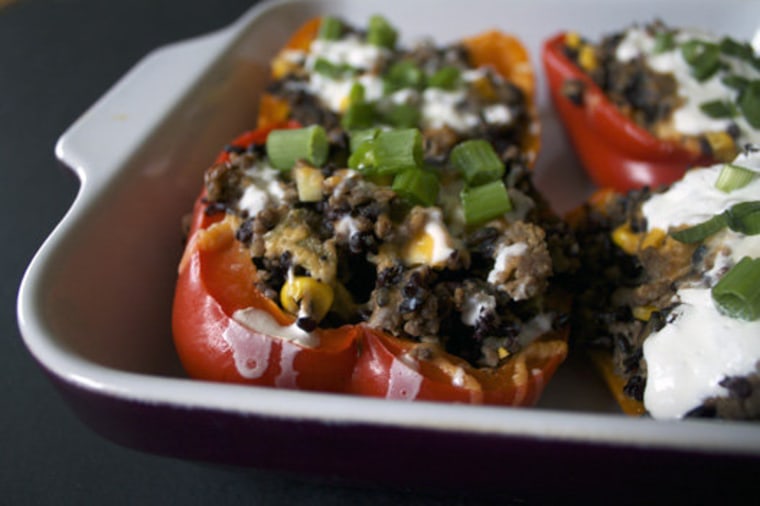 Nutritional info: 216 calories, 15g fat, 21 g carbohydrates, 3g protein, 608mg sodium
Southwestern stuffed peppers
I found this recipe in the February issue of Real Simple and made it the other night for dinner. Yum! I substituted the white rice for black rice (also known as Forbidden rice) because I am currently obsessed with the stuff.  (It's loaded with anthocyanins which can lead to improved memory and a decreased risk of heart disease and cancer). I also used grass fed lean ground beef from Simply Grazin', a local farm committed to sustainable farming practices. Don't skip the Greek yogurt dressing. I used non-fat and it added a lot of flavor to the dish. 
414 calories, 13.5g fat, 45g carbohydrates, 30g protein, 267mg sodium
Get more tips and recipes for seasonal eats at Made By Michelle.
More on healthy eats: