We're always getting jealous of all the exotic international candy bar flavors you can find overseas, in particular those far-out Kit Kat varieties — such as melon, green tea and grilled corn — in Japan.
So when we got word that Hershey's is rolling out a Strawberry-flavored Kit Kat bar — and a bunch of interesting limited flavors of other classics — we were pretty pumped, and yes, the '80s Kit Kat jingle started running through our heads.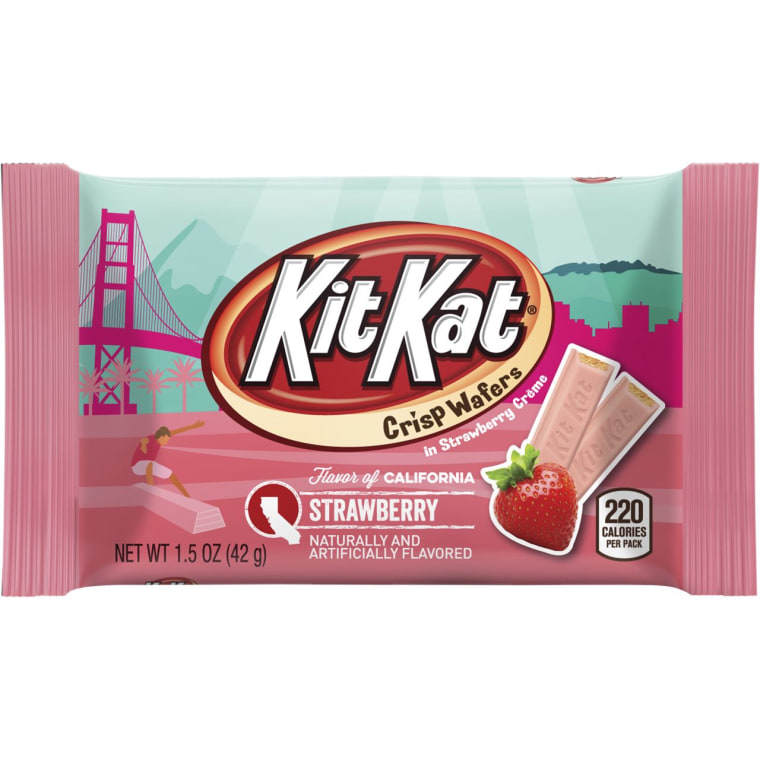 The Strawberry Kit Kat is part of a limited-edition "Flavors of America" line of chocolate bars and candies rolling out this summer from Hershey's, said the company, inspired by popular U.S. summer destinations. California is the inspiration for the berry Kit Kat, which has a light-pink strawberry crème coating over the wafers.
Why summer? Customers tend to feel "free from obligations" and more up for trying new things then, Anna Lingeris, senior manager for communications at Hershey, told TODAY. Plus, "Unlike other times of the year, there are no major "candy holidays" during the summer months," she added.
The strawberry flavor will be available in a standard-size bar for $1.09, or a bag of bite-size minis for $3.99. Strawberry is one of the flavors currently being touted in Japan (where Kit Kat is actually made by Nestlé), except now you can try it without paying $10 for it online. It's worth noting that Hershey released a red velvet Kit Kat this winter, so we're hoping that these are a sign of more to come.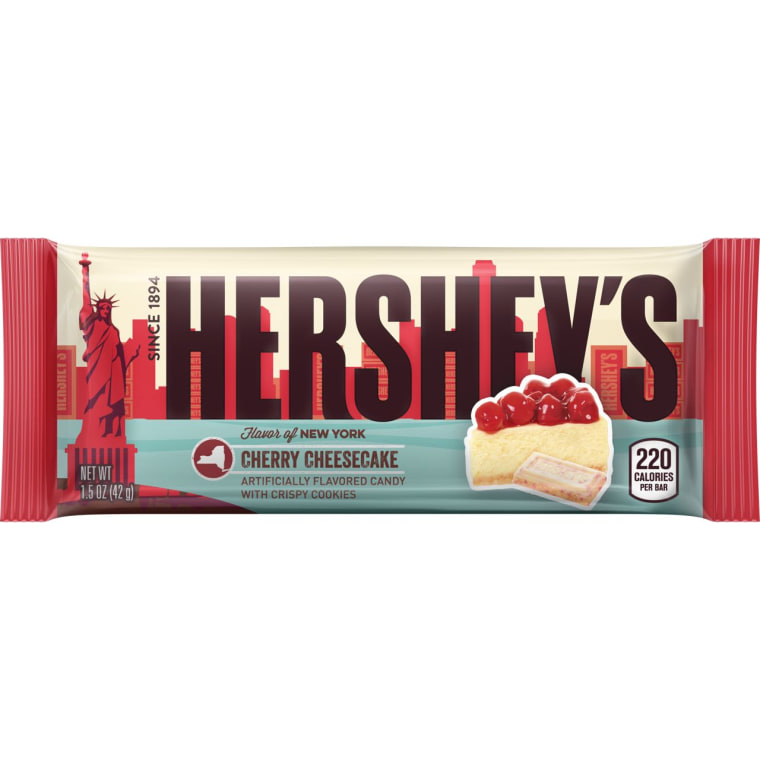 As promised, though, the line is not just about Kit Kat, but includes twists on old standbys such as PayDay, Reese's and even the plain old Hershey's bar.
The classic Hershey's gets a real unusual treatment for the limited release: a Cherry Cheesecake bar, inspired by New York City, with a cherry cheesecake–flavored white crème bar, mixed with pink cookie crust pieces throughout. It will be $1.09 for a standard-size bar.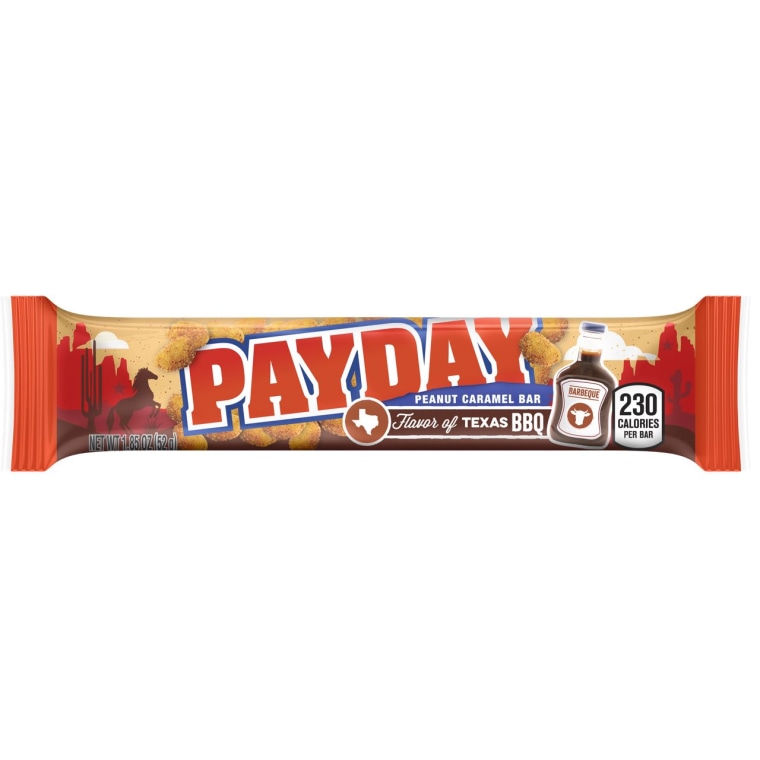 Unless you're a serious peanut lover, it's probably been a while since you've had a PayDay, those nougat-centered bars, coated in caramel and nuts. But here's an excuse to revisit the old favorite: Hershey is making a limited run of BBQ-flavored PayDay bars, as an homage to, you guessed it, Texas.
"Bold," BBQ-seasoned peanuts surround the caramel center, the company said. A standard bar will be $1.09.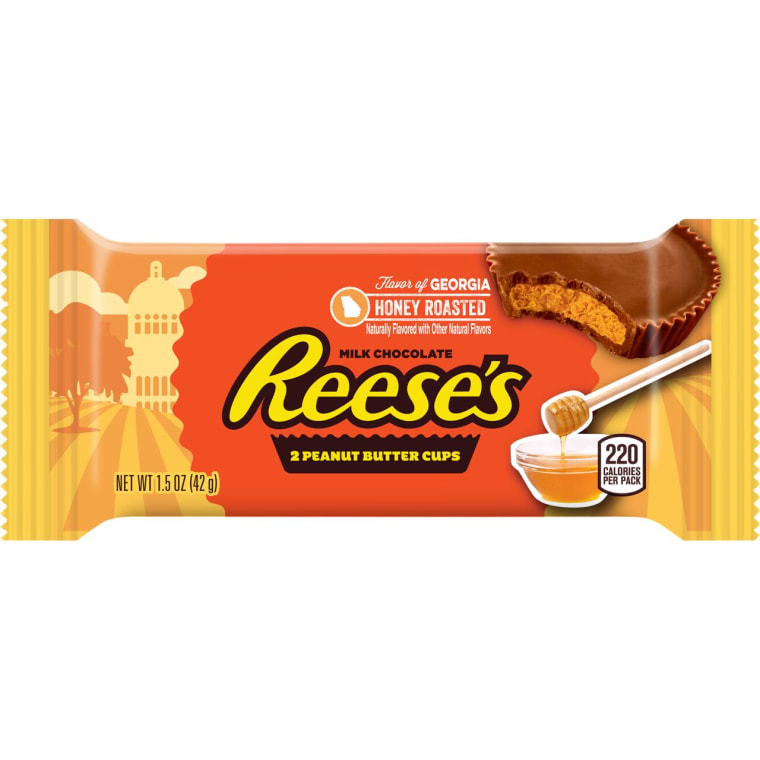 Bored of regular Reese's? Look out for this Honey Roasted take on the peanut butter cup, a nod to Georgia. It's a sweeter take on the original, the company said, with "hints of floral, amber and molasses" and will sell for $1.09 for a two-pack.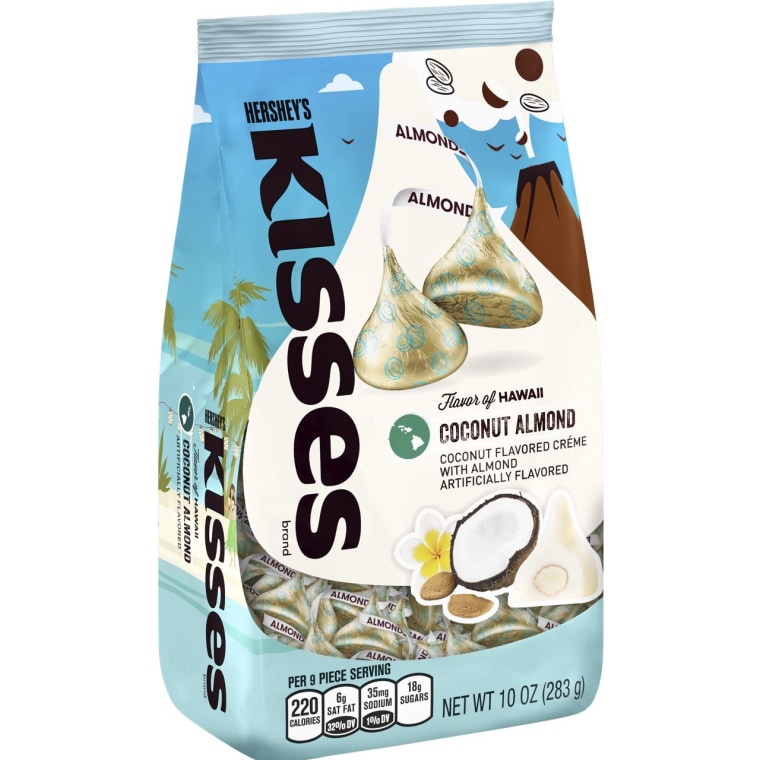 OK, we're not going to even pretend it's as good as a trip to Hawaii, but the new limited Hershey Kisses Coconut Almond flavored candies do sound a lot like something you might be able to pick up in a souvenir shop there. The almonds in the middle are surrounded by a coconut-flavored white crème, the company said, promising a "sweet tropical escape with a nutty crunch." They cost less than Hawaiian airfare, too: $3.89 for a 10-ounce bag.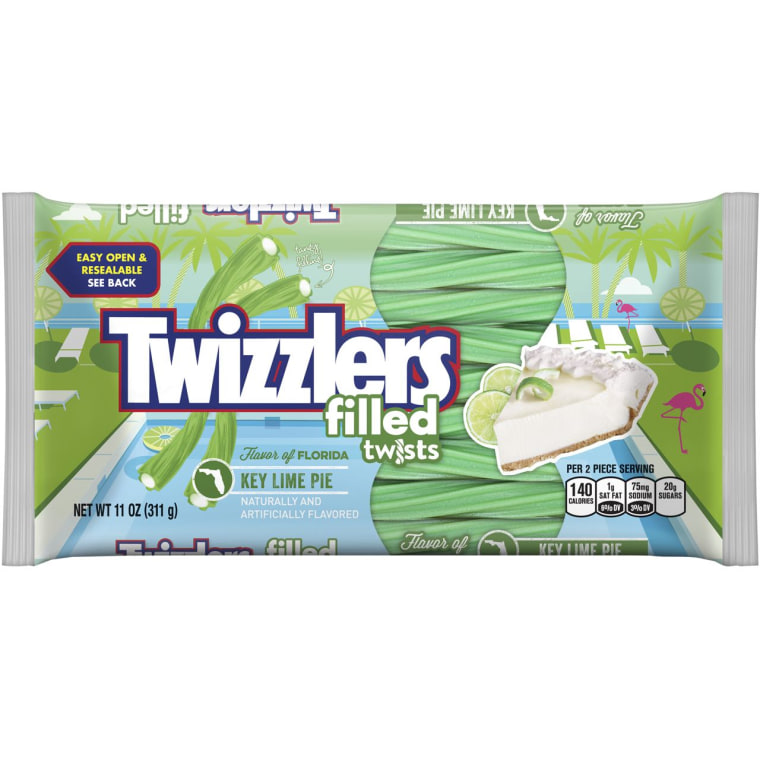 If Twizzlers are more your thing, get ready: The company is also releasing two special editions of the twisty candies. Key Lime Pie and Orange Cream Pop flavors are meant to be a "taste of Florida," with the Key lime being more "sweet and tart" and the orange cream leaning more "refreshing" and "smooth," the company said. Both are $2.59 for 11-ounce packages.
RELATED: Kit Kat bars are made of ground-up Kit Kats?
Summer sure seems like it's taking its sweet time to get here, but keep your eyes peeled: The Hershey's special editions are hitting stores now and only available at supermarkets and major retailers until they run out.