Calm down, everyone, and don't run out to buy cheese to hawk on eBay just yet—the initial reports about the Velveeta shortage appear to be somewhat overblown.

Earlier today, it was reported that Kraft Foods is "grappling with a Velveeta shortage"—just weeks before Super Bowl.
"It is possible some consumers may not be able to find some Velveeta products on store shelves over the next couple of weeks," Kraft spokeswoman Jody Moore said, pointing to seasonal demand, but adding that it is a short-term issue.
Even if you can get your hands on the neon-orange stuff, some chefs would beg you to reconsider and try making your own queso dip instead for the big game.
"Oh my god, it's so much more delicious [to make your own]," says chef Roberto Santibanez, of New York City's two Fonda restaurants, one of which is located in Brooklyn, the epicenter of the shortage.
For one, you can pick your own cheeses—Santibanez likes to experiment with two or three at a time for different textures and flavor profiles (see recipe below)—and it's just healthier, he adds.

"Nowadays, there are so many additives," he said. "I would not eat anything stays at the same texture when it goes from pantry to stove to fridge."
At his restaurants, queso fundido comes to the table in a piping-hot cast iron skillet, and he loves how the texture changes as it cools and you can scrape the crust off the pan.
Another Brooklyn restaurateur, "Top Chef" alum Dale Talde of Pork Slope, Thistle Hill Tavern and Talde, says he didn't eat much Velveeta as a kid, but as an adult feels it tastes too processed. "If I'm going to eat processed cheese, I'll eat American cheese," he told TODAY.com.
The neon stuff has its defenders, though. Los Angeles-based chef Jesse Brune, who has starred on Bravo's "Work Out" and Food Network's "Private Chefs of Beverly Hills," says he loves the classic, but "pimps it out" with caramelized shallots and garlic. "To be honest, it's my fiancé's favorite recipe that I make, and I'm a Le Cordon Bleu-trained chef!"
He also makes a healthier queso from scratch, which he originally developed on a challenge from singer Katy Perry.
The butternut squash puree helps emulsify the dip, as the milk and Velveeta cheese do in the classic box queso recipe, he said. "You'd be surprise at how great this turns out and with much healthier ingredients!"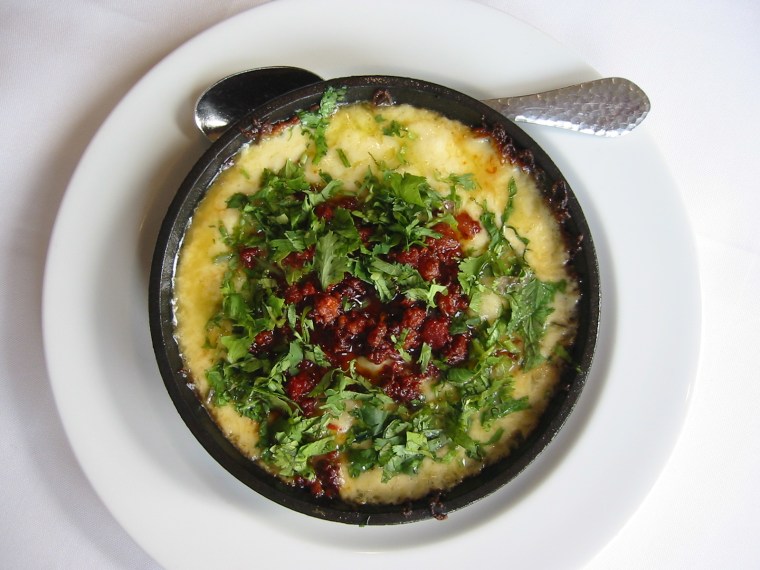 Roberto Santibanez's Queso Fundido

½ cup green salsa, cooked

2 tablespoons cream, creme fraiche or thinned sour cream

2 poblano chiles, roasted, peeled, seeded, cut into ½-inch-wide strips

6 ready-made tortillas

1 ½ cups diced cheeses (Chihuahua, Monterey Jack and/or Muenster)

2 tablespoons chopped fresh cilantro

Stir together the salsa, crema, and all but a small handful of the pepper strips in a heavy round 8 by 3 inch deep flameproof casserole or heavy 8-inch pot. Bring to a boil over medium heat and cook until lightly thickened, about 4 minutes.
While the sauce is simmering, warm the tortillas.
Add the cheese to the salsa mixture all at once and stir until melted, about 4 minutes. Remove from the heat and stir until smooth. Scatter the remaining chile strips and the cilantro over the top and serve immediately, letting guests spoon some of the queso fundido onto the warm tortillas and eat them out of hand.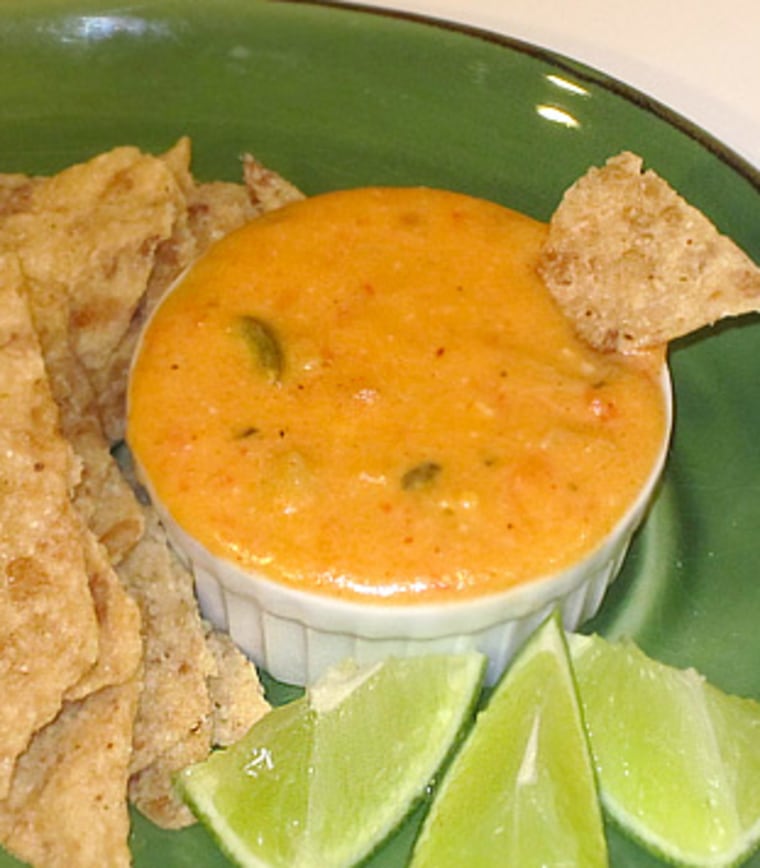 Jesse Brune's Health-Conscious Queso (serves 4)

1 tablespoon coconut oil (olive oil is OK)

2 shallots, minced

2 cloves garlic, minced

1/2 jalapeno, seeds removed, diced

1/4 cup mild green chilies

1/2 cup butternut squash, cubed

1/2 cup soft tofu

1 teaspoon cornstarch

1 1/2 cups tomato salsa

1 cup organic whole milk 

1 1/2 cups light cheddar cheese, shredded

salt and black pepper, to taste

Bring a small pot of water to boil over stovetop. Place the cubed butternut squash in water and boil until soft, about 5-8 minutes. Remove pot from heat and strain hot water. Rinse with cool water and place the butternut squash in a blender with the tofu. Blend until smooth (about 1 minute). Place aside.
Place a medium saucepan over medium heat on stovetop. Heat the coconut oil in the pan and add the garlic, shallots, jalapeño, and chilies. Cook the ingredients until the shallots become translucent and the garlic becomes fragrant. Sprinkle cornstarch over the ingredients, and mix. Add the salsa to the pan and stir with a wooden spoon—cook for about 1 minute. Stir in the butternut squash puree—mixing well, and continue to stir as you add the milk.
Mix in the cheese. Continue to stir until the cheese melts. Once cheese has melted, remove from heat. Taste queso and season with salt and/or pepper until desired flavor is achieved.
Tip: Use lightly salted Greek yogurt mixed with chopped green onions as a substitute for sour cream. 
Serve warm.