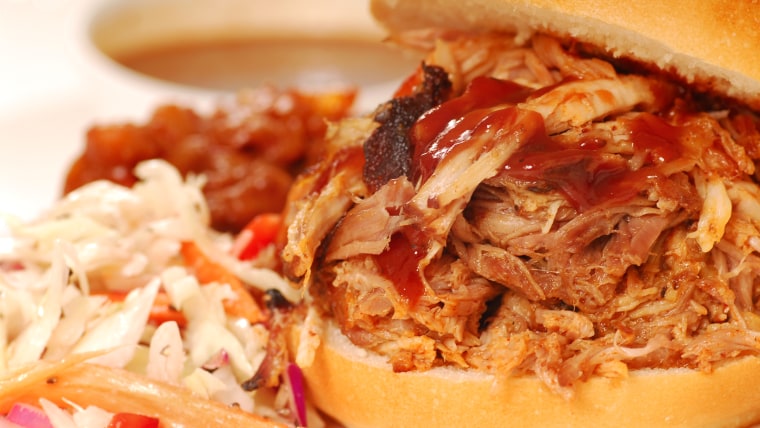 Getting ready to bust out the barbecue sauce and buttered corn for a Labor Day weekend cookout? Whether you're hosting a backyard bash or just bringing a potluck side dish, leave the bottled condiments on the supermarket shelf and impress guests with super-simple, fresher-tasting homemade versions. Make one, two, or all five of these easy, ready-in-minutes recipes—perfect with grilled meats, hot dogs, burgers or just on their own—and send out the summer in style.
Quick chimichurri: Use this South American sauce on grilled steaks and chops.
Blend 1 packed cup of whole flat-leaf parsley leaves, 1 tablespoon fresh oregano leaves, 1 large peeled garlic clove, 1/4 cup olive oil, 2 tablespoons fresh lemon juice and 1 tablespoon red wine vinegar in a food processor until the herbs and garlic are finely chopped. Add a little bit more olive oil if needed to make a sauce rather than a thick paste. Season with salt and pepper to taste.
Chicago dog toppings: Spoon this Windy City favorite on your hot dogs in place of the regular ketchup, mustard and relish trio.
Finely chop 2 dill pickles, 2 tablespoons sliced banana peppers, 1 plum or Roma tomato and 1 small white onion. Stir together with 1/4 cup hot dog relish, 1/4 teaspoon poppy seeds and 1/4 teaspoon celery salt. Season with additional salt to taste.
Throw-together slaw: Crisp and cool, this slaw is perfect with BBQ chicken or pulled pork—or serve it in a bowl as a side salad.
Stir together 1 cup plain nonfat Greek yogurt with 2 tablespoons finely chopped fresh dill, 2 minced green onions and 1 tablespoon cider vinegar. Add salt and pepper to taste and toss with 1 bag pre-shredded slaw mix.
Simple saucy onions: These onions are a classic New York City hot dog topping, but they go great with Midwestern brats too.
Cook 1 thinly sliced small white or yellow onion in 1 tablespoon olive oil over low heat for 5-6 minutes, until the onion is soft but not caramelized. Stir in 1 cup water, 1/2 cup ketchup, 2 tablespoons red wine vinegar and a pinch of red pepper flakes. Bring to a simmer. Cook for 30-45 minutes, until thick and saucy.
Mediterranean feta mix: Jazz up plain hamburgers with this mix of fresh feta, salty olives and crisp veggies.
Finely chop one whole roasted red pepper, 1 dozen pitted Kalamata or oil-cured black olives, 1 small peeled shallot and 4 or 5 large basil leaves. Mix the chopped vegetables with 1 cup crumbled feta cheese.