In this special weekly feature, "Today" food editor Phil Lempert brings you recipes "stolen" (with permission) from notable restaurants across America. See how much fun you can have (and money you can save) by cooking these dishes at home.
THIS WEEK: West Indian Red Beans with Coconut Rice and Savannah Sweet Potato Bisque, from Moosewood Restaurant in Ithaca, N.Y.
Each year for Thanksgiving, we like to give our readers a little something special to try. And this year, thanks to Moosewood Restaurant in Ithaca, N.Y., we've "stolen" a recipe that is well worth a spot on your dinner table for this special occasion. The Moosewood Restaurant is run by a collective of 19 diversely creative people who believe in healthy and natural eating. You'll love their recipe for West Indian Red Beans with Coconut Rice and Savannah Sweet Potato Bisque! And, if you happen to have any vegetarians at the table … they'll be pleased!
About the chef: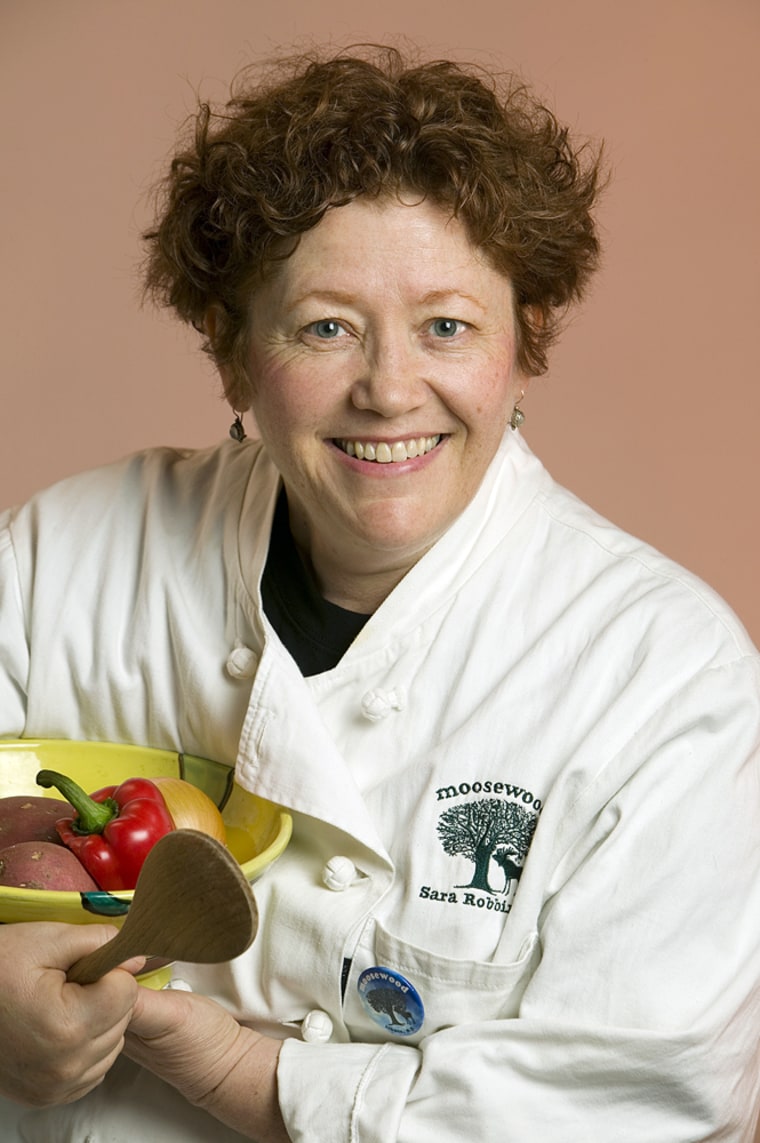 When Moosewood Restaurant's doors first opened for business in 1973, Sara Robbins' bread was on the menu. During the first few years, Robbins baked bread and deserts for Moosewood while she worked as a chef in other local restaurants. In 1979, Robbins joined the Moosewood Collective, and she has been a major force in the kitchen ever since.
Robbins is a co-author of the cookbooks by the Moosewood Collective. Robbins has made major contributions to all of the Moosewood cookbooks as a recipe developer and manager of recipe testing groups. Robbins has also done research and writing for the cookbooks and has represented the collective at book signings.Robbins is an efficient and masterful cook; she created the Moosewood Savannah Sweet Potato Bisque. She is also instrumental in planning the kitchen design and organization. Robbins is one of the Collective's menu planners and kitchen supervisors. She developed their cook training program and is herself an excellent cook trainer. For several years, Robbins has been responsible for hiring to fill openings for all positions in the restaurant. In addition, as a collective member, Robbins has taken responsibility on some level for almost every aspect of our restaurant operation, from ordering supplies and produce to designing and creating artwork for their table menus.Robbins lives in the country with her husband, two children, and a passel of animals, mostly domesticated. Robbins is a voracious reader of fiction (and a wonderful informal storyteller, herself) and also enjoys writing, painting, gardening.
In the Caribbean, red beans and rice are cooked together, but Moosewood likes to ladle saucy red beans over a bed of fragrant coconut rice and garnish with a little greenery.
West Indian Red Beans is served at Moosewood Restaurant for $7.50 at lunch with a small salad and $12.00 at dinner with a side dish and salad. The Moosewood Savannah Sweet Potato Bisque is served at Moosewood Restaurant for $4.99 (Also available in retail stores, $4.99 for 18 ounces. For more information go to ). These recipes are meant to serve 2.
Coconut Rice Ingredients3/4 cup white rice1/2 teaspoon turmeric1 teaspoon vegetable oil1/4 teaspoon salt3/4 cup water1/3 cup coconut milk
Red Beans Ingredients
3/4 cup diced onions2 teaspoon vegetable oil1/4 teaspoon red pepper flakes or 1/2 small fresh chile, mincedSalt1/4 teaspoon dried thyme1/4 teaspoon allspice1 (14.5-ounce) can of diced tomatoes1 (15-ounce) can of red kidney beans, drainedChopped scallions and/or cilantro
Coconut Rice Instructions
1) Rinse and drain the rice2) In a saucepan on medium heat, sauté the rice, turmeric, and salt in the vegetable oil for a minute or two, stirring constantly3) Add the water and coconut milk, bring to a boil, cover and reduce the heat to low4) Simmer until the rice is tender and the liquid is absorbed, about 15 to 20 minutes
Red Beans Instructions
1) While the rice is cooking, in a saucepan on medium heat, sauté the onions in the vegetable oil for 3 or 4 minutes2) Add the red pepper flakes, sprinkle lightly with salt, cover, and cook, stirring occasionally, until the onions are soft, for 5 to 8 minutes3) Add the thyme, allspice, tomatoes, and beans, cover, and simmer for 10 to 15 minutes, stirring occasionally4) Serve the red beans on a bed of the rice and top with scallions and/or cilantro
Moosewood Savannah Sweet Potato Bisque Moosewood Restaurant has served this soup in one version or another since the 1980s. Moosewood called it "Pimiento Cheese Bisque" back then. In the restaurant kitchen, the bisque is sometimes made with pimientos and sometimes roasted red peppers. White potatoes can substitute, but a deeply colored sweet potato makes it look beautiful.
Bisque Ingredients
1 celery stalk, chopped1/2 cup chopped onion1 cup diced sweet potato1 cup diced white potato2 cups vegetable stock or water1/2 cup grated sharp cheddar1-1/2 ounces cream cheese, cubed1/2 of a 4-ounce jar pimientos, choppedSalt and ground black pepper to taste
Bisque Instructions
1) In a saucepan, cook the celery and onions in the oil on medium heat, stirring occasionally2) When the onions are translucent, add the sweet and white potatoes, stock or water, cover and simmer until the vegetables are soft, about 20 minutes3) Remove the soup from the heat and stir in the cheeses, allow to soften a few minutes4) Puree the soup in an immersion blender, blender or food processor with half of the pimientos5) Add the rest of the pimientos and salt and pepper to taste, if the soup is too thick add milk, water or stock6) Reheat gently but do not boil
Moosewood Restaurant215 N. Cayuga Street, Dewitt BuildingIthaca, NY 14850 607-273-9610 www.moosewoodrestaurant.com
Want to know more about Phil and food? Visit his Web site at .
West Indian Red Beans reprinted from "Moosewood Restaurant Simple Suppers," by Moosewood Collective. Publisher: Clarkson N. Potter, 2005.
Savannah Sweet Potato Bisque (aka Pimiento Cheese Bisque) reprinted from "Sundays at Moosewood Restaurant," by Moosewood Collective. Publisher: Simon and Schuster, 1990.