When it comes to a baby's health, parents are often willing to try anything. But should that include jumping on the latest paleo diet-friendly food bandwagon?
As the market for good-for-you, organic foods continues to expand for adults, it's no surprise that the desire for healthy baby food has grown — especially as health-conscious millennials start families. After following a paleo diet and seeing personal benefits, Austin-based couple (and future parents), Serenity Heegel and Joe Carr, founded Serenity Kids, a paleo-inspired baby food startup they say fills a void in the baby food market.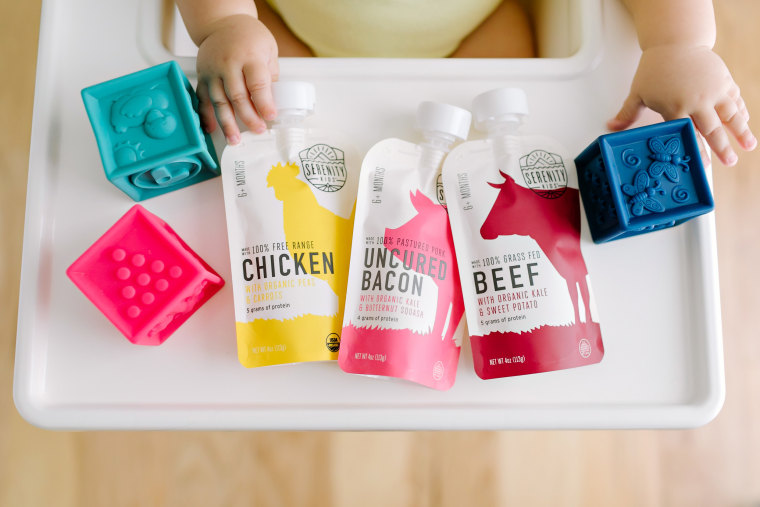 A paleo diet, also referred to as the caveman diet, is based on the foods scientists believe humans ate during the Paleolithic era, which includes eating animal protein, wild-caught fish and wild plants. It eschews grains, dairy and other foods that have since become staples in the human diet after people began farming about 10,000 years ago.
But is the diet safe for little humans?
"There are certainly elements to paleo eating that I appreciate and endorse, particularly the lack of processed foods and the abundance of vegetables and good quality protein," says Nicole Silber, R.D., a pediatric nutritionist and baby food expert in New York City. "However, I would not recommend babies and toddlers eliminate grains, dairy and legumes."
But Serenity Kids, which is meant for kids aged 6 months and up, isn't just made of ground-up proteins. The 4-ounce, shelf-stable pouches feature pasture-raised meat from small American family farms and organic vegetables. They're available in three flavors: free-range chicken with peas and carrots; grass-fed beef with kale and sweet potato; and uncured bacon with kale and butternut squash.
The garden vegetable and beef blend offered by the Gerber company is sweetened using pear juice concentrate. In comparison, Serenity Kids' beef and vegetable blend isn't sweetened, doesn't have added preservatives or unspecified "flavorings," and uses organic vegetables and grass-fed beef.
Nutritionist and health and wellness expert Madelyn Fernstrom tells TODAY Food that cutting out processed foods when possible is a good thing "but on the paleo [diet], no grains, dairy, or legumes are recommended. This is a problem for babies and young children as low and non-fat dairy are the easiest way to get adequate calcium and vitamin D for growing bones and teeth."
While labeled a fad by some, interest in the paleo diet has steadily increased. Paleo product sales are forecasted to reach $300 million by 2018, according to Nutrition Business Journal. Serenity Kids products can be pre-ordered on their website or purchased from Amazon in early fall. Six packs of individual flavors cost $26.95 while variety packs cost $27.95. By comparison, a 12-pack of Gerber's Chicken & Gravy baby food jars retails for $24.99 on Amazon. That means Serenity costs about $1.12 per ounce of baby food while Gerber costs about 83 cents an ounce.
Fernstrom says that since the diet has soared in popularity among adults looking to eat healthier, she gets inquiries from parents asking if it's okay for their kids to go paleo, too. Unless the kid is suffering from extreme allergies, says the diet expert, it's best not to eliminate entire food groups. "It's important to emphasize that babies are not tiny adults and their nutritional needs differ."
Fernstrom added that while baby foods without preservatives like Serenity have some good qualities, the idea of using the paleo diet as a marketing tactic might send the wrong message to parents about what's "healthy" for kids.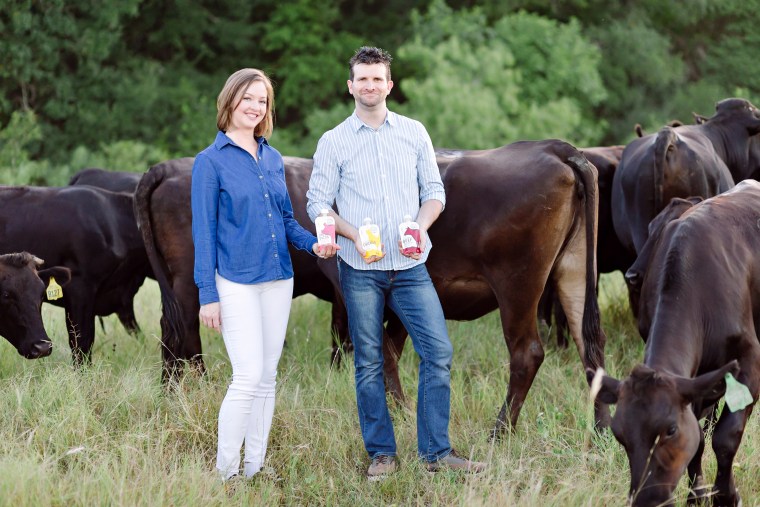 But Serentiy Kid's CEO Serenity Heegel says she's not advocating a strictly paleo diet for infants and told TODAY Food that parents should consult health care providers to determine any potential food intolerances in their own kids.
"We don't advocate putting babies on diets, paleo or otherwise," Heegel said. She continued, "We do believe in 'eliminating' foods that are potentially dangerous, such as many processed foods, sugary desserts, or allergens."
According to Heegel, "Meats and vegetables contain much larger quantities of vitamins and minerals than do fruits, grains, and legumes. Grains and legumes can be good sources of carbohydrates and fiber, however they have relatively small vitamin and mineral content compared to vegetables, and have been proven to irritate sensitive stomachs.
"Starchy vegetables — like the ones used in Serenity Kids baby food — outperform grains and legumes by providing carbohydrates and fiber plus an abundance of vitamins and minerals, and are much easier to digest."
Silber acknowledged that when it comes to commercial baby food, some companies keep costs down by overdoing it on sugary fruit, which also makes it more palatable for some babies.
"I always say to feed babies the taste profile you want them to have as adults," says Silber. "We don't eat our meat sweetened with fruit, so why should our babies?"
Added the nutritionist, "I like that Serenity Kids offers a beef and veggie only as well as a chicken and veggie only blend, which can help babies meet their protein, fat and iron needs without the sugar from fruit."
So if you're a parent who's concerned about artificial ingredients, what should you do?
Fernstrom says there are plenty ways to still feed kids wholesome foods without eliminating entire food groups. "The concept of no-added sugars and salts, and processed foods is not unique to the paleo plan."
"For jarred or packaged foods, look for no added sugars, salts, or fats," she said. "Adding a variety of puréed fruits and vegetables introduces new tastes early on, when taste preferences are starting to form," Fernstrom says. And if you're worried that your kid may have a food sensitivity or your family has a history of certain intolerances, "Always get advice from your pediatrician, to avoid possible food allergies."