The newest, seasonal Starbucks drink is so over the top that it just might scare your thirst away.
The coffee chain is at it again, stirring up a Halloween treat (or trick) it's calling the Witch's Brew Frappuccino — and it looks like someone put Barney the Dinosaur in a blender.
With "a pinch of toad's breath, a dash of bat warts and a sprinkle of lizard scale," according to a Starbucks statement, the chain concocted a bright purple beverage topped with a sprinkling of green sugar.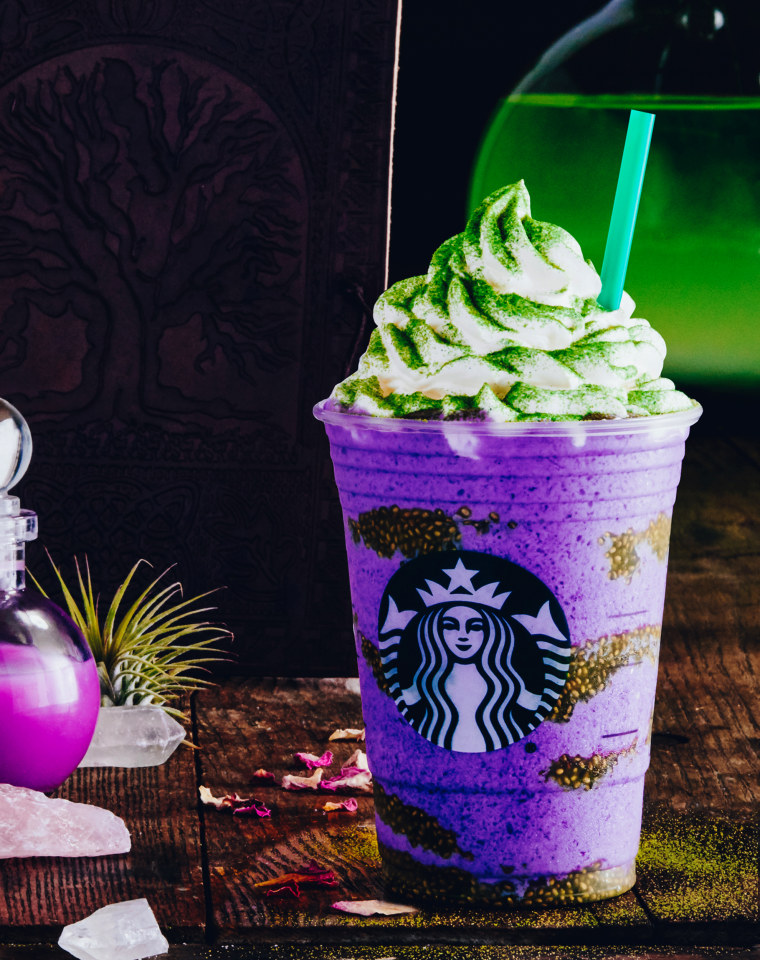 The drink, released Oct. 25, actually contains a lot of ice, milk, crème-flavored syrup and an orange-flavored purple powder base. Despite its deeper grape-like hue, the drink is actually meant to taste more like an orange creamsicle.
Green chia seeds (the warts) are layered throughout the purple blend and the spooky green dust on top is just colored sugar.
According to the official ingredient list, that purple powder contains vegetable juice and other natural flavors.
Like many of the chain's limited-edition offerings, it's definitely more dessert than drink. The treat contains 53 grams of sugar, half your daily recommended intake of saturated fat and nearly 400 calories. It is, however, free of caffeine.
If you're bold enough to try the "charming concoction," as Starbucks calls it, you might taste something reminiscent of Froot Loops or Fruity Pebbles. Oddly, Starbucks' famous Unicorn Frappuccino received similar reviews when it was first released. According to TODAY Food writers, that drink tasted like a creamsicle, too.
In terms of texture, the occasional slurp of gelled green chia gives this otherwise creamy drink a slimy, gooey feel. So it goes without saying that this beverage may not be for every taste.
The new drink has already put Twitter users in a tizzy, with some people planning a Starbucks stop as soon as possible ... while others are running for the hills.
Starbucks has made a tradition out of creating fun, festive drinks around big holidays.
For Halloween in 2014, the chain created a Franken Frappuccino, followed by a two-year run of the Frappula Frappuccino and then the Zombie Frappuccino in 2017.
"Starbucks loves to celebrate Halloween, and each year our Frappuccino brings something different to the season," said Jennica Robinson of Starbucks' beverage development team. "We started with Frappula, which was inspired by an old-school horror movie. Zombie Frappuccino was like the walking dead, a little ghastly. Witch's Brew is very fun, vibrant, bubbly, the life of the party."
This year, in addition to the new drink, the chain also released two Halloween-themed treats: a mummy cake pop and a raccoon sugar cookie.
Whether you think this drink looks fun or just plain freaky, it won't be around for long. Grab your broomstick and fly over to Starbucks while supplies last this fall.