The queen (or rather, siren?) of coffee has spoken — and she'd prefer booze to pumpkin spice in her coffee. Do you blame her?
Starbucks has just announced its first official boozy drink: the Espresso Cloud™ IPA. It is available nationwide on the chain's Evenings menus.
It's a riff on the shakerato, a frothy, iced espresso drink from Italy — but with beer as the base instead of espresso. Starbucks spoons the flavorful foam that results from shaking up espresso "over ice with orange pieces and a touch of sweet vanilla" atop an IPA to imitate the head of the beer.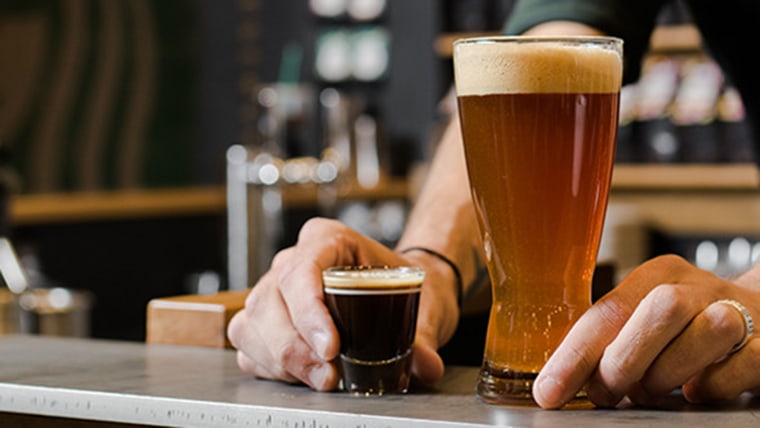 The leftover citrusy espresso is then served alongside in a shot glass, which you're supposed to pour into the beer. This creates the ethereal "espresso cloud" for which the drink is named.
Who's the genius that came up with this? Justin Burns-Beach, a Starbucks R&D member based in Seattle, who describes the inclusion of his drink on the nationwide menu as "a dream come true."
Here's how he conceived the idea:
"Something like this has never been created for Starbucks," says Burns-Beach in the video. "And it just blows my mind."
When he was working as a coffee master at Starbucks' Reserve Roastery & Tasting Room, he would use the shaker to shake up the espresso, which reminded him of beer foam. Bingo.
So as not to waste the leftover espresso, he put it in a shot glass to serve on the side.
And then he took it a step further: "What happens if you pour it in a little bit?" he thought.
"Seeing the effect of that was just mind-blowing. The visual of it, watching another cloud develop, was really exciting."
Sure, there will be some haters who poke fun at the hipster-y nature of this "truly interactive and unique beverage experience" (emphasis on "experience"), but we think it's just a tastier, more energizing (and more tastefully named) version of an Irish Car Bomb.