It seems like hardly a month goes by where Starbucks doesn't unveil a new flavor, drink or size, but somehow, the chain surprised us with a whopping new six Frappuccino releases in one day.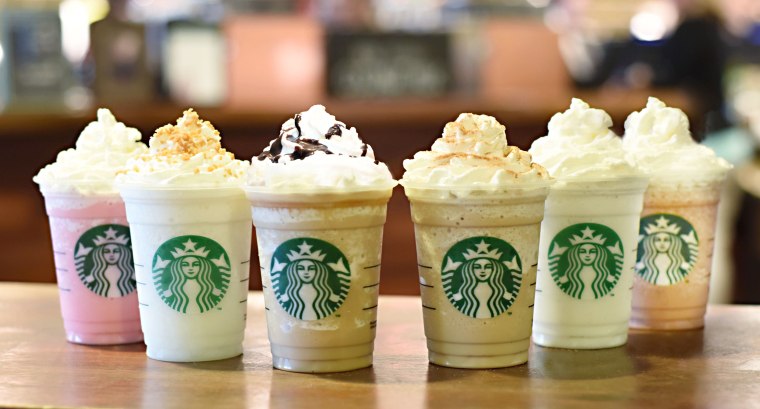 Timed to the 20th anniversary of the Frappuccino's birth (supposedly partly inspired by saxophonist Kenny G as legend has it), the six new fraps are dubbed "Fan Flavors," from the "secret" Starbucks menu, which seems to be becoming less and less secret.
Right now, there are 36,000 possible combinations of the Frappuccino beverage, according to a Starbucks spokesperson, and the Fan Flavors are riffs on "recipes" made with existing drinks and flavors. For example, the Cotton Candy frap starts with a Vanilla Bean Crème, with raspberry syrup blended in.
Customers can vote on their favorite new flavor from June 19 to 30, and the winning one will be sold at a discounted price of $3 for a grande from 2 to 5 p.m. from July 3 to 6. All flavors will continue to be available after the contest, according to a company spokesperson.
Curious, of course, I volunteered to run right out and try them—the woman at my local Starbucks I'm pretty sure thought I was crazy when I ordered all six. I first tasted them blind so I couldn't bring my own assumptions to each drink, and was glad I did: If I had ranked mentally before I started, I think I would have come up with a much different list, and was surprised by the results. Here's my ranking, from least to most favorite, which also seems to correlate from most to least sweet.
6. Cotton Candy
What's inside: Vanilla bean crème, blended with raspberry syrup, topped with whipped cream
Verdict: Neon pink, this drink tastes just as you'd expect it to, if the laws of physics somehow allowed cotton candy to melt into a milkshake.
5. Cupcake
What's inside: Vanilla bean crème, blended with hazelnut syrup, topped with whipped cream
Verdict: Before reading the ingredients, I braced myself for birthday-cake-batter flavor and was pleasantly surprised by the nuttiness, made possible by the hazelnut syrup.
4. Caramel Cocoa Cluster
What's inside: Toffee nut syrup, blended with coffee, and topped with a dark caramel sauce, whipped cream and mocha drizzle
Verdict: As a devoted fan of chocolate-and-nut combos, I was fully expecting this one to be my favorite but was surprised it landed in the bottom half for me, with the toffee nut ending up being too overpowering.
3. Red Velvet
What's inside: Chocolate chips, mocha sauce, raspberry and vanilla syrup, topped with whipped cream
Verdict: Again, another surprise in that the frap was not as sweet as expected, albeit a bit artificial, but the chocolate-flecked texture is pleasant.
2. Lemon Bar
What's inside: sweet-and-sour mix of lemonade and vanilla, topped with whipped cream and a caramel sugar sprinkle
Verdict: Pretty freaking good. Picture a frozen lemonade from a state fair, blended with a more lemony Creamsicle-like consistency—it's refreshing, not cloying, and just tart enough.
1. Cinnamon Roll
What's inside: Cinnamon dolce syrup blended with coffee, white chocolate mocha sauce and vanilla bean, topped with whipped cream and a cinnamon dolce sprinkle
Verdict: Cinnamon Roll Frappuccino, where have you been all my life? Again, I was surprised: I'm not even the type to be seduced by the smell of Cinnabon on the mall, but this drink frap be my new go-to (sorry, Java Chip). It's slightly reminiscent of a Baskin-Robbins Cappuccino Blast, with that touch of cinnamon, albeit far less filling without the ice cream, and more geared for coffee lovers. Starbucks calls its "sweet and spicy," and the drink lives up to its promise.