Starbucks' customers in seven more cities can now officially say goodbye to plastic straws.
A year ago, the coffee giant committed to eliminating its iconic green straws from stores worldwide by 2020.
As a substitute, the chain designed straw-less lids, which were originally offered at select locations in the U.S. and Canada, for its cold beverages.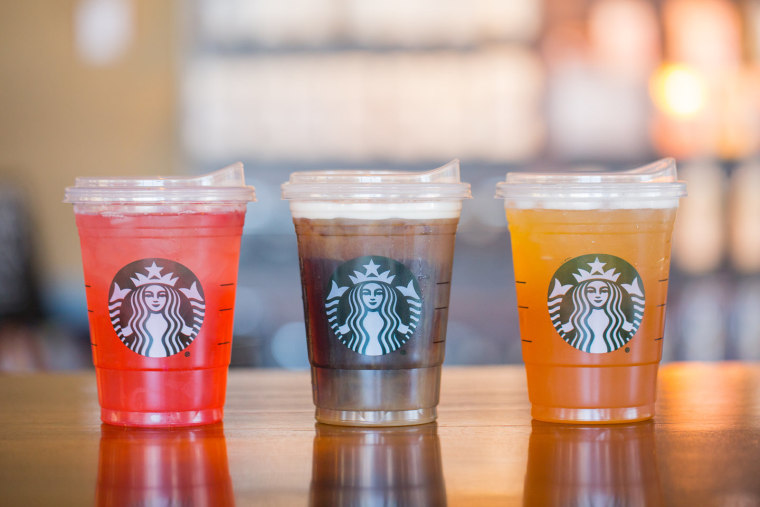 Earlier this month, Starbucks announced that cafés in Los Angeles, San Francisco, Seattle, Indianapolis, San Diego, Toronto and Washington, D.C. will all be joining be new cool cup club this summer — in other words, stores in those cities will no longer be offering plastic straws to customers.
The straw-less lid will become the standard for all iced coffee, iced tea and iced espresso beverages served in the 30,000-plus Starbucks locations around the globe by 2020, says the chain. For those who prefer sipping over gulping, stores will also offer straws made from alternative materials, such as paper or compostable plastic.
When it first made the anti-plastic pledge in 2018, Starbucks became the largest food and beverage retailer to join in on the growing movement to halt plastic straw usage and eliminate waste produced by so much plastic consumption. About a billion Starbucks straws are still used every year, according to the company.
But Starbucks isn't the only company trying to address this global issue.
Last summer, McDonald's in the U.K. announced that it would be getting rid of plastic straws in all of its stores by the end of 2019, and in May IKEA said it would remove plastic items like straws, disposable plates, garbage and freezer bags (both for sale in stores and in its restaurants) by 2020. One of the nation's largest grocery chains, Kroger, will stop offering single-use plastic grocery bags by 2025.
Each year, 8 million metric tons of plastic waste end up in the ocean, and it's having a devastating effect on ocean-dwelling species, according to a Starbucks press release.
When Starbucks first announced the big news in 2019, it was well-received by many people.
But some pointed out that the company still runs through a lot of plastic with its cold-beverage cups and lids.
But it isn't just about the straw for Starbucks when it comes to focusing on reducing plastic waste. The company is also working to develop a recyclable and compostable hot cup in partnership with Closed Loop Partners through its NextGen Cup Consortium and Challenge.
Until the chain's more eco-friendly straw and lid changes become permanent, there's another simple way to help cut down on waste — and it will save you money if you go to Starbucks a lot. Simply bring in a resuable cup for a sweet discount: it's usually 10 cents off any sized drink, but sometimes the stores will offer additional promotions, like a free refill.
This article was originally posted on July 9, 2018.