An irresistible-looking Italian bakery just opened its first U.S. location — inside a Starbucks.
Based in Milan, Princi is a popular bakery with the motto "hot bread all day." Enough said, right? Well, the menu is more than just bread — clear cases in front of the bread wall are bursting with colorful salads, roasted veggies and square slices of pizza.
And it's already stateside: The first one opened yesterday, at not just any Starbucks, but its Reserve Roastery and Tasting Room in Seattle.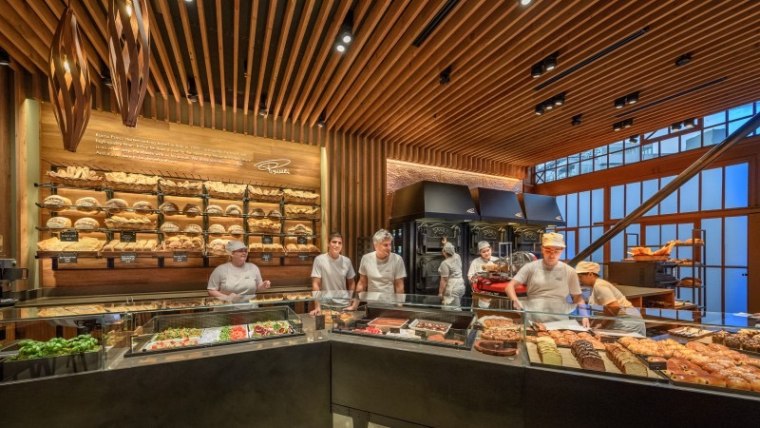 Princi has six locations in Milan, plus another in London, and is the creation of famed baker Rocco Princi, who opened his first shop in Italy the mid-1980s at the age of 21.
Make no mistake, bread is the soul of this place — a gigantic bread wall dominates the back of the bakery next to three enormous ovens. Back on the wall, you'll find offerings like fresh focaccia ($6), cereali ciabatta ($7) or any number of daily specialty loaves.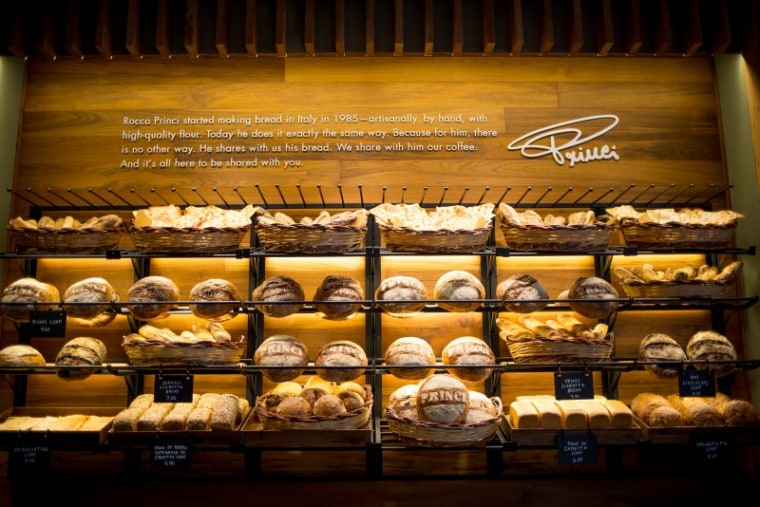 Up front, there's a glass case that wraps around the whole front, loaded with pastries, sandwiches or salads such as a chicken-artichoke ($10.50), and thick, square slices of focaccia-based pizzas (about $8 per slice), topped with mozzarella or colorful veggies like eggplant and peppers.
Just check out that bright tomato sauce and soft mozzarella:
And here's the zucchini, because you need to get your veggies:
In the mornings until 11 a.m., there are breakfast items like steel-cut oats with Italian jam, baked eggs in a spicy tomato sauce and yogurt parfaits with house-made granola. And, of course, they'll be selling Starbucks coffee.
Then later, there's beer, wine, cocktails and small plates, plus, of course, dessert, which starts at 2 p.m.: freshly baked cookies, tarts and classics like tiramisu ($8.50 per slice).
"All of this is also in plain view for customers to experience and explore the menu with bakers baking fresh right in front of you — a first for Starbucks," a Starbucks spokesperson told TODAY Food.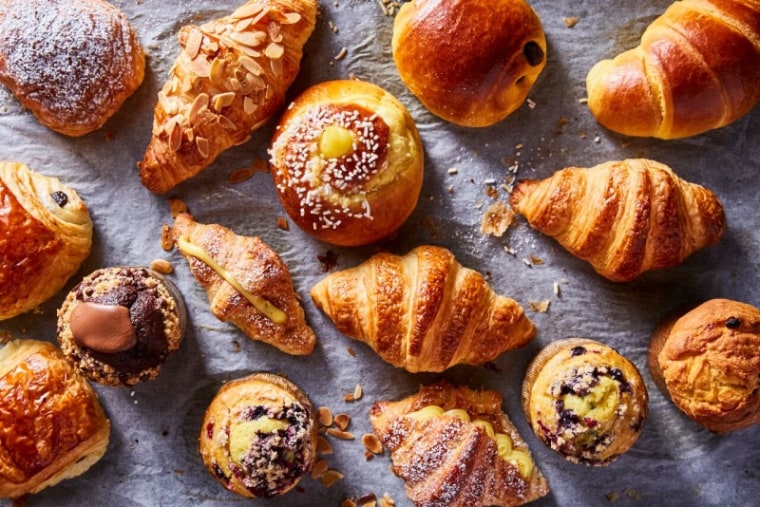 So when do we all get to try it?
First, Princi will become the "exclusive food offering" at all the upcoming Starbucks Reserve Roastery locations opening in the next year: Shanghai, Milan, New York, Tokyo and Chicago.
But in 2018, Starbucks also plans to start opening standalone Princi locations. Yes, we tried to get them to spill details on the first one, but they're being tight-lipped: "More to come!" the spokesperson said.
Though the company recently announced it will shutter its Teavana locations, don't confuse Princi as a replacement for those — the Starbucks-Princi deal has been in the works for a while, since at least 2016.
And if you recall, Starbucks bought La Boulange, a small San Francisco-area bakery chain, back in 2012 for $100 million. Only time will tell whether Princi baked goods will replace La Boulange in Starbucks stores.