New year, fancier Starbucks.
Not only has the coffee giant introduced a schmancy-sounding drink called the "Cascara Latte," along with a line of specialty drinks it's calling the Tuxedo Collection, but tomorrow, January 10th, it's going to start serving up a brand new breakfast: Sous Vide Egg Bites.
TODAY Food got a preview.
Before we get to how these little guys taste, let's note that this means that Starbucks is responsible for making sous vide, a fancy French cooking technique where vacuum-sealed food is cooked in a water bath at a precise temperature, officially mainstream. Historians: Take note.
RELATED: Go off the menu with these 8 secret Starbucks drink ideas
The Sous Vide Egg Bites come in two flavors: Bacon & Gruyere (310 calories per two bites and 19 grams of protein) and Egg White & Roasted Red Pepper with spinach and Monterey Jack cheese (170 calories and 13 grams of protein).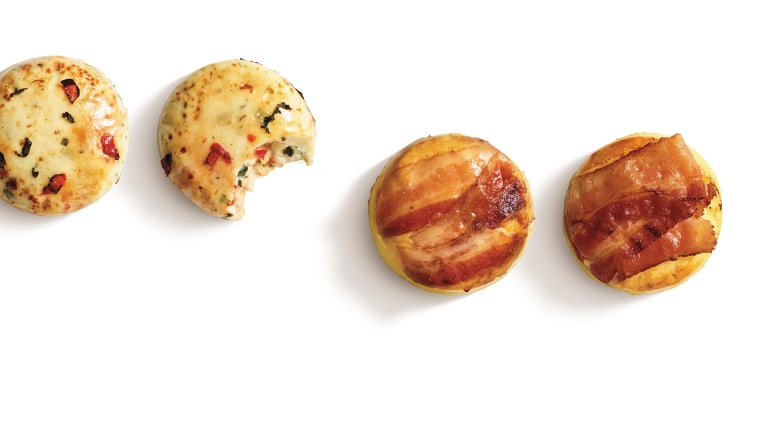 But why sous vide? Well, in the menu item's description, Starbucks says, "Perfectly cooked, cage-free eggs whites are prepared using the French 'sous vide' technique resulting in a velvety texture that's bursting with flavor."
RELATED: Starbucks unveils its first official boozy creation: The Espresso Cloud IPA
They're like little protein-packed breakfast frittatas that don't need bread to be portable. They are indeed soft and pillowy, but we would have loved a little more variation in texture: Crisp on the outside, melty and gooey on the inside. Instead, they all had one, uniform, custardy texture.
However, they tasted surprisingly good. We know what you're thinking: Anything with bacon and Gruyere has to taste good (and you're right!), but we actually liked the Egg White & Red Pepper one even better, as we could taste the Monterey Jack cheese in it more than we could the Gruyere in the other one. It just needs a little hot sauce.
RELATED: Fruitcake Frappuccino: The new Starbucks drink is here and it's ... interesting
So, would we eat 'em again?
"They're a great healthy breakfast option on-the-go and I'd definitely wait in line for them," said Alessandra Bulow, TODAY Food Editor. But we both decided we'd probably want to get two orders (aka four Bites), since they aren't super filling.
You could say we are livin' sous vide-a loca.