It's Italy's most famous dessert — now in a latte.
Starbucks' newest offering is the Tiramisu Latte, a decadent caffeine fix that's inspired by the popular Italian treat made with coffee, sugar, ladyfingers and mascarpone, a mild, creamy cheese.
But don't worry, you won't find any actual cheese in this drink. The latte is made with espresso, steamed milk, cocoa espresso powder and mascarpone flavoring, as opposed to the real stuff.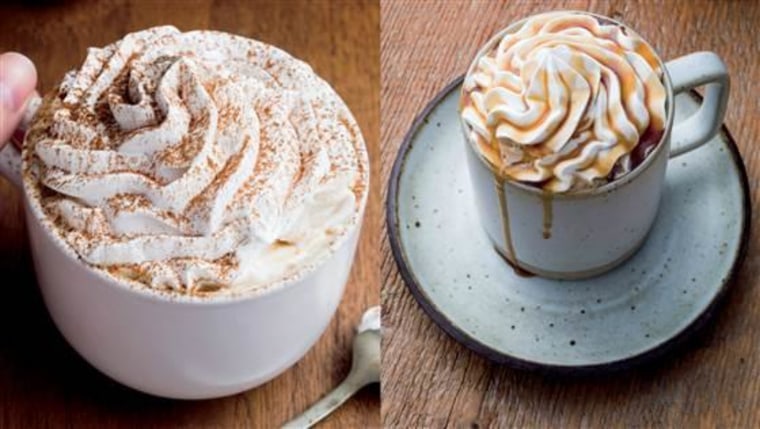 "We're always looking for opportunities to update the menu," Starbucks spokesperson Maggie Jantzen told Today.com. "The Tiramisu Latte tested last year [in Jacksonville and St. Louis] and customers enjoyed it."
And tiramisu isn't the only dessert getting the Starbucks treatment. The coffee giant also brought back the Caramel Flan Latte this week, a drink that was first introduced in January 2014, and one that quickly became a fan favorite, Jantzen said.
It's "inspired by the traditional custard dessert with a soft caramel top" according to a statement on the brand's website.
In other words, yum. Both drinks are available for a limited time and available hot, iced or blended.
It's been a big week for Starbucks. The brand announced a new subscription service for customers, a monthly shipment the freshest small-batch coffee from its Seattle roastery, for $24 a month. And on Tuesday, the same day the dessert drinks launched, coconut milk also debuted in stores as a non-soy, dairy alternative. That means there are now more options than ever—more than 170,000, according to Starbucks.
"All of our beverages can be customized so you can kind of choose what you want and make it yours," Jantzen said. "Say you don't want whipped cream. Or, you can adjust the milk."
That's good news for anyone who happens to be craving a Tiramisu Frappuccino with coconut milk. (Has anyone actually craved that? Let us know.)
But, if you really want more choices, you can always order off-menu and try secret favorites like the Franken Frappuccino or Zebra Hot Chocolate. And that beloved Pumpkin Spice Latte? We'll let you in on a little secret: You can order it year-round.
This article was originally published Feb. 19, 2015 at 5:05 p.m. ET.