Halloween might have just ended but Starbucks is already getting dressed up for the winter holidays.
Starting Friday, Nov. 2, Starbucks will be rolling out four new festive cup designs to give coffee drinkers that "Christmas in a cup" feeling all season long.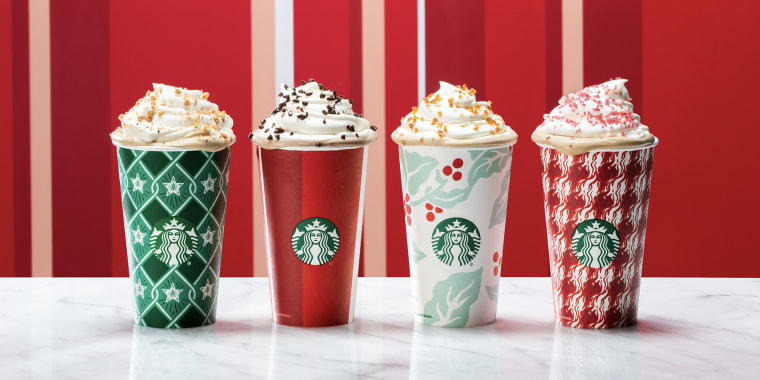 This year, the chain says it tapped into its sentimental side for some holiday inspiration.
When dreaming up new designs for the 21-year-old tradition, the Starbucks Creative Team drew ideas from the brand's many long-held, seasonal traditions like the Starbucks Christmas Blend, as well as its popular Peppermint Mocha and Gingerbread Latte drinks. According to a company statement, the team tried to visualize the "nostalgic and joyful taste of the season" and put that festive feeling onto cups.
The resulting designs look like a fashionable reimagining of an ugly holiday sweater.
Since each cup is different, each one holds a unique meaning that relates to the coffee chain's annual offerings.
The "Stargyle" sweater cup draws upon the many stars illustrated around Starbucks stores (and those that have appeared in the company's logo) since its founding in 1971.
The "Espresso Houndstooth" cup features a steamy red and white design meant to capture that toasty feeling found around a fireplace — or the one that you get while sipping your favorite holiday beverage.
Festive flora adorn a third design, as a nod to both holiday holly bushes and the flavorful coffee cherry plant, with bright red berries that represent both plants.
And the fourth cup showcases a relatively plain two-toned red design, similar to the simple theme of 2015's controversial cup.
The annual release of the chain's holiday cups usually signify a switch from pumpkin spice lattes to peppermint-spiked drinks, but the brand's designs have caught some backlash in seasons past.
Three years ago, some fans of the coffee chain called the plain red cup (which had no obvious holiday symbols like reindeer or ornaments) a "war on Christmas."
The modern, minimalist style may have caused a stir but it's actually back again and, for the first time ever, available as a reusable cup.
On Nov. 2, participating Starbucks stores will be giving away free, limited-edition reusable holiday cups, while supplies last, to anyone who orders a seasonal beverage. Customers who bring their red reusable holiday cup to a participating Starbucks after 2 p.m. Nov. 3 through Jan. 7 will get 50 cents off their next seasonal beverage order.
Starbucks' wintry drinks, including the White Chocolate Mocha, Caramel Brulée Latte, Chestnut Praline Latte and the Eggnog Latte, are also coming back to the menu just as the cups debut in stores Friday.
Cheers to the toastiest time of the year!