With the holiday season in full swing, there's a lot to be grateful for — but it can also be pretty stressful. As we scramble around trying to organize party plans, decorate our homes and shop for friends, we'll take all the help we can get.
That's why, starting Tuesday, Dec. 5, Starbucks baristas will be giving out $1 million worth of Starbucks gift cards because let's face it, we could all use a little caffeine boost and save some cash right about now.
So how does it work? For the opportunity to score your free buzz, Starbucks is sending out its "Give Good" squads clad in red and green aprons to various events around the country. They'll be giving away a total of 50,000 gift cards worth $20 each.
The chain has yet to announce the exact times and locations for where these giveaways will happen, but a spokesperson says the chain is open to suggestions. If you have a community event coming up that you think can really use an infusion of gift cards, stop by your local Starbucks from now until Dec. 8 and just let the baristas know.
Even if you don't manage to score a gift card, anyone who makes a purchase at Starbucks using their mobile app or a registered Starbucks Card in December will automatically earn Gold status in Starbucks Rewards for a year.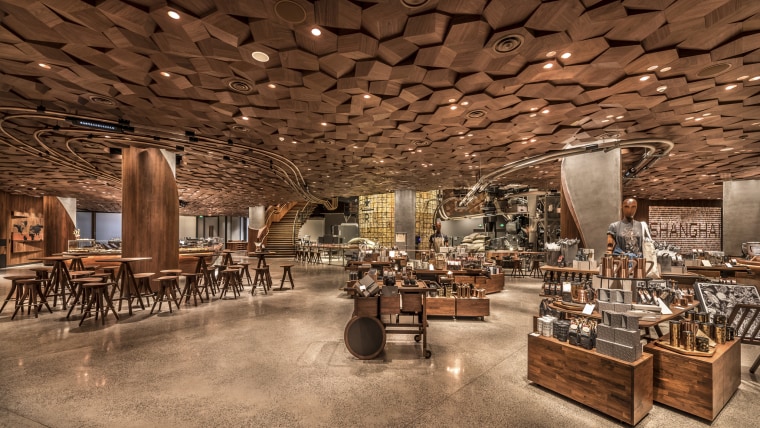 In addition to handing out some real holiday cheer in the U.S., Starbucks has officially opened its largest location in the world — in China. The Starbucks Reserve Roastery Shanghai is a massive 30,000 square feet and is basically a Disneyland for coffee lovers.
The new location is twice the size of the chain's flagship Reserve Roastery in Seattle and will feature unique beverage menu items that can't be found at any other Starbucks in China such as Teavana tea infused with nitrogen, as well as a new take on tea brewing with the "Steampunk," a machine that uses steam to extract flavors from each variety of tea leaf.
The Shanghai Roastery also features China's first Starbucks Teavana Bar, which the chain says is the world's only tea bar made entirely from 3-D printed recycled materials.
Sounds pretty futuristic to us, but for those of us who can't get there, the gift cards for free lattes will be a perfect holiday pick-me-up.