Most people can't imagine that a Frappuccino could be anything but a cool, sweet beverage topped with whipped cream, a dome lid and green straw. But the now iconic drink wasn't invented by Starbucks.
In the summer of 1992, a coffee shop called Coffee Connection in Cambridge, Massachusetts, distributed coupons for a new frozen drink called the Frappuccino. The drink quickly became popular with Harvard University students. "People were lining up out the door for it," George Howell, the former owner, told TODAY Food.
Howell was one of the pioneers of the specialty coffee movement in the United States during the 70s and 80s. He now operates George Howell Coffee, which has three coffee shop locations in Massachusetts. The main focus of his current business is to help farming communities by freezing coffee beans immediately after they are harvested.
"I was very aware of Starbucks' rise from 1987 forward," Howell told TODAY Food. "Starbucks professionalized the cafe. They put the cappuccino machine face-out, so baristas could face customer. It changed the game."
In 1989, Howell took a trip to Seattle to explore his trade. The city was then home to Starbucks, plus specialty coffee companies like Seattle's Best Coffee and Torrefazione Italia café (which Starbucks purchased in 2003). Howell stopped into Torrefazione with a guide who was showing him around Seattle's coffee shops.
"There it was. A frozen cappuccino was being made in a granita machine. The second I tasted it — it was just a fantastic, simple drink. I knew it was going to be big."
Howell's tour guide provided the recipe, which consisted of three simple ingredients: "very strong coffee, sugar and milk." Howell headed home to Coffee Connection where he and his right-hand man, Andrew Frank, perfected the mix.
"The key to the Frappuccino that we created was getting it balanced so that the texture did not have any crystallization. It [needs to be] very smooth, sort of like a soft ice cream, but different — if you have a glass and turn it to the side, [the drink] should go into your mouth. [Frank] came up with 'Frappuccino.' The second he said it, we all said, 'That's the name!'"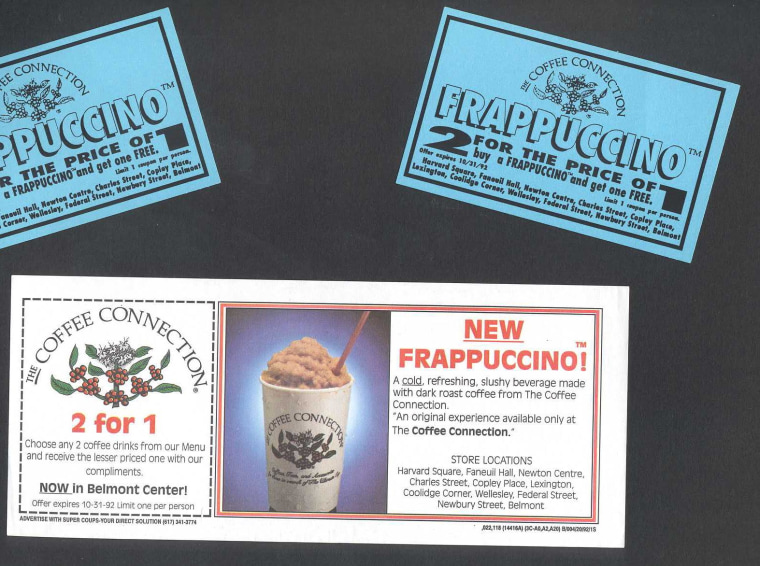 As Boston thawed into the summer of 1992, The Coffee Connection distributed coupons to advertise their new drink in the Harvard Square store. By 1993, the drink took off and Howell began selling Frappuccinos in his sprinkling of stores throughout Connecticut, New York, New Jersey and Massachusetts. Howell replaced the granita slushie machines with soft serve ice cream machines to accommodate the demand, but every batch had to be brewed and mixed fresh.
As the Frappuccino became a hot item at The Coffee Connection, Starbucks tested a similar drink in a single Los Angeles store. Only this one (which saxophonist Kenny G likes to take a little credit for) was made with a blender.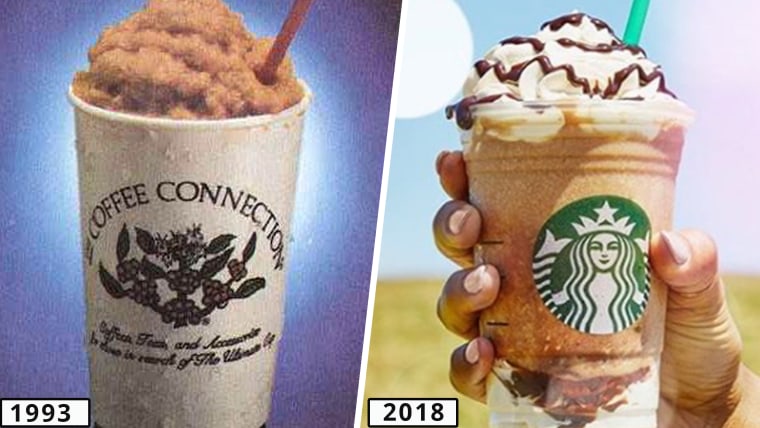 By 1994, Starbucks bought out The Coffee Connection, and with it, the "Frappuccino" name that Howell had trademarked. Starbucks applied the catchy title to its own recipe and, by 1995, sold it nationwide and in Canada.
"We created the name. I have never taken credit for creating the concept," Howell told TODAY Food. "It's really something where you learn from everything around you and you bring it out in the right way. And that's what we did."
Howell said Starbucks' use of a blender is what gave the company the ability to experiment with different flavors and syrups for everything from mocha to unicorn Frappuccinos. Using a powerful commercial-grade blender creates a Frappuccino in moments — and makes customers feel that they are getting special service with a custom-made drink, Howell explained.
While Howell's focus now is on re-revolutionizing the coffee industry to freeze fresh beans and benefit farmers, George Howell Coffee still sells the drink that brought The Coffee Connection success one summer 26 years ago.
"The simple yet delicious combo" is made with French roast coffee, milk and sugar, which is then frozen and slushied.
It's called "The Original."