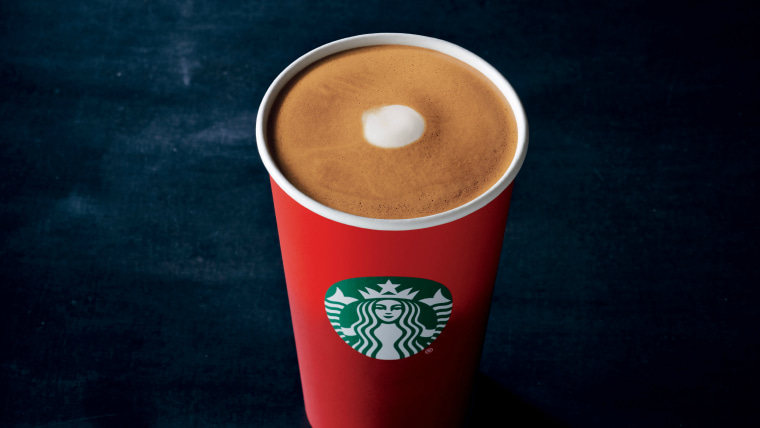 Coffee meets mulled wine—that's the idea behind Starbucks' newest drink, launching in stores nationwide today.
The Holiday Spice Flat White is a seasonal riff on the increasingly popular Australian coffee drink, which Starbucks added to its menu earlier this year. True to its name, the festive spin starts off with a blend of winter spices that typically go into mulled wine. Baristas then pour in two ristretto shots of Starbucks' Christmas Blend Espresso Roast, followed by micro-foam whole milk.
"We crafted our own holiday mulling spice blend of ginger, nutmeg, cinnamon, clove, sugar and a touch of tangerine," said beverage developer Michelle Sundquist. "The spices and velvety milk perfectly complement Starbucks Christmas Blend Espresso Roast. The spices further develop in the warm milk and lightly enhance the flavor of the beverage. Because it's so subtle, you don't taste the holiday mulling spices until you take a couple sips. And then a touch of sweetness and the slightest note of tangerine flavor come through."
A latte art dot caps the milky beverage, which, when served in Starbucks's new (and controversial) minimalist red holiday cup, resembles the pom pom of a Santa hat.
The Holiday Spice Flat White joins a growing roster of seasonal winter drinks like the Peppermint Mocha, Eggnog Latte and last year's big release, the Chestnut Praline Latte.