Here's the good news: Starbucks' newest holiday drink tastes just like an apple pie.
The bad news? You'll have to fly across the ocean to get one.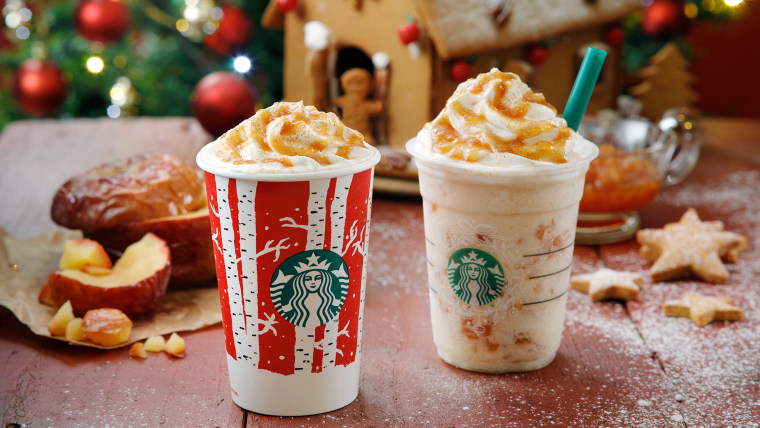 Starbucks Japan recently released a Hot Baked Apple latte and Baked Apple Frappuccino, made with apple sauce, brown sugar, butter and crushed apple bits. It's the company's latest holiday offering in Japan, on the heels of its new gingerbread latte and pecan nut latte, which were released earlier this season.
RELATED: 4 'secret' Starbucks drinks and the correct etiquette when ordering them
Starbucks' latest concoction tastes just like you're "eating a hot apple pie," Starbucks Japan wrote on its blog. It was inspired by the hot apple cider available in U.S. Starbucks.
Yum! We all had our fingers crossed that the drink would make its way stateside, too, but unfortunately a rep for Starbucks told TODAY that the baked apple drinks will only be available in Japan for a limited time.
RELATED: Go off the menu with these 8 secret Starbucks drink ideas
While we wait for these to come our way one day (fingers crossed), in the meantime, the website Starbucks Secret Menu has ideas for how to hack your way to a warm Spiced Apple Pie drink and a cooling Apple Pie Frappuccino.
RELATED: Starbucks unveils its first official boozy creation: The Espresso Cloud IPA
Alas, there are still plenty of other options for coffee-lovers who are bored by peppermint mochas or eggnog lattes.
RELATED: Starbucks is out with the Pumpkin Spice Latte, plus meet their new fall drink
Go off the menu with these secret Starbucks drinks such as the Zebra Hot Chocolate, which mixes milk and white chocolate, or the Butterbeer Frappuccino, a Harry Potter-inspired specialty. (Just make sure you follow the proper etiquette when ordering them!)