Starbucks customers will soon be able to order a very different kind of grande beverage.
On Monday, the coffee chain and pop star Ariana Grande excited both of their fan bases with a series of mysterious tweets hinting that the pair is brewing up a new collaboration.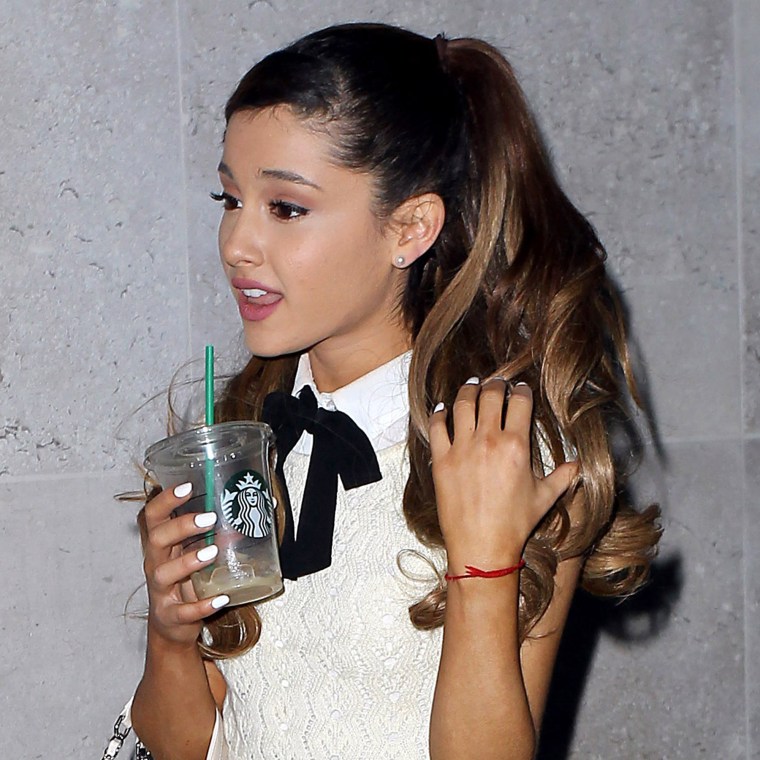 Then, on Tuesday, the "7 Rings" singer confirmed our speculations with a tweet including photos of her in a green Starbucks apron (the new #starbucksambassador) and a drink with "Ari" (spelled correctly!) written on the cup (apparently the new #cloudmacchiato).
And, it seems, the vegan star is a fan of the soy-milk version of the drink.
It all started around 10 a.m. on Monday, when Starbucks tweeted out a chart to help customers determine their "cloud name."
Less than two hours later, the coffee company tweeted a photo of a heart-shaped cloud, urging fans to zoom in on the heart to find hidden messages.
"thank you, next," it read simply.
Grande's fans instantly recognized the title of the singer's recent mega-hit. They also know that she's something of a cloud lover, and sings about clouds in several songs, including her 2014 breakthrough single "Problems."
To top it off, Grande also recently released a perfume called Cloud.
As the day went on, more clues were posted.
Around noon, both Starbucks and Grande tweeted the same row of emojis: clouds, coffee, clouds and a heart.
That seemed to confirm a collaboration in many fans' minds, including one who tweeted at Starbucks asking, "omg starbucks & ari collab ???"
The brand's response?
"We out here vibin', we vibin', we vibiiiiiiinnnn'" it tweeted back, quoting lines straight out of Grande's 2018 hit "No Tears Left to Cry."
Later, the company tweeted more cloud pics with more hidden messages, including one that told fans, "Live your life out cloud."
Business Insider reported Monday that leaked "internal documents" indicate that Starbucks would be launching the new beverage on Tuesday, and then will follow that up on Saturday with a new store playlist featuring Grande's music.
The new drink, as confirmed by Grande, is called a Cloud Macchiato and, according to the chain, it's "light and airy with layers of fluffy foam, cascading espresso, vanilla-flavored syrup and a drizzle of caramel." Though the espresso base can be made with any milk of choice (including dairy-free options), the fluffy foam is made from a mix of egg white powder, sugar, salt, rice protein and various stabilizers — so, in other words, the drink isn't entirely vegan, even if ordered with soy milk. Plus, that sweet caramel sauce drizzle also contains butter and heavy cream.
But for fans of fluffy, cloud-like beverages, it might just be time to say "Thank U, Next" to your current Starbucks order.
This post was originally published on Mar. 4, 2019 and has been updated since to reflect Grande's confirmation of the collaboration.