People in galaxies near and far, far away are pretty excited about the latest "Star Wars" movie, so it's not surprising that the franchise is taking advantage of all sorts of product tie-ins. Sure, there are lightsabers and droids, but what about food?
Many are saying one company might have gone a little too far with its latest release: movie-themed produce.
To coincide with the release of "Star Wars: The Last Jedi," Dole is selling fruits and vegetables marked with "Star Wars" stickers and logos as part of a larger campaign to get kids to eat healthier.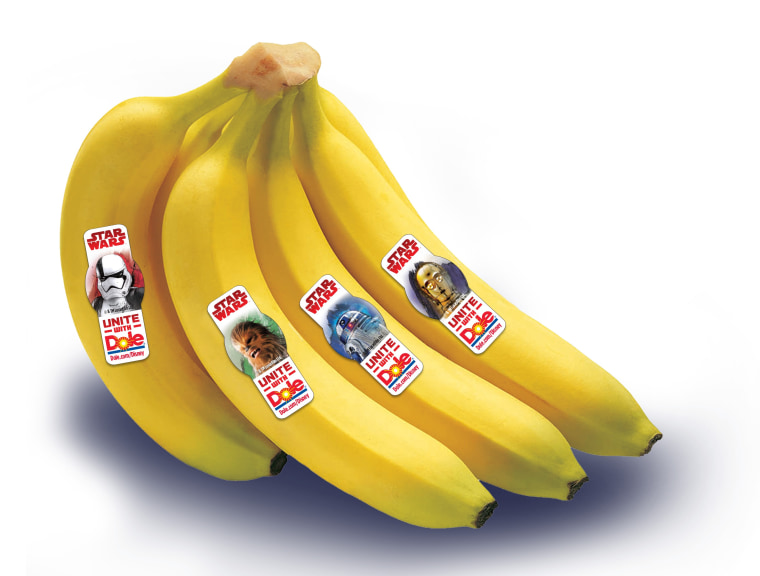 The products include bananas, pineapples, berries, cauliflower and lettuce, and they're all part of the company's "Unite for a Healthy Galaxy" campaign, which is aimed at helping children learn how to make smarter eating choices. Who knows, maybe seeing R2-D2 on a banana will make a Force-loving movie buff more likely to eat it?
This is Dole's first-ever "takeover" packaging on fruits, vegetables and berries, which includes three sets of limited-edition Dole Banana stickers inspired by the film. The brand says it will include a weekly drawing for limited-edition "Star Wars" prizes like remote-controlled, voice-activated BB-8 droids and figurines from the latest film. There's also an app where shoppers can scan specially marked Dole products to unlock exclusive Star Wars trivia, recipes and bonus rewards.
Dole' executive chef Mark Allison, who recently threw his hat into the ring to make the royal wedding cake for Prince Harry and Meghan Markle, also created 12 original "Star Wars: The Last Jedi recipes," including Tatooine Blue Milk, Wookiee Noodles, Threepio Salad, a Beepin' Colada and Frozen Fighter Pops.
Is too much "Star Wars" ever a bad thing? Apparently, yes.
Many "Star Wars" fans have taken to Twitter to ridicule both Dole and the movie franchise for taking its marketing "too far."
"While there [have] been a few die-hard Star Wars fans who have questioned the connection, most of the public has embraced the idea once they understand that the collective goal by Dole and Disney is to leverage the multigenerational appeal of Star Wars to help parents rally their kids and families to eat and live healthier," a representative for Dole told TODAY Food over email.
Of course, if fresh "Star Wars" produce isn't really your thing, we recommend whipping up a few of these movie-themed recipes.