"Star Trek Into Darkness" has already conquered the box office, and now J.J. Abrams and crew can toast their success with the first officially licensed adult beverage in the "Star Trek" universe, Vulcan Ale.

Vulcan Ale was dreamed up by Canada's Delancey Direct to celebrate the centennial of Vulcan, Alberta, a small Canadian prairie town that has leveraged its name (which it shares with Spock's home planet) to become a Trekkie tourist mecca. The beer is brewed under contract by the Harvest Moon Brewing Company in Belt, Mont.
Related: Five pop culture beers: The good, the bad and the blue
According to its label, Vulcan Ale is a "mind-melding good" 5.4 percent ABV Irish Red Ale, a style known for its earthy sweetness, mild hop profile, notes of caramelized malt and gentle fruity esters.
While an Irish Red Ale might seem like a strange choice for a Vulcan-themed beer – the stereotypical Irishman is about as far away as you can get from an emotionally buttoned-up Vulcan – Richard Weger, the project manager for "Star Trek"-themed beers at Delancey Direct, says it makes perfect sense.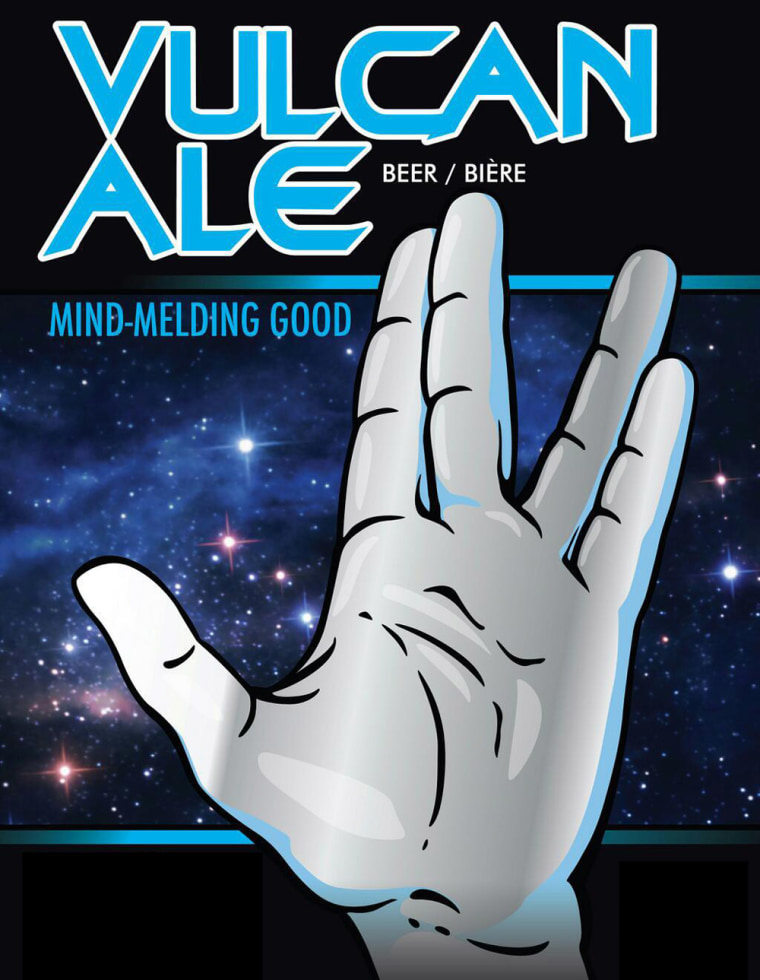 "In Star Trek mythology, the planet Vulcan is a red planet," Weger told TODAY.com. "Thus, an Irish Red would be the logical choice."

Whatever the reasoning, going to market with this widely pleasing beer style should find plenty of favor with beer fans and Trekkies alike.
Vulcan Ale is the first in a series of Star Trek themed beers being distributed under a licensing agreement with CBS Studios.
"Each year of production will represent a television 'Season' with each beer representing an 'Episode,'" explained Weger.
"Season One will be comprised of three to five episodes," he noted. "Vulcan Ale is Episode One, a Klingon beer will be Episode Two, and a third beer yet to be announced will be Episode Three."
Weger says we can expect the "Episode Two" Klingon beer to hit the shelves in the next four to five months.
"We also hope to release a series of limited beers throughout the seasons as well," noted Weger. "It will all fall under the 'Federation of Beers' banner. Romulan Ale, for example, will likely be released next year as part of the 'Season Two' production," he told TODAY.com.
Vulcan Ale began beaming into beer stores in Western Canada over the last couple of weeks, and should be making its way eastward across the Great White North in the near future.
"Rest assured we have not forgotten our American friends," adds Weger. Vulcan Ale and the other planned Star Trek beers should make it to the U.S. by next year, "if the stars align," he said.